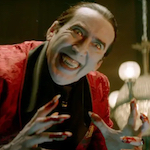 RENFIELD is a so-so movie with one element of excellence that kinda goes without saying, but I will say it. Later in the review.
This is basically a comedy-action vehicle for Dracula's crazy bug-eating stooge Renfield, played here by Nicholas Hoult (CLASH OF THE TITANS). I guess you could say it follows in the tradition of the much dorkier VICTOR FRANKENSTEIN, and (sort of) I, FRANKENSTEIN, in that it's riffing off of classic horror characters and putting them in a modern action/super hero type of context. But it's different in that it's a straight up comedy, complete with jokey first person narration and the hook "what if Dracula's familiar started going to group therapy for co-dependency?" I guess you could say it's kind of a ZOMBIELAND tone. I generally prefer ABRAHAM LINCOLN: VAMPIRE HUNTER approach of using an absurd concept but committing to it as if it's serious and trusting the audience to get it, but this is not my movie. It's not up to me.
Renfield famously spent most of the Dracula book and movies in an insane asylum, munching on insects, believing he could consume their life force. I always took that as a delusion, but I suppose in a story where vampires are real he could be some version of one. In this movie's interpretation Renfield does seem to be immortal, and when he eats bugs it's a power-up for super strength and jumping abilities, so he carries a pocket-sized coffin full of live spiders the way some people carry mints. When necessary he participates in decently constructed violence with lots of gore and wire work (stunt coordinators: Chris Brewster [HOW HIGH 2, UNDERCOVER BROTHER 2] and Eric Linden [BONES AND ALL]).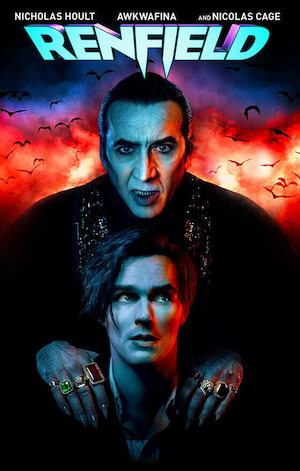 At the time of this story he's at the part of the cycle where his master has been nearly killed by vampire hunters, but he can heal him by bringing him victims to drink blood from. He feels bad about killing innocent people but he's too weak to say no, so he comes up with the idea of going after the people who wronged his fellow group members. Since the very first time he tries that it's somebody involved with the heroin-dealing, police-corrupting Lobo crime family, there are full-on action scenes, and they get pretty bloody. For me the biggest laughs are gore gags like when he rips a guy's arms off and somehow stabs two other guys with the arms. Also there are some x-ray views of broken bones like in THE STREET FIGHTER.
The head of the crime family, Bellafrancesca Lobo, is played by Academy Award nominee Shoreh Aghdashloo (THE NATIVITY STORY), who brings some gravitas to the role, and her douchey "DO YOU KNOW WHO I AM!?" fuckup brat son Tedward is played by Ben Schwartz, the voice of Sonic the Hedgehog. That's good casting too because he's got the comically self deluded arrogance of his Parks & Recreation character Jean-Ralphio, plus gold chains and neck tattoos, and then he turns really sadistic and crazy. Reminds me a little of Noah Segan's villain in REDEEMER, in that he's an absolute dipshit but also dangerous.
Renfield crosses paths with an officer trying to bust the Lobos – Rebecca, played by Awkwafina (OCEAN'S 8). I know there's a backlash against her now, but I'm not part of that, I think she's still funny and likable, and we saw in THE FAREWELL that she can do a very emotional movie as well. Still, this is just a poor choice to cast her in a purely cliche police officer role – the driven cop whose dad was the best cop I've ever known but she's gotta let go of this reckless crusade against the Lobos for killing him and that's why she's on traffic duty but she's gone rogue, blah blah blah.
I think the best idea would be to find some original spin on that and make it actually interesting. A backup plan would be to have this bullshit as is, but cast, like, some young Dolph Lundgren or Bruce Willis type who embodies the cliche movie cop type.
What does not work, it turns out, is to cast someone who doesn't seem either like a real or movie cop physically or in demeanor and have her try to portray this Chat-GPT-ass backstory at face value. There are a couple scenes where Awkwafina gets to do her usual humor (like when she's asking Renfield about all the ways he mutilated some gangsters in a fight scene), but most of the time she plays it straight, and it definitely seems like we're supposed to be emotionally invested in her story. Sorry, ma'am, the material is just not there for that.
The jokes didn't all work for me, but there are definitely some laughs. A couple good ones about vampires needing to be invited in. There's a joke that really made me laugh where one of the group members is talking about her abusive boyfriend, and she says, "I know this is, like, way down the list of bad stuff, but he's also really into ska."
I thought that was so funny, but then the first band she lists is Fishbone (followed by Mustard Plug and Voodoo Glow Skulls). I know it's meant in good fun and I guess I'm too close to it, but in my opinion Fishbone is not in the same category as those white ska bands, and I don't remember if I've ever seen ska dudes at their shows. So RENFIELD is on notice for that. But it was funny that later when we saw the boyfriend he did dress like a ska dude.
I noticed on IMDb that TEXAS CHAINSAW MASSACRE 2 star Caroline Williams is in this. I'm guessing she must be in the support group. I feel dumb that I didn't recognize her. I was too distracted by the Fishbone slander. I guess I should've know that since WENDELL & WILD was so pro-Fishbone some fool would have to come back and take shots at them.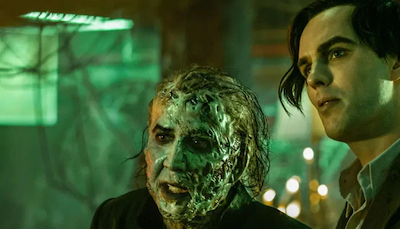 The part of the movie that does make it worth seeing, as you may have guessed, is that Nicolas motherfuckin Cage plays Dracula. An icon playing an icon. He does all of the things you would hope: a weird, shifting accent, a silent-film-worthy dedication to facial expressions and physicality, some humorously mega tantrums, and also just getting into being a monster, roaring and hissing and stuff. Additionally, we get some Cage rarities. I was surprised that one of his early scenes is done behind heavy latex makeup as a burnt up husk. And the rest of the time he's acting with a painted face, contacts and a mouth full of long, needle-like teeth. He gets to have claws, long coats, a cane sometimes a top hat – obviously he has fun with that stuff. He's in the middle of a very flawed movie, but he really is a delight.
RENFIELD is directed by Chris McKay (Robot Chicken, THE LEGO® BATMAN MOVIE, THE TOMORROW WAR). I'm not saying he's anywhere near as good, but I think (maybe because of his animation background) he goes for a vaguely Tim-Burton-circa-BEETLEJUICE approach to some of the visuals. It has more style than your average comedy, though admittedly none of it looks as cool as the prologue where they put Cage and Hoult into clips from Tod Browning's DRACULA (1931). I wouldn't mind a little more of that gothic atmosphere, but putting Dracula into different environments is more novel.
The screenplay is credited to Ryan Ridley (Community, Rick and Morty, Invincible), from a pitch by Walking Dead creator Robert Kirkman. I read that he started with a more serious take as part of the Dark Universe before THE MUMMY flopped. I still mourn the untimely death of the Dark Universe, so what do I know, but I genuinely think it would be cool if Cage became Universal's official Dracula for a while, having his own sequels, crossing over with other monsters, or action stars, including more serious ones. Let's do this. A better world is within our grasp.
P.S. Universal Pictures Nicolas Cage could appear in as Dracula besides, obviously, FAST X PART 2 or JURASSIC WORLD: RISE OF LYCANRAPTOR:
RIDDICK VS. DRACULA
GLADIATOR 2
THE SKULLS 4
THE MUMMY RETURNS AGAIN FOR MORE
J3: JOHNNY ENGLISH 3: BLOWBACK
SEABISCUIT: MISSION BURMA
THE BOURNE EFFICACY
SAY GOODBYE TO THE FOCKERS
SMOKIN' ACES: POKIN' FACES
SOUTHLAND TALES BOOK II
STILL WANTED
LARRY CROWNE: VENDETTA
COWBOYS & ALIENS & VAMPIRES
ELECTRONIC BATTLESHIP
ZERO DARK THIRTY-TWO
BLACKHAT REFURBISHED
PITCH PERFECT REUNION
RIDE ALONG 3
BRIDGET JONES' DRACULA
OUIJA: BOARD OF DRACULA
FIFTY SHADES OF BLOOD
HALLOWEEN VS. DRACULA
DEAR EVAN HANSEN, THANKS FOR EVERYTHING, DRACULA
This entry was posted on Tuesday, June 13th, 2023 at 7:15 am and is filed under
Reviews
,
Action
,
Comedy/Laffs
,
Horror
. You can follow any responses to this entry through the
RSS 2.0
feed. You can skip to the end and leave a response. Pinging is currently not allowed.