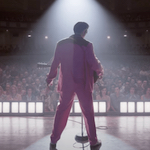 Any musician biopic, pretty much, is gonna be a legend or a tall tale. What's great about Baz Luhrmann directing one is that his entire style leans into that. Condensing a whole life and career into an entertaining 2 1/2 hours requires shortcuts, cheats and artistic license that prevent it from being literally true, so here we have a director whose work is rarely about the literal truth anyway. It's more about how something feels and looks and sounds, or making it look and sound like it feels. Biopics depend on montages to move quickly across time, and this guy speaks fluent montage. He's also a director whose films have generally been on the verge of being jukebox musicals (going all the way in the case of MOULIN ROUGE!). So what could be more perfect for him than an Elvis Presley biopic?
ELVIS is absolutely presented as a legend, one told by Presley's long time manager, Colonel Tom Parker (Tom Hanks, DRAGNET), who admits "there are some who'd make me out to be the villain of this here story," and in between his justifications does come off as something of an evil mastermind. He addresses us decades after Elvis has passed, when he's on his own death bed in a Las Vegas hospital room with a view of Star Trek: The Experience (1998-2008), but in his mind he's also dragging his I.V. drip around an empty casino.
I vaguely remember Pat Hingle as Parker in the John Carpenter/Kurt Russell Elvis mini-series, and I know Paul Giamatti was gonna play him if they'd made the BUBBA HO-TEP sequel, but I didn't really know anything about him. I got curious enough to do a little basic reading after seeing Guillermo del Toro's early praise for ELVIS, where he noted a connection to the original NIGHTMARE ALLEY, which he said was Parker's favorite film.
Quick drop-in to say that I was elated by ELVIS' screening last night. The film is dazzling, bold and moving. Austin Butler absolutely nails it- all the shades: voice, moves, emotion. Loved it. Loved it. Loved it.

— Guillermo del Toro (@RealGDT) May 26, 2022
I hadn't known Parker was a circus elephant groomer and ran palm reading tents and dancing chicken acts before becoming a manager of country singers (Gene Austin, Eddy Arnold, Minnie Pearl). Or that he was from Holland (pretending to be from West Virginia), or that his lack of citizenship (plus enormous gambling debts) may have been why he talked Elvis out of international touring and into years of Las Vegas residency, precipitating career decline and premature death. That's exactly what this story focuses on: the proud carny con-man – or as he calls it, "snow man" – trying to snow us that it wasn't that bad that he snowed Elvis.
(Not mentioned in the movie: He mysteriously ditched his family and belongings in the Netherlands right when a never-solved murder happened yards from his house!?)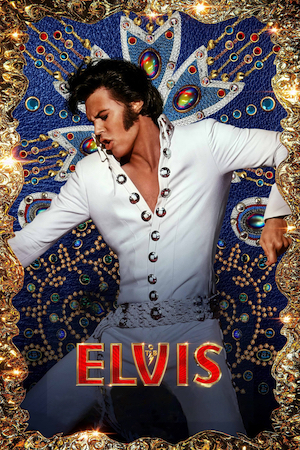 I saw somebody say ELVIS was good for a post-WALK HARD music biopic, and it took me aback. I had a hard time thinking of it being in that category. It's true, of course, that the script (credited to Luhrmann & Sam Bromell and Luhrmann's longtime writing partner Craig Pearce and Jeremy Doner [The Killing]) hits many of the same beats that any movie attempting to summarize the career of a rock star hits. But it's not one of those ones that feels like a book report with concert re-enactments. It revels in being a movie. As you'd expect from the director of ROMEO + JULIET and MOULIN ROUGE!, it can be stylistically bombastic and gleefully unreserved in its choices. It opens and closes with gaudy bejeweled titles and end credits, appropriate for either Elvis or Luhrmann, and in between are some pretty wild swings. I'm not saying it's total chaos, but I am saying there's a part where the sample from "Toxic" by Britney Spears pops up in the middle of an Elvis song. I had to look it up to learn there's also a Backstreet Boys song in there, so it must be drawing a parallel between Elvis and teen pop phenomenons of more recent eras? I'm not sure, but my point is that the weight of history does not stop Luhrmann from being Luhrmann. Which I believe is the correct attitude.
A childhood flashback begins with comic book panels, because young Elvis loves comic books… but more than that because it's a super hero origin. As one of the only white kids living near the Tupelo neighborhood called Shake Rag, Elvis wears a Captain Marvel Jr. lightning bolt around his neck as he and his buddies run between a shack-sized speakeasy and a nearby revival tent, spying on the greatest blues and gospel a kid could ever accidentally encounter. Then he feels the spirit and wiggles on into the tent as if possessed, foreshadowing the whole lotta shakin that will be goin on in his future.
Man, Chaydon Jay, the kid playing young Elvis, has a hell of a resemblance. And Austin Butler (YOGA HOSERS), who plays him the rest of the time, does an incredible job. I knew him from ONCE UPON A TIME …IN HOLLYWOOD and THE DEAD DON'T DIE, and thought he was a good choice when I heard he was cast, but he's better than I could've guessed. I'm not sure what they did with his makeup to make him look so much more like Elvis than he normally does, or if it's just an illusion because he gets the vibe of the guy so right. The posture, the moves, the squint, the shifting accents and voices at different periods. Reportedly Butler does the singing when he's younger, and then it's real recordings later, but I didn't pick up on which was which, so it was never distracting.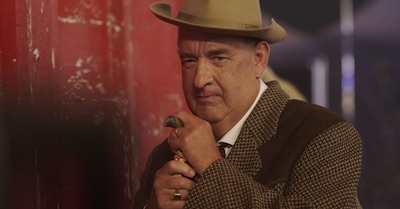 What I'm sure will be distracting to some people is Hanks' weird performance. He wears age makeup, sometimes jowls, a pear-shaped body suit, and exaggerates the strangeness of Parker's accent affected southern accent. For me it works. A strange carnival barker with a clown-head cane who knew how to make Elvis a star but not always when to get out of his way and let him be himself; who thinks coming up with the concept of merchandising absolves him of lying, stealing and manipulating. Having just this one character be so broad makes all the ostentatiousness around him seem down to earth.
Also it's a respectable use of Hanks' star power to get this thing made. There are a couple other familiar faces, but not ones with names to put on a poster. Kodi Smit-McPhee (THE ROAD) is funny as Jimmie Rodgers Snow, son of Hank Snow (David Wenham, VAN HELSING) who convinces Colonel Parker to check out Elvis, Luke Bracey (INTERCEPTOR) plays Elvis's buddy Jerry Schilling, and Xavier Samuel (Bernard Rose's FRANKENSTEIN) plays band member Scotty Moore.
I saw a claim that the movie underplays the influence of country music on Elvis, and that seems true to me (though they mention country stations not playing him because he sounds Black and Black stations not playing him because he sounds like a hillbilly). But seeing as how we've already had numerous Elvis movies and TV shows that didn't go heavy into his blues and gospel roots, I think this is a good choice. And I'm sure it comes from recognizing that for many in 2022 Elvis is the poster boy for white people stealing Black music.
You can think of that what you want. The movie, the character, and quotes from the real man all acknowledge industry advantages of being white. It's undeniable that he got paid more than Little Richard, got more money and attention for "Hound Dog" and "Mystery Train" than the earlier versions by Big Mama Thornton and Little Junior Parker, etc. Resentment is justified.
(They also underline this point by giving an end credits song to Eminem, who has been accused of the same. "I stole Black music, yeah true," he says trollishly, and explains "all the parallels between Elvis and me" as "he's pale as me… we both been hailed as kings… we sell like Velveeta shells and cheese." I guess I hoped he'd have something deeper to say about all that.)
But I think the movie adds nuance to the conversation by showing Elvis as not a scheming culture vulture, but a sincere artist putting his own spin on the music he grew up loving, and defying the white establishment's rejection of it. Consider that in 1953, the year 18-year-old Elvis went into Sun Records and recorded his first two songs (both covers of the doo-wop group The Ink Spots), the top ten singles of the year included one by Eddie Fisher, two by Perry Como, and "How Much is That Doggie in the Window?" by Patti Page. That was what most white people were listening to on the radio at that time! Elvis was obviously not a part of that world, and when the people who were accused him of corrupting white kids with dangerous "race music" rhythms, he basically told them to fuck off. Hard to fault him there.
One of my favorite moments in the movie is when he's on Memphis' Beale Street watching through a window as Big Mama Thornton (Shonka Dukureh) sings the shit out of "Hound Dog" – I thought wow, yeah, her version is better than his, and it wasn't even her real version – then as he's walking down the street a trap beat comes in over the song, and then a rapper (apparently Doja Cat). Colonel Parker sometimes takes license to skip around in time in his story, and here the soundtrack jumps several generations of Black music from Elvis' inspiration to today. It's an audacious Luhrmann touch that many will find ludicrous, and they won't be wrong. In context I found it kinda magical.
The author (and writer of CB4) Nelson George worked as a researcher and consultant for ELVIS. He told the Gaslit Nation podcast
that he tracked down people who grew up with Elvis, who said he was "an outlier" and "the little weird white kid at the Black tent shows." As shown in the movie, Elvis attended Black churches (as an act of rebellion, George believes), went to blues clubs, befriended B.B. King (Kelvin Harrison Jr., THE TRIAL OF THE CHICAGO 7) and Little Richard (Alton Mason), told people who called him "the King" that he'd never be as good as Fats Domino. And maybe I'm wrong but I doubt many other white singers at that time were talking about idolizing Arthur "Big Boy" Crudup (who he watches in the childhood scene, portrayed by Gary Clark Jr.). I don't think it was his intention to steal anyone's thunder, and many of those artists considered him a friend and respected his music.
There's a mention in the movie of breaking segregation laws – it may refer to newspaper reports from 1956 that he attended the Memphis Fairgrounds on "colored night" and appeared at an otherwise segregated fundraiser held by WDIA, a Black radio station he loved. There's a detail in the movie that I don't think I've seen in any other movie about Elvis – a big outdoor concert has "colored" sections at the sides. When the audience goes wild for his defiance of an order not to do any of that obscene dancing, the borders between the sections seem to break down.
If I had to make a list of the top 5 things we always heard about Elvis growing up, the "only filmed from the waist up on Ed Sullivan" thing would definitely be on there. So I like that they don't bother with that, despite focusing heavily on the moral panic of his thrusty dancing. When an unknown Elvis performs at a live radio broadcast called the Louisiana Hayride, some jock asshole yells "Get a haircut, fairy!," if you're wondering how people might've reacted to the iconic look of Elvis before there was an iconic look of Elvis. To the dismay of that guy and many other men in attendance, a nuclear war of feminine sexual energy breaks out in that crowd when Elvis starts singing and shaking his hips. We're familiar with the screaming/fainting fan imagery of the era, but Luhrmann and cinematographer Mandy Walker (JANE GOT A GUN, HIDDEN FIGURES, MULAN) make it feel fresh, moving in close on the faces of individual women in the crowd as they comically struggle and fail to contain the waves of lust overcoming them.
When Colonel Parker sees it he likens it to the mix of excitement and guilt carnival marks feel watching a geek show – this is the NIGHTMARE ALLEY connection, and the reason Parker really gave for believing Elvis could be a star. Later there's a funny scene where some politician blowhard notices the hip shaking on the TV and flips out. From his viewpoint he may not see that his daughter and son seem to be experiencing some intense feelings about the performance.
(Politicians like that will haunt us forever, it seems.)
If you're hoping the movie will deal with how young Priscilla (Olivia DeJonge, THE VISIT) was when she met Elvis, abandon that hope. Not mentioned. It treats her as the love of his life, but moves quickly past marriage and parenting to his cheating and feeling of failure when she leaves him. When my favorite Elvis song (and go-to karaoke jam) "Suspicious Minds" finally pops up, it seems to be commenting not on his marriage, but his business relationship with Colonel Parker. I guess this is the Colonel telling the story, after all. That's all that matters to him.
The thing I was hoping they would cover that they did not was his 8th degree black belt in Kenpo Karate. If ever there was an Elvis biopic where it would make sense to throw in a long choreographed karate battle out of nowhere, it seems like this would be the one. And if not now, when? I think we got one shot of him doing moves, and they did make reference to a "kung fu spectacular" in the '68 Comeback Special, which would be this fight scene set to "It Hurts Me":
Doesn't that make you wish he made just one ass kicking karate movie at some point? With or without songs? I guess with would be more novel, but I'd take either one. That would be a better world to live in. Anyway, I'm hoping Butler would be up for an all karate DTV midquel. Also BUBBA HO-TEP prequel trilogy. Think about it, Austin.

Something I'd recommend, either on its own or as a companion piece to ELVIS, is The Get Down, the 2017 Netflix series that Luhrmann co-created and directed the pilot for, very much in his style. It's a story about fictional teenage rappers and disco artists in the South Bronx of the late '70s, celebrating the music and style of the time and place with idealized hindsight and some anachronistic cheats. It's part WEST SIDE STORY, part crime drama, part mythologizing of early hip hop history as the stuff of comic books and kung fu movies. There are animated segments. When they explain the five boroughs it's like a map in the back of a Tolkien book. Grandmaster Flash (Mamoudou Athie, JURASSIC WORLD DOMINION) acts as sifu to fictional DJ Shaolin Fantastic and the Get Down Brothers. The real Grandmaster Flash was an executive producer, along with Nas, Kurtis Blow and DJ Kool Herc.
It's also an incredible collection of charismatic young actors: Justice Smith before JURASSIC WORLD: FALLEN KINGDOM, Shameik Moore before INTO THE SPIDER-VERSE, Yahya Abdul-Mateen II before AQUAMAN, US, CANDYMAN, THE MATRIX RESURRECTIONS and AMBULANCE, Jaden Smith getting to play a nice weirdo kid, and it will make you love Herizen F. Guardiola, who I'm surprised hasn't gotten many roles off of it, but maybe she's more into singing.
The Get Down was Netflix's most expensive show at the time, and it was considered a flop (whatever that means for a streaming service), but I'm grateful they shelled out the dough for it. And I figured ELVIS was gonna be a similar deal. He's a subject that has already been heavily covered, but has become more loaded over time, while relevant to fewer people. His likeness is so omnipresent that almost anyone could identify him, but he has about as much meaning to many of them as Mickey Mouse. So I really thought Baz had pulled a snowman and tricked Warner Brothers into spending a bunch of money they'd never get back, but it actually seems to be doing pretty good so far (it opened at #1).
I think ELVIS and The Getdown are interesting works for some of the same reasons: they're American cultural mythology seen through the eyes of an outsider, a white Australian director and former ballroom dancer who also does operas and musicals and has adapted Shakespeare and F. Scott Fitzgerald and makes all of these things seem of a piece. The world of Elvis is perfect for him. He did 1899 Moulin Rouge, of course he's gonna want to do 1969-1977 Las Vegas Hilton.
If someone were to say this is too long, as someone always says of every movie ever made, I wouldn't disagree too strongly. Maybe it wouldn't be bad to condense some of the Vegas section. But hell, I like it how it is, and I'd forgive a whole lot just for the hauntingly beautiful last scene, which brilliantly reframes the conventional view of Elvis' last days.
It involves a performance not long before his death – the period people always joke about. Parker says he could barely walk, and we see someone leading him to his piano. He looks very different – his face puffy, no shades to cover his drugged out eyes. We're close on the face of this almost unrecognizable, shockingly unhealthy Elvis, covered in sweat even though he's sitting down, two large Coca-Cola cups on top of his piano, would seem close to keeling over even if we hadn't been told that that's exactly what he's about to do.
But from deep inside the inescapable chamber of his failing body comes that voice, singing the Righteous Brothers' "Unchained Melody." In the framing of Parker, as narrator, the "my darling" whose love Elvis needs is us, the audience, who he did everything for. But what I find moving about the scene is that it takes all the flippant "fat Elvis" and "dying on the toilet" jokes head on. It says yes, it's true, this is what he became, through addiction and indulgence. Not a joke, a tragedy. But at the same time it offers him the dignity of showing that even at the very end, the very bottom, he still had it. The scene begins with Butler in makeup, but we're hearing Elvis's real voice, performing in 1977, less than two months before his death, and at some point that I didn't notice it transitions to the real footage, with the real audience reacting. And it is stunning.
Yeah, I think I kinda love this movie. It's not just good for a music biopic. This is something special.