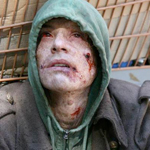 As I've mentioned once or twice, CANDYMAN might be my favorite horror movie of the 1990s. And I remember director Bernard Rose's PAPERHOUSE being very good too when I watched it in the 1980s. But most of his movies have not been horror. Didn't seem to be his thing. So I was intrigued when I found out that all the sudden in 2015 he did a new version of FRANKENSTEIN.
This is a modernized take on Mary Shelley's story. The monster is not some stitched together green guy, he's just a regular full grown man (Xavier Samuel, THE LOVED ONES, FURY) suddenly born in a secret lab through unexplained genetical engineering type methods. Victor Frankenstein (Danny Huston, THE WARRIOR'S WAY, 30 DAYS OF NIGHT, BIRTH) is there, but it's his wife Elizabeth (Carrie-Anne Moss from the fucking MATRIX!) doing the important work now: cuddling him, shushing him, feeding him with an eyedropper.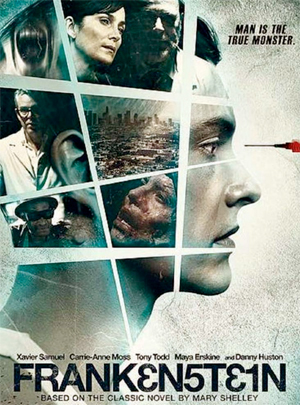 His eyes are just starting to see. They're crossed and he drools and pees and can't hold up his head. And it's weird but I found it deeply disturbing and gross to see an adult acting so believably like a newborn baby. They didn't even have to put a diaper and bonnet on him, it creeped me out anyway.
He's designed to be resilient, so he's ridiculously strong. Once they start teaching him to walk and play catch and stuff they see how awkward it is. He has the coordination of baby Bambi with the strength of He-Man.
But then he starts growing strange boils. Something came out wrong. His cells are degenerating. Victor decides they need to put him out of his misery. Elizabeth isn't as sure about it. They're both very good playing the Frankensteins; Moss is so empathetic and mothering, Huston well-meaning but aloof. But they blew it. They created Adam (that's what they call him, same as I, FRANKENSTEIN) and failed to find a place for him in the world. He has to do that himself after he survives their lethal injection and makes a daring escape.
This is a really effective execution of the monster-who-doesn't-know-his-own-strength. He has no idea what's going on and doesn't even understand the concept of hurting people. Cut him some slack, he's new here. I like that he's so strong he doesn't have to be coordinated to beat people up. He knocks a guy hard against a wall with a limp, rubbery slap. When he gets outside there's an amazing scene of him fleeing from armed security and you see him go from a guy who's still getting used to walking to a straight up Tom Cruise run within one shot.
Out in the wilderness he befriends a stray German shepherd (voice of Chevy Chase) (just kidding it's a regular dog so he is voiced by a dog not a human) and together they find dead raccoons and stuff to eat. He seems to have an instinct to stay away from other people, and when he goes against that he gets in trouble. He doesn't understand how anything works, from roads to police to death. So there are incidents. The little girl that he throws in the water is played by Mckenna Grace, who will play the young Tonya Harding in the upcoming I, TONYA. So for all we know Adam just has some opinions about ice skating.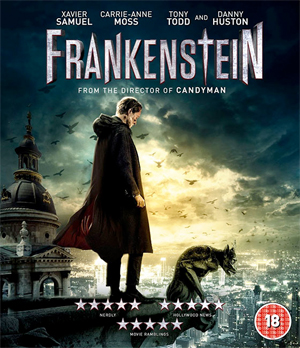 It's a simple, low budget movie, not a huge cast, seems to be mostly on location, no digital effects or anything too complicated. And it reminds me a little bit of the tradition of modernizing Shakespeare plays. Part of the fun is the play itself and part is seeing how they make it contemporary, what fits naturally into a modern context, what is a little odd but you just have to go along with it. In the case of this FRANKENSTEIN it's surprising how much of it works perfectly. It used to be the monster could pass as a wandering beggar; in today's terms that means he's a homeless street kid. It makes so much sense that he'd be able to sit on the street in his rags with his rotting face and people would avoid looking at him too much.
Also the blind man is a street musician, and he's played by Candyman himself, Tony Todd.
Other than a run-in with some modern day "villagers" trying to lynch him it all comes off as pretty believable updating. The scariest part is when some cops have Adam in custody, because we know they have no idea what they've gotten themselves into. I don't think it's a spoiler to say that it doesn't go off without a hitch. There are some hitches.
As much as stitched together body parts has always been part of the appeal of this story to me, it was really smart to completely ditch that for this version. In Shelley's time that was a plausible sci-fi concept but we've moved beyond that. The cloning/growing-in-a-lab type approach does fit with modern techniques and theories, and allows Rose to skip over the outdated "if my body parts are from a criminal am I doomed to be a criminal?" questions.
Adding a woman doctor into the mix really changes things too, because now the monster has a mother! She's nurturing and humane and recognizes the seriousness of terminating this artificial life. Her husband just looks at it as logic: I created him, I can uncreate him. I kept the receipts. But since she's the one who really took care of him, he seems to have imprinted on her. She's the one he yearns for, holding onto her security badge like it's a precious locket with her photo. And all this makes Victor seem like more of a schmuck. Totally oblivious to the ethical implications of his illegal experiments and the suffering they caused.
But honestly the Frankensteins are not in it that much. It's told from Adam's perspective, and the first shots are actually from his blurry, blinking perspective looking at his parents. So Samuel is in the whole thing, often alone, it's almost his one-man show, and it requires a very physical performance that evolves throughout as he becomes used to moving and eventually learns to speak. He acquits himself very well. This is a pretty good one.