FLAMING STAR is a Don Siegel western about a mixed-race family – a white man, his white son, his Native American wife, and their son together, Pacer. They all get it from both sides but especially Pacer, who has one foot in each world. The whites won't even speak to him after a Kiowa massacre of a white family, and at the same time he's being pressured by the new chief to turn his back on the white man and become a Kiowa warrior. Not like the chief gives two shits about him, he just wants him for the propaganda value, to be able to show somebody who turned their back on the white man. But Pacer doesn't want to do it and thinks they'll kill him when he says no.
He and his mother go into the Kiowa village to try to talk their way out of it. Pacer is convinced he'll be forced to say no in front of everybody, but in fact the chief respects his bravery and allows him to leave peacefully to consider it more. They shouldn't have been so distrustful. Ironically it's a white man, an old friend, who ambushes them when they're leaving.
Oh, and by the way Pacer is played by Elvis Presley. You know, the singer. I should've mentioned that probly. That might be relevant to how you'll react to this one.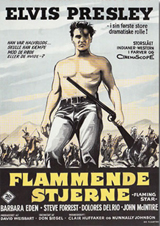 That's why I rented FLAMING STAR – when I realized there was a Don Siegel/Elvis team up I wanted to know how that works. The opening credits have Elvis singing the title song, and really early on he picks up a guitar and leads everyone in a singalong. So you're figuring it's a regular Elvis musical in a western setting. But then there's a violent massacre with flaming arrows, and it's a straightup western from then on. It just happens to star the King of Rock n Roll.
Elvis rides a horse and wears a cowboy hat and everything that being in a western entails, but he doesn't try to hide his iconic persona. He's still got the slick pompadour, still talks like The King. I guess Elvis is one of these guys like The Three Stooges, or like Mickey Mouse or the Muppets. He can travel through time, exist in different histories. There could've been an Elvis movie about the Crusades, about Shinobis, about the American Revolution or the construction of the Pyramids, and he'd be exactly the same dude, he'd just have different clothes on, that's it. I like that. I think he deserves to have that power. I wish I could see those movies.
And you know what, there must be some kind of T.C.B. magic that makes it work, because somehow I accepted him as the half breed. You know, he has real dark hair. Seemed to make sense. Looks more Native American than Tom Laughlin, anyway. (In fact, his great great great grandmother was full-blooded Cherokee. I looked it up.)
It's weird, but this movie fits into a couple of the themes I was writing about a month or so ago. Like THE BLIND SIDE it's a very favorable portrayal of mixed race families. Also like THE BLIND SIDE it's a good message held back slightly by problematic Hollywood traditions (in this case putting white people in makeup instead of hiring Native Americans). Also the message gives some serious ammunition to the argument that Chuck D. shouldn't have called Elvis a racist (as discussed in the ELVIS PRESLEY GLADIATORS thread).
Pacer goes through the whole range of reactions to his predicament. He tries to transcend race. He tries to stick with the whites. When his (SPOILER) mother is killed he lashes out at everybody, even his brother, about all the racism he's suffered throughout his life. Ultimately he gives up, but tells his brother that "Maybe some day they'll understand people like you and me."
"People like you and me" could mean people from mixed races families, or it could mean people who accept different races and cultures as brothers, and don't see what the big fucking deal is. People like Elvis.