In '75, six years after John Wayne won his Oscar playing Rooster Cogburn in TRUE GRIT, they figured on bringing the character back. Not a bad idea, actually. Maybe not as good as my idea of spinning off his cat, but still, it works. He's a marshall who goes after outlaws, obviously he's gonna have other adventures. That's what this is, this ROOSTER COGBURN, it's not a stripped down drama about him getting old like ROCKY BALBOA was. (And if you're looking at that picture thinking man, Mattie Ross got old fast, don't worry, it's a different character.)
This particular adventure (subtitled "(…and The Lady)" on the DVD box) starts out like an old west Dirty Harry movie. The judge is outraged by Cogburn's unorthodox methods. He shoots too many people and isn't good enough at kissing authority figure ass. So he gets his badge taken away. I thought it was kind of funny to have John Wayne doing this when he actually turned down DIRTY HARRY, but when I read True Grit: The Book I learned that this scene is sort of based on something that happens at the end of that book. (That doesn't explain McQ, though.)
Of course the judge has to come crawling back to him because a gang stole some nitro glycerin for robbing a bank, and Rooster's the only one with the skills, knowledge and balls for the case. On the trail he comes across a small church where the gang killed some people. The survivors are the preachy spinster Katherine Hepburn and a young scout who dreams of becoming the first Native American marshall. Of course Rooster reluctantly takes them with him and eventually comes to care about them.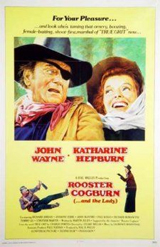 It's nice to see the character again, but there's a little too much rehashing going on here. It bugged me that he kept talking about his "corn dodgers" again. Just because a food is mentioned in the book and first movie doesn't mean it's his entire diet. At least Dirty Harry got to eat different foods each time he was foiling a crime while eating.
And of course Rooster's personality collides with Hepburn's like it did with young Mattie Ross in the first one. She's very capable, including with guns, which impresses the hell out of Rooster. That's another way it resembles a Dirty Harry movie (specifically THE ENFORCER): Rooster makes all these sexist comments but with his actions shows that he accepts her as a strong woman, in fact seems attracted to her. It's kind of nice to see two old people falling for each other in a movie. You don't see that every day.
And by the way, she can dish it out faster than he can eat it. She insults him constantly. It turns out he has very poor personal hygiene, and she's criticizes him for this repeatedly, although she doesn't go as far as saying "You smell like ass." They're a pretty funny duo.
This is the only movie that Wayne and Hepburn ever did together. It's also one of the very few movies where Hepburn fires a gatling gun, although in real life it was her trademark (source: none).
Incidentally, Hepburn's very religious character is named Eula Goodnight, so I think she might be an ancestor to SEE NO EVIL's religious fundamentalist psychopath/eyeball collector Jacob Goodnight.
Also, Rooster's fatherly bond with the kid shows a kind of racial acceptance not usually associated with the Duke. He doesn't care at all that the kid is Indian. He's down with the Indians. Wayne only did one more movie after this (THE SHOOTIST) but I bet if he stuck around a couple more years he would've been hanging out with black militants and shit. It would've been awesome. You would've been surprised.
Yeah, it's an unnecessary sequel, and it's not as good as the first one. But I gotta admit I enjoyed watching it anyway. In fact I wouldn't have minded more Rooster Cogburn adventures. They coulda done a whole series where he always has to travel with somebody he doesn't want to. A black man, a gay guy, a grumpy samurai, an orangutan, etc. They never did that, but there was a pilot-turned-TV-movie where Warren Oates played Rooster and Lisa Pelikan from LIONHEART played Mattie Ross. Anybody ever see that one?
I think it would also be interesting if other Best Actors pulled a ROOSTER COGBURN and sequelized their award winning performances. We could have Daniel Day-Lewis in DANIEL PLAINVIEW, Forest Whitaker in IDI AMIN, Nicolas Cage in BEN SANDERSON, or who knows what kind of other adventures Dustin Hoffman's character from KRAMER VS. KRAMER could have in TED KRAMER. I guess Anthony Hopkins already did HANNIBAL, so it's not unheard of.
Well, that's about it. But here is a little overview of the character Rooster Cogburn, which I link to only because I was so impressed by the theme of the websight it comes from.