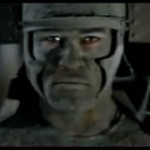 This seems to be a slow time of year for Badass Cinema. For these last few months we've had everybody and their uncle waving their ass around trying to get Oscar's attention. We've had some real quality pictures of course like The Limey and further back Fight Club, the type of pictures that ignore Oscars and Golden Globes altogether and go straight to the more credible awards presentations such as Vern's motherfuckin Outlaw Awards 1999. And I suppose Bruce has a new one coming out this week where he plays some kind of comedy hitman or whatever, but I gotta be honest it looks like some kind of sitcom shit to me. I might check out this Pitch Black but even that is questionable because judging by what I've read about it and the commercials and what not, and based on my knowledge of cinematics, I feel there may be a problem with the mise-en-scene, as far as between the auteur and what I feel is a rather aggregious, uh — well, basically, because I'm broke.
SO, I have been planning very carefully for what my next picture to see in the theater would be, trying to make a decision I wouldn't regret for the rest of my life, in case I'm broke for the rest of my life. You never know. So anyway a while back I decided on a picture by the name of Titus. Unfortunately many of you won't be able to see this picture yet because it's only playing in a few select cities, but then I'm not you so what do I care. Anyway I figured this would get me my money's worth because 1) it's only playing at the baddest theater in my area 2) it's about 3 hours long, which in my opinion gets you more minute of screen time per cent paid for ticket 3) it is from a writer with a very good reputation, William Shakespeare, so it probaly won't be more of this Scream 3 type of garbage and 4) it is supposed to be Mr. Shakespeare's bloodiest picture.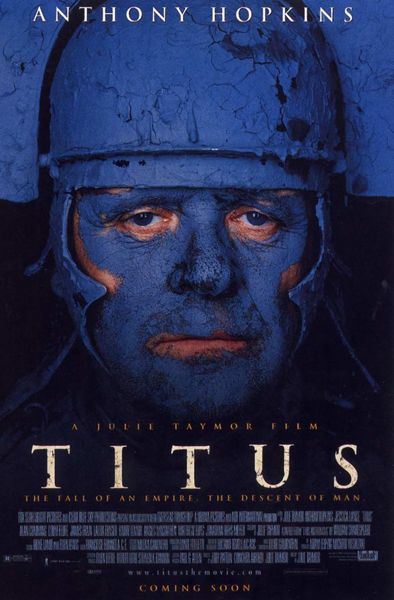 Well if Shakespeare was alive he would be NOT rolling in his grave, because this is his best picture since Theater of Blood starring Vincent Price. Anthony Hopkins plays Titus Andronicus, a VERY fucked up and negative type of individual who is considered a national hero to his people but is willing to kill his own son for opposing the emperor. Titus here is kind of the center of the picture, but he is not the good guy. Because truth be told, this is not a world that is kind to good guys. There are only about two characters who could be considered good guys, and one of them gets killed early on and the other gets horribly mutilated. So I mean, even counting the dead guy it amounts to just over one and a half good guys, once you've added up all the body parts. The other bad guys like Jessica Lange queen of the Goths and Alan Cumming emperor of the dog people and especially Aaron the Moore are so fucking vile that they make Titus seem like a pretty sane guy by comparison, even at the end when he's torturing people and making them into meat pies and feeding them to their loved ones while dancing around in a chef outfit.
Now I gotta mention, if I was a black american I would probaly feel a little uncomfortable with shakespeare's screenwriting here. Why out of all these sick fuckers does the very worst one have to be the ONE black guy? I don't know but I guess at least he can take consolation in the fact that all the whites are pricks too, and at least his son is portrayed as the symbolic hope for the future.
That said, Aaron is my favorite character in this movie because he is one bad motherfucker, and in this one specific case only by bad I mean just plain evil. The other characters in the movie are screwing each other over for revenge, or for women, or what not, but Aaron is just in it for laughs. He sets a plot in motion to get all these fuckers killing each other and when he does it he turns to the camera and calls it "an excellent piece of villainy." Later he pulls a practical joke on Titus where he says, hey, you know how the emperor has your two sons captured in barb wire cages? Yeah, he said he'd let them go if you cut off your own hand and send it to him. I mean hey, don't look at me, I just work here jack. And Titus, I mean this guy is pretty gullible I guess, so he does it, and seems pretty happy about it too.
Of course, Aaron was just fuckin with him. He puts the hand in a ziploc bag and laughs as he hangs it by a meathook on his rear view mirror. Later he sends a little girl and a musical truck to deliver back the hand and the severed heads of Titus's sons in pickle jars. Gotchya!
Well, Titus can't take a joke and so it is revenge revenge revenge. Not to mention the Queen's sons mutilated his daughter. There is a lot of mutilation in this movie and a lot of revenge. In fact I think the amount of revenge is in direct proportion to the amount of mutilation but I'm not sure about that.
Part of what makes it so great is the directorial cinemanship this gal did when she was directing, as far as the look of the film, etc. This is one of those movies where there is a little bit of historical inaccuracy if you pay attention, there are a few little subtle cheats on the time period, like they are using swords but they ride motorcycles. And that is why it works because even though they're talking this elizabethan english, which in my opinion, I mean they might as well be speaking mexican, I don't know WHAT the fuck they're talkin about some of the time. But what this gal does is VISUALLY she captures what they're saying, and you start nodding your head and next thing you know you're following the plot and you're almost convinced you can understand these dudes. And there is just great spectacles to look at, like in this huge orgy sequence, everybody's just fuckin all over the palace, and some of them are even goin at it floating in a pool on the back of a giant inflatable naked woman.
There is also a character we see the movie through, a little boy although he looks a lot like a girl. In the opening scene he is playing with war toys, suddenly helicopters are blowing up everywhere and some gladiator looking motherfucker runs into his house and grabs him, carries him out into a coliseum where he meets my man Titus Andronicus and an army of people covered in mud making the big shakespeare speeches.
And this kid is feeling exactly as I am. What the FUCK are these motherfuckers TALKING about? You can see it on his face, and he starts following these maniacs around and you follow him and about three hours later he's become a character in the story, and you're feeling comfortable with the story, and it's time for some meat pies and you think damn, that william shakespeare still knows how to write a good movie in my opinion. In fact I think this story is just as relevant today as it was back when Shakespeare wrote it if you take into consideration what it says about man's attraction to violence, as well as the motorcycles.