I think I owe each and every one of you an apology, because I've been neglecting my duty by not seeing 12 ROUNDS until now. The thing has been out on video for a month or two – how are ordinary citizens gonna know whether to watch a Renny Harlin/WWE Films tag team event if I don't test it out first? Honestly I planned to see it in the theater, but the PG-13 kept me away. Let that be a lesson to you, Fox Atomic. Next time go for a hard-R, maybe you won't go out of business.
From the director of DIE HARD 2 and the plot of DIE HARD 3 comes this generic but enjoyable festival of property destruction. Wrestler turned wrestler who is in movies John Cena plays Danny, a New Orleans police detective who one year ago arrested a terrorist or arms dealer or something named Miles (Aiden Gillan from THE WIRE – that's where all the cheesy villains come from now). Miles's girlfriend randomly got run over at the scene and he blames Danny so he's after him With a Vengeance. (I'm not sure if he's already gotten revenge on the guy who drove the car.)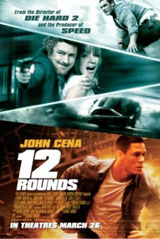 So Miles kidnaps Danny's wife and forces him to "play a game" which is villain slang for running around town following clues and defusing bombs and almost dying but not quite.
For a while I was thinking this could be called THE COMMANDEERER, because Danny makes full use of the movie cop's sacred right to commandeer vehicles. He takes somebody's Trans-Am, a fire truck, climbs onto a moving street car. But come to think of it he's on a bus and near a boat without commandeering either so he didn't really earn the title. Also his wife flies a helicopter at the end but he doesn't.
You could argue that it's selfish for him to go along with the terrorist's "game," because his friend, his plumber and a random security guard get killed in the process. But the guy really loves his wife. He also understands that human life is more precious than material wealth, so he ends up doing millions and millions of dollars of damage while trying to save her. Driving the firetruck he plows through car after car, a row of parked motorcycles, a popcorn stand, etc. He crushes an FBI car, breaks many windows, blows up a power station and a helicopter. I mean, I'm glad he saved his wife (SPOILER) but now if they make a part 2 it's gonna be about nothing but lawsuits.
Cena is blandly likable, not really charismatic. He looks kind of silly pretending to be a regular guy with muscles that big, but so does Schwarzenegger so I guess there's a precedent for that. He's not the type of presence or personality that would make me want to see a movie (like The Rock is), but he doesn't ruin anything. I liked him much better than in THE MARINE, but it's also a much more interesting movie, so that helps. I noticed that on the extras he seems like a pretty funny, smart guy, so maybe if he does more movies he'll get better.
By the way, if anybody ever wants to do a biopic of Brian Bosworth, I got a casting idea. Also, if they ever want to do a Bourne movie where he starts using steroids I have an idea for that also. Drop me a line, outlawvern at hotmail dot com.
The movie is definitely lacking in the patented moronogenius we associate with Renny Harlin pictures such as DEEP BLUE SEA and MINDHUNTERS. I mean it's silly but it's a more normal action movie type of silly than what you hope for from this crazy Finn. But when I heard the beginning of his commentary I realized he's still in his own world somewhere. He talks about how he shot it handheld, almost like a documentary, and told the camera people even if they messed up it was okay because it would be more real, and that this was his idea for how to make it a unique new type of action movie. He calls it a "commando movie" (I think he means guerilla) and I'm convinced he really hasn't noticed that everybody does this fucking "realistic" style now and that it leaves fans of movies like his old ones (or COMMANDO) out in the cold.
The commando filmmaking style ruins what could've been a great climactic fight – it's a knockdown drag-out inside a med evac helicopter, with a scalpel and defibrillators used as weapons. And the look of the movie is much crappier than Harlin movies usually are – maybe he wasn't used to shooting in New Orleans. But for the most part he can't escape knowing how to put an action scene together, so it's usually comprehensible and exciting. Danny does Action Jackson style man vs. machine chases, and a car vs. boat chase. He jumps away from gunshots and explosions. He slides down a rope on the side of a building. He doesn't wrestle anybody though.
I enjoy that everybody just has first names. In the beginning one antagonistic FBI agent gets mad at another for calling Danny by his first name: "'Danny'? What, is he your best friend now?" But then he keeps calling an evil terrorist who decapitated his own brother "Miles."
I would've liked more strange touches like that, but I think the script (by somebody named Daniel Kunka) at least does a good job of keeping things moving and not boring. It doesn't get too repetitive and also not bogged down in shit you don't care about. It even has kind of a clever twist. Well, the same clever twist as its mentor DIE HARD WITH A VENGEANCE, but still. It all fits together pretty good and in an enjoyably ridiculous way.
You really gotta wonder how these supergeniuses work it all out. He only had a year to plan, and he was behind bars for all but a week of it. He had to set up alot of shit with minimal help, and he knows he did a good job because he seems very confident and in control even though he has no way of monitoring how it's all working out. I don't know if he's quite as detail oriented as Jigsaw in SAW, but he's up there.
I mean, when you're setting up the traps for round 12 you gotta be wondering if you're wasting your time. Is the dude really gonna get through the other 11 alive? Are you? In fact, you want to make sure he gets through most of them because if he dies right away you're just gonna feel unfulfilled. It's alot of work and dedication to plan and execute something like that, I guess you sort of have to admire it. Good job, bad guy.
By the way, the rating is not really an issue. I watched the "extreme unrated cut," but I doubt it's noticeably different from the other one. It's not really that type of movie – it's all about houses exploding and cars rolling and things getting smashed, not about bullet hits and blood splatters. And it's got enough smashing to keep you interested. It's just fine.
12 ROUNDS is not a must-see by any means, and it's not as weird as SEE NO EVIL, so I guess it's only the second best movie released under the prestigious WWE Films banner. The Intercontinental Champion as opposed to the World Heavyweight. But I liked it. If you're the type of person who kinds of wants to see it I'm giving you the go ahead here.