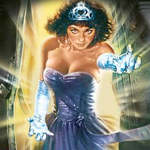 HELLO MARY LOU: PROM NIGHT II doesn't have a whole lot to do with the first PROM NIGHT, but it follows the same basic template of opening with a tragic past incident and then skipping to the present day, when older actors playing some of the same characters await impending tragedy at the senior prom.
This one seems even more CARRIE-inspired than the first one, even having a part where the protagonist is teased while playing volleyball in P.E. and gets hit in the head with the ball and knocked to the ground. But instead of having an obvious HALLOWEEN influence it's the NIGHTMARE ON ELM STREET series. This is, after all, a relatively late sequel – seven years later, in a whole new era of horror.
The classics were just pouring out in 1987: EVIL DEAD II, THE STEPFATHER, THE MONSTER SQUAD, A NIGHTMARE ON ELM STREET 3: DREAM WARRIORS, HELLRAISER, PRINCE OF DARKNESS and many others. There was so much going on in the genre that this didn't make the cover of Fangoria when it came out in October – that honor went to Jason Voorhees, with THE HIDDEN, PUMPKINHEAD, THE UNHOLY, GHOULIES II and WEREWOLF on the sidebar.
When PROM NIGHT came along in 1980 the modern age of horror had been just kind of kicking off. By '87 it was an industry, it had a built-in audience that worshiped special effects artistry and loved franchises. So hey, PROM NIGHT was a big one. Time for another PROM NIGHT. Doesn't even need Jamie Lee. She would've graduated by now. Who was the killer again? The brother? Well, that doesn't work. Do a new one. Make her a prom queen. And put her name in the title. Maybe make it rhyme?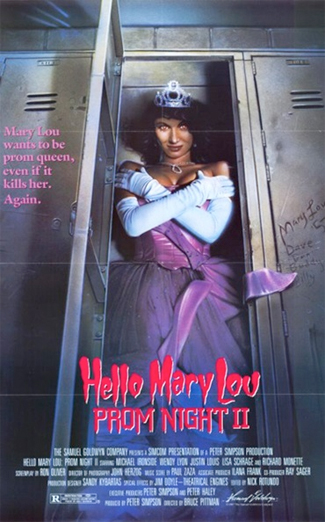 The story begins in 1957 on the night when the titleistical Mary Lou Maloney (Lisa Schrage, FOOD OF THE GODS II, CHINA WHITE) is going to (I think you can guess it) prom. She's so openly, rebelliously promiscuous that she starts her evening by going to confession just as a gag and then writing her phone number in the booth for any churchgoers who may be looking for "a good time." She goes to the dance with Billy Nordham (Steve Atkinson) but then sneaks off to make out with Buddy Cooper (Robert Lewis, LIBERTY STANDS STILL) and then cruelly taunts Billy when he catches them. Hurt and angry, Billy steals a stink bomb from some hoodlums in the restroom and tries to drop it on Mary Lou while she's crowned Prom Queen, but it lights her dress on fire and she dies Joan of Arc style on stage in front of the whole terrified school. (This was before "stop, drop, and roll" was invented.)
Now, Billy did not intend to do this, and he's horribly distraught the second he realizes what he's done. Still, jesus. Not a good way to handle your heartbreak. Buddy's behavior in this scene is also weird. He runs toward her but is so scared that he stops and just pounds his fist against the stage, crying like he's Nic Cage watching a snuff film in 8MM. I guess we're supposed to think of him as a coward.
In 1987 they're still in town and grown into authority figures, though profoundly affected by this tragedy. Buddy straightened up and became Father Cooper (Richard Monette, BIG ZAPPER), Billy became Principal Nordham (Michael Ironside, VISITING HOURS). When I saw Billy in the prologue I was thinking it was weird that a high school kid would already have John McClane-level receding hairline, but when I realized he was playing the younger version of Michael Ironside I was okay with it. (Atkinson also played young Ironside in a movie called MINDFIELD.)
As in part 1 the principal has a son who goes to the school, Craig ("Justin Louis," aka Louis Ferreira, "Exterminator #3," NAKED LUNCH, "Young Frankie Avalon," A DREAM IS A WISH YOUR HEART MAKES: THE ANNETTE FUNICELLO STORY, "Donald Trump," TRUMP UNAUTHORIZED [2005], DAWN OF THE DEAD, SAW IV). He even kind of looks like the principal's son in part 1, but instead of the brother of the main character he's the boyfriend. The main character is Vicki (Wendy Lyon, WRATH OF GRAPES: THE DON CHERRY STORY II, also played a secretary in best picture winner THE SHAPE OF WATER). Her mom (Judy Mahbey, SMALL SACRIFICES) isn't Margaret White bad, but she's religious and judgmental and won't let her buy a new dress for prom. Her dad (Wendell Smith, RUNNING BRAVE) acts nicer, but in kind of an uncomfortable way, and she kisses him on the cheek when she leaves the house.
I like that some of the girls in this are creative types. The school has some sort of fashion design class, and Vicki's friend Jess (Beth Gondek, SCREWBALLS II) has kind of a wild, layered fashion sense and giant hair do and spends all her time working on some kind of outrageous prom dress. Vicki wants to make her own too and she looks for inspiration in the school's prop room, where she finds the crown and banner left over from '57, which unleashes the spirit of Mary Lou to haunt the kids in very Freddy-like fashion: hallucinations in classrooms and beds, mirrors and chalkboards turning into liquid portals that arms reach out of, fanciful supernatural murders, getting frightened in public and screaming and making a scene, eventual FREDDY'S REVENGE-style possession of Vicki.
Inhabiting Vicki's body, Mary Lou goes to school wearing '50s clothes, starts being mean to everybody and saying stuff like "swell" and "see ya later alligator."
"She talks like we're in an Elvis Presley movie," notes her friend Monica (Beverley Hendry, RAD).
In one case Mary Lou goes vigilante – a teacher touches her inappropriately so she causes a bunsen burner accident – but also she goes around seducing people, including kissing her own father and he doesn't pull away and then her mother walks in on it! You got a sick mind, Mary Lou.
Another weird scene is where Monica is angry at her and she follows her into the locker room showers and kisses her on the nose, at first making her giggle. When Vicki grabs her shoulders and kisses her more Monica says, "What are you doing? Vicki!" and storms out, which is appropriate, but then she runs away crying and screaming "Somebody help me, please!" like her life is in danger. Which I guess it is, but she has no reason to think that. It seems literally homophobic – she's afraid of her friend being a lesbian. She crawls inside a locker to escape her nudity.
The effects are definitely not as advanced as in the ELM STREET movies, but they're in the same spirit. The weirdest one is when the face of a rocking horse in Vicki's bedroom (come on Vicki, you're in high school) turns realistic and demonic and blinks (but otherwise is barely expressive.) Later when she's possessed by Mary Lou she sits on it and puts her finger in its mouth and it licks her!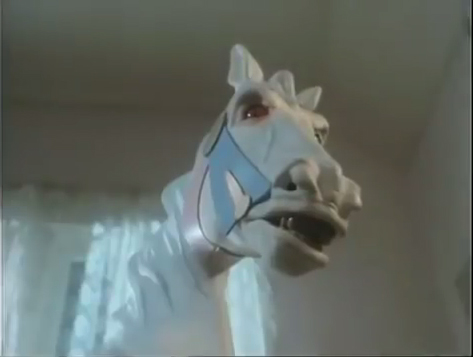 The coolest and craziest one is when Mary Lou telekinetically crushes Monica's locker with her in it. I'm not even sure what part of Monica it is that we see squirting out. And Vicki does transform into a rotting Mary Lou during the prom, so there's a bunch of makeup involved there.
There's a weirdo character named Josh (Brock Simpson, son of producer Peter R. Simpson who was in the original PROM NIGHT as the young version of Nick). He's introduced demonstrating an experiment in science class, talking in a cartoonish "mad scientist" voice, and I couldn't tell at first if the character was supposed to be taken as crazy or funny. But the Hawaiian shirt and sunglasses point to the latter – sort of a Stiles-in-TEEN-WOLF type, or at least Randy in SCREAM. He misquotes THE EXORCIST: "Your mother sews socks in Hell, Father Karras" – that must be a TV dub reference, right? I like it.
Kelly (Terri Hawkes, KILLER PARTY, voice of "Baby Hugs," THE CARE BEARS MOVIE), a bitchy popular girl who drinks Diet Pepsi even while playing volleyball in gym class, is intent on being prom queen and knows that Josh is in charge of "the computer vote." She tries to bribe him and then gives him a blow job in trade, but she still doesn't get it because of, you know, haunted computer stuff.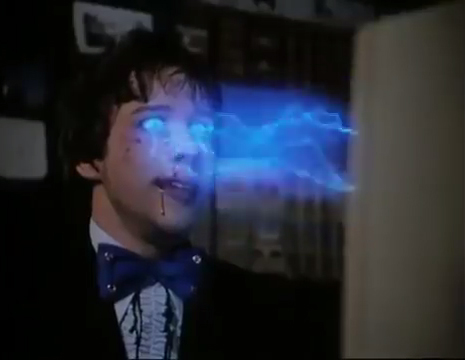 There's a surprisingly dramatic scene where Vicki finds Jess crying about a guy she liked who won't answer her calls anymore. Vicki comforts her and tells her this guy's an asshole before finding out she's kind of out of her depth in the pep talk game because the real issue is that Jess is pregnant. I was impressed by how seriously the movie treats Jess's troubles, even if the very next scene is the invisible ghost of Mary Lou killing her with art supplies.
She's an indecisive ghost, by the way. She drags Jess's neck onto the paper cutter, but then doesn't chop her. Instead she lifts her up by her cape and hangs her on the light until she dies, a perfect faked suicide – and then she throws her out the window.
Since PROM NIGHT had so much disco in it it's appropriate that part II shows us some of the music-based subcultures of its era. There's a bunch of punk and New Wave fashion, a kid with a mohawk, leather jacket and Boy George-esque eyeliner. I noticed a nice Run DMC t-shirt on an extra. But the music at the prom isn't as emblematic of its period as the disco was, and all the songs listed on the credits are the '50s ones like "Hello Mary Lou" and "Tutti Fruity."
By the way, this is one of those ones that gives characters the last names of famous horror directors. We got Carpenter, Hennenlotter, Browning, Craven, Dante, King, Romero, and then "Monica Waters" is probly John Waters and "Eddie Wood" might be Ed Wood. I'm not sure what the first movie to do this is, but this has to be one of the earlier ones, making it forgivable even if someone else already did it. And congratulations to Frank Hennenlotter for getting in there instead of John Landis or Canada's own David Cronenberg.
Also, before I forget, I just want to say that I respect any sequel title that puts the subtitle first, like a preamble. RAMBO: FIRST BLOOD PART II, for example. Or FINAL CHAPTER: WALKING TALL.
Returning PROM NIGHT producer Simpson worked with an almost entirely new team for the sequel. New director Bruce Pittman worked mostly in TV, on shows ranging from Airwolf to Maniac Mansion to TekWar to Relic Hunter, and eventually the 1995 TV version of HARRISON BERGERON starring Sean Astin. He had done a horror feature called MARK OF CAIN the year before this. Rookie writer Ron Oliver later wrote and directed TV shows including Are You Afraid of the Dark?, Goosebumps, Animorphs, plus DTV sequels such as BEETHOVEN'S TREASURE TAIL and BIGGER FATTER LIAR.
But composer Paul Zaza did return, now doing a fun late '80s style keyboard score that reminds me slightly of RETURN OF THE LIVING DEAD.
The original PROM NIGHT was filmed in Toronto, but I suspected it was supposed to be the U.S. since the school was called Alexander Hamilton High School. This one is filmed in Edmonton at a clearly different school with the abbreviated name Hamilton High School (now just named after the musical I guess, not the founding father himself). You know how horror sequel continuity works – this could very well be intended to be accepted as the same school.
This time, though, there's Canadian money on screen. And a blatantly Canadian pronunciation of "sorry." And Wayne Gretzky's brother Glen is in the movie as "Robert."
Simpson apparently was unhappy with what Pittman shot and reworked it: "In its own way, Hello Mary Lou: Prom Night II (which was originally called The Haunting of Hamilton High) was going to be my fucking best horror film. But once again, I hired the wrong director and we had to re-shoot it. Samuel Goldwyn and I re-shot about half the movie." He says that it started out as an original movie but Goldwyn suggested changing it into a PROM NIGHT sequel. I question this. You're telling me you were planning to make a wholly original new movie, and it didn't occur to you until you'd already filmed it that it could be marketed as the sequel to the other horror movie you made that also took place in Hamilton High on prom night? I don't know, man. I am not gonna call for a smell test. But if there were to be a smell test, you and I both know you are failing that fucking smell test. That's between you and me. I'm not calling you a liar. All I'm doing is heavily, heavily implying that you and I both know for sure that you are definitely a liar. I'm saying look yourself in the mirror and have pride and honor and honesty. You are the producer of PROM NIGHT. People look up to you. Students. Teens. Be a role model. Take responsibility.
All I'm saying is that you fucking know you were making PROM NIGHT II, and there's no shame in that. Have pride in what you do. You're the guy who does the PROM NIGHT movies. Many have done worse for themselves.
I'm gonna send you on your way now. But I have my eye one you. I'm watching all of the PROM NIGHT movies now. HAUNTING OF HAMILTON HIGH my ass.