LUCKY NUMBER SLEVIN is slick, clever, full of gimmicks and smart-alecky dialogue somewhere between '90s post-Tarantino and some old Fred MacMurray in DOUBLE INDEMNITY type banter. All of these things can really rub you the wrong way, and the more of these qualities present at any given time the more likely the wrongness of the rubbing. For me personally the rubbing was aligned properly for most of this movie, but it often seemed on the verge of pulling a 180 at any moment. So I can definitely see how you could watch this and just hate it if you were facing the wrong direction.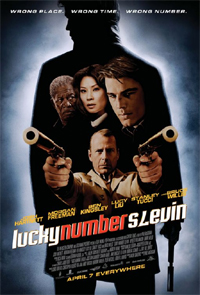 Michael Meyers's nephew Josh Hartnett plays Slevin, some dude who's staying at his friend Nick's apartment, gets mistaken for him and taken in by two rival gangsters, The Boss (Mr. Morgan Freeman) and The Rabbi (Sir Ben Kingsley). This guy Nick owes them both gambling debts and neither much gives a shit that Slevin says he isn't Nick. So he gets pulled into this situation where the Rabbi wants him to get $96,000 or something and The Boss wants him to assassinate the Rabbi's gay son and the asshole cops (Stanley Tucci, others) are following him around but not helping and the cute, flirtatious neighbor (Lucy Liu) is helping him try to figure out what happened to her real neighbor, the actual Nick.

Meanwhile, Bruce is lurking around playing Mr. Good Cat, "a world-class assassin" who always seems to be standing just around the corner watching and maybe chess-mastering and looking emotionless. This is modern, serious Bruce, not wisecracking Bruno. Come to think of it we really don't get to see that Bruce Willis much anymore, do we? He's always been versatile, and he's very good at this type of role, but it's sad how rare it is that we see him pulling out the David Addison type personality. Even in LIVE FREE OR DIE HARD his McClane was battle-hardened and much more stoic and serious. It's been a long time since I've seen Funny Bruce. I haven't seen COP OUT yet, but from what I've heard it sounds like it might not count.
But despite the presence of Serious Bruce this one's kind of a comedy, and for the most part it gets by on goofiness. I thought it was funny that Slevin, after answering the door in a towel, didn't manage to get dressed until 35 minutes into the movie. I know it's  a total ripoff of what I thought should've happened in DIE HARD 2, but it still makes me laugh. In the same vein I got a kick out of how Liu forgets to mention until an hour in that (SPOILER) she has inside information about murder cases because she's a coroner.
Hartnett has a real laid back charm in this role. For some reason I always expect this guy to be some hollow dreamboat chump with no brains or substance. But I keep seeing him being better than the movies he's in (30 DAYS OF NIGHT, BLACK DAHLIA, now this) so I realize he could really have a breakout ahead of him if he gets in the right movie.
Liu is surprising in this one too. She usually plays some shades of a domineering or crazy bitch persona, even a little bit in CHARLIE'S ANGELS. But I can't remember if I've ever seen one before where she's just the nice funny girl. So she's not just hot, you also like her.
Slevin claims to have "a condition characterized by freedom from worry or any other pre-occupation really," so unlike Serious Bruce he usually has a wiseass comment for the various threats he faces. And as he gets more involved he just gets comfortable and goes with the flow. I like when the Boss's two thugs show up unexpectedly at his (well, Nick's) door and he innocently asks, "Hey guys, what are you doing here?"
It's also one of those movies full of random dialoguical cutesiness, conversations about Liu's "deceptively tall knock" or whether or not "borrowing a cup of sugar" includes borrowing the cup itself. I think most of it works just because Hartnett and Liu are quick with it and seem genuinely into each other. They even mostly or almost pull off some pop culture discussions, most notably the one about which James Bond is the best. I'm sorry, I know we all have those conversations in the real world, but in crime movie world I just can't help thinking Tarantino owns them. Whether it's fair or not a scene like that forces me to think "oh, I get it, this guy wants to be Tarantino when he grows up," and that's not a distraction you want. I don't know, maybe I'm holding onto an out of date notion. Maybe enough time has passed that it's okay to show your Tarantino influence openly. But if so I don't think I'm ready to accept being that old yet. But this one's not too painful.
The most forced pop culture reference hands down is The Boss's monologue about the Shmoo, but I gotta admit that it's pretty funny hearing Morgan Freeman talk about something so stupid with the exact same conviction he has in other movies where he's giving wise advice or narrating about penguins. If there's a weak link acting-wise I think I'd have to point at Kingsley. I know he's a sir and all but his hammy American tough guy accents are getting a little tired in my opinion. He seemed like such a nice man. Why can't he find some more pacifist characters to play?
The writer is some guy named Jason Smilovic. Doesn't have too much filmatic experience, but was a writer on that KAREN SISCO show I liked. The director Paul McGuigan did one called GANGSTER NO. 1 that I heard was pretty good, but his main contribution to culture was to direct that boring x-men ripoff PUSH, paving way for the Academy Award winning title PRECIOUS BASED ON THE NOVEL PUSH BY SAPPHIRE.
SPECIAL YOU HAVE TO SEE THE MOVIE FIRST TO READ THIS PART SECTION.
Although I kind of liked this movie the solution to what's actually going on edged it right next to the border of Didn't Like It. I mean, it works, it's not a HIGH TENSION type of ruin-everything-that-comes-before-it twist. But it's almost too many straws on that poor camel's back. I was trying so hard to forgive its symptoms of Tarantino Fever, now all the sudden I gotta be okay with I Saw THE USUAL SUSPECTS Syndrome.
I guess at least they didn't exactly copy the way the SUSPECTS twist is revealed, like SAW did. This one has Robert Forster suddenly show up as a character who lays out new facts in a monologue over the phone. At first I thought they cast him because of JACKIE BROWN, but you know what, I'm gonna assume this is actually the world's first homage to Gus Van Sant's PSYCHO, where Forster plays the psychologist who (SPOILER) reveals some interesting facts about Norman Bates at the end.
The bigger problem is the way the change in tone pulls a takeback on what I liked best about the movie. It was Slevin's casually humorous approach to dealing with the unluckiest situation in the world that made the movie fun. Now all the sudden they tell me the likable personality is a front, the dumb stupid luck is a deliberate setup, the relationship with Liu is creepy instead of sweet. I mean, they try to adjust for that, he tells her what's up and I think the idea is that since she cuts up murder victims for a living she's a big girl and can handle it. But it doesn't seem fair to push her from having a fun adventure and falling in love with her neighbor's friend to suddenly being complicit in an elaborate revenge murder plot against dangerous gangsters. There could possibly be one or two minor consequences from that that she's not entirely prepared for, in my opinion. Plus, I don't know how comfortable she oughta be that these people murdered her neighbor Nick in order to set the whole plan off. She knew that guy, she was gonna borrow sugar from him.
And once this is revealed I gotta start wondering about this Slevin kid. His parents are murdered, he's taken in by a cold-blooded killer and trained his whole life to pull off this revenge. When did he develop his sense of humor, his strong opinions on the James Bond series, his awareness of THE WRONG MAN and Eva St. Marie? This can only mean that Mr. Good Cat is not always Mr. Serious No Smiles And All Business (And In My Case Business Means Murder). As Slevin's adopted father he couldn't have been scary and mean all the time or the kid wouldn't have ended up like this. He had to have loose moments, teaching the kid to laugh and be a smartass and enjoy movies and have girlfriends. So that means he's only Serious Bruce because we always see him on the clock.
Wiseass Bruno is still out there. We just need to find him.