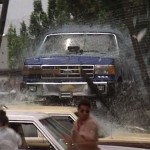 As long as I was renting ROLLING THUNDER I thought what the hell man, might as well also pick up ROLLING VENGEANCE which should be pretty fuckin good considering it's the story of a man achieving the vengeance of the title by means of a huge monster truck with a drill on the front and flames coming off the top. I mean god damn if that isn't a good premise right there. I am not at all surprised that somebody sunk their money into this pile of shit. Especially in 1987, when monster trucks like "Bigfoot" and what not were probaly about as close as a fucking truck could get to being a popular cultural type icon or whatever.
The one thing they failed to take into consideration, though – the killing blow that prevents this movie from being worth your time – is that they made it in 1987. I'm sorry, but 1987 was not a good year. 1980-1989, those were bad years. Sorry. I don't care what cable television tells you about how great the '80s were. Your mother and I have been meaning to talk to you about this, actually. The 1980s were literally the worst decade ever as far as American arts and culture.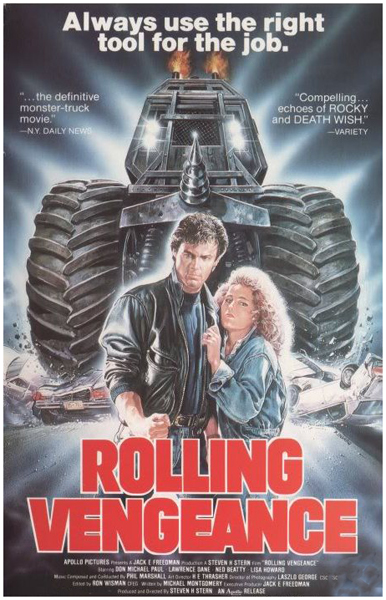 The 1970s gave us the whole TAXI DRIVERS AND RAGING BULLS scene. It gave us blaxploitation. It gave us TEXAS CHAIN SAW MASSACRE and HALLOWEEN and DAWN OF THE DEAD. It gave us classic albums by Marvin Gaye, Curtis Mayfield, Stevie Wonder. When you pick up a movie from the '70s, even a bad one, you still assume it will have a good soundtrack. If it's from the '80s, you better fucking believe it's gonna be a bad one. It might even have Dokken or somebody on it.
I'm not saying the whole 1980s were entirely bankrupt. You got your Prince and your Michael Jackson, your growth of hip hop, etc. But the plusses are so outweighed by the minuses it's hard to even comprehend. Have you heard the music the whites were doing back then? I mean good god. And think about some of the movie stars. Steve Guttenberg. Ted Danson. Tom Selleck. And whoever else was in that movie. Even the baby. I don't give a fuck.
And think about it. Can you think of a single hairstyle from the 1980s that you could have today without looking like a fucking jackass? How about a clothing item?
Nope. There's not one. And no, ironic hairstyles don't count.
Look on your DVD shelf. How many movies do you own from the '80s? I'm betting you have a lot more from the '90s, the '70s, even the '60s. If you have a lot from the '80s chances are you grew up then and you think some of them are cheesy but they have a place in your heart. And even those probaly aren't from 1987, I bet. Unless it's ROBOCOP. In that case you get a pass.
There were some good movies that managed to escape from 1987, but not many. 1987 has a strong grasp and only an occasional ROBOCOP is able to slip through its fingers. I don't know, I'm sure THE LAST EMPEROR is pretty good but according to my trusty Oscar book the other nominees for best picture were BROADCAST NEWS, FATAL ATTRACTION, HOPE AND GLORY and MOONSTRUCK. Anybody out there happen to own any of those on DVD? Or re-watch them within the past ten years? Even on TV?
No. There is almost nothing in american popular arts that was created in the year of 1987 that would not, in a more just 2004, be destroyed forever. Or at least told to fuck off. And yes, this includes PREDATOR. Fortunately, most of these movies and songs have already been buried in our memories and only ever remembered for ironic and nostalgic purposes.
So it's a real bummer that ROLLING VENGEANCE was not made in the artistic safe zone of 1979, where a movie like this could've been gritty and brutal. Instead it's a boring and bloodless movie about a murderous rampage that could still be rated PG if they didn't throw in a hint of sexual assault. The picture opens with a couple of bland pretty boy 1987 hunks driving big rigs down a street while that awful 1987 music that they had back then plays on the soundtrack. Some tightpants wearing permheaded 1987 assholes whacking off their guitars and diddling their keyboards and singing about trucks. God damn I hate that shit.
The main character is some dude who works as a trucker with his dad, and they deliver Budweiser and Jack Daniels to a bar owned by Tiny (Ned Beatty). But this guy tells his girlfriend to stay away from there because "they're bad people." The girlfriend is in MADD and she likes to go over there and confront Tiny about the drunks that leave from his establishment. It turns out she has a point because not only are these dudes driving around drunk, but they actually drive around with a pickup truck full of drunks, and then they find innocent families to throw beer bottles at and then run them off the rode and try to make a pass at the mom.
Well one thing leads to another, and eventually mom and sister are dead and it's time for some rolling vengeance. Dad stands up in court and yells, "This man killed my wife and daughter, and he gets fined $300? He oughta be strung up by the balls!" And the whole court applauds. That's the kind of shit that passed for emotion in 1987.
It takes WAY too long to get to the rolling vengeance, so I have to admit I'm not even sure who it was that eventually decided on getting the rolling vengeance. Some guy with a truck, I know that much.
There is one pretty funny scene where Ned Beatty and his son are in the bar and they get in a big argument because Ned implies that his son is a "chickenshit," and then refuses to take it back. The son is so offended he's about to shoot Ned, but then the monster truck drives through the bar and smashes everybody. But Ned pops back up and shoots a cop in the head for no reason.
Also there's a part where a girl hides from the truck in a sewer pipe, but she's still not safe because the truck penetrates the pipe using its drill.
Otherwise though, this movie is WAY too 1987 for my tastes. Fuck you, 1987, in my opinion.