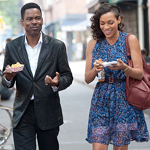 I usually have a hard time writing about comedies, but TOP FIVE is a moment worth commemorating: the point when Chris Rock finally became the filmmaker he always seemed like he wanted to be.
Not that he really needed that. The man has come a long way since having to play Luther Campbell on Saturday Night Live because he's the only black guy. He's reached the heights of standup, done some smart television, hosted the Oscars, produced GOOD HAIR and POOTIE TANG*, and yes, been funny in movies. But to me it seemed like his movies were always compromised in some way. Can you point to the one (or more) great Chris Rock vehicle? CB4 maybe?
I remember when he directed HEAD OF STATE I had high hopes. That's about all I remember. Well, the one thing that made an impression was that it had narration sung by Nate Dogg.
TOP FIVE finally feels like that pure personal expression he's been on the verge of. Not because he plays a comedian trying to be taken more seriously, but because his talents and passions are all over this. It's a conversation movie. His character, comedian-turned-movie-star-tired-of-comedy Andre Allen, is being profiled by New York Times writer Chelsea Brown (Rosario Dawson) on the eve of his movie about the Haitian Revolution and his Bravo-sponsored wedding to a reality show star (Gabrielle Union).
A few times it flashes back to illustrate stories they tell each other, but mostly they hang out and talk as he does his radio station visits, goes back to the old neighborhood, does an appearance with his cast, goes to his bachelor party, etc. And within this interview there's lots of room for other conversations about all kinds of issues, including the titleistical topic of top five rappers or MCs or something of all time (it comes up several times, but the exact topic and rules are never discussed). Rock put a ton of his funny friends in the movie and I believe he let them do their real lists. So shout out to Saturday Night Live's Leslie Jones, who not only steals the movie a couple times but is the first to list a west coast MC (she puts Ice-T at #1 and doesn't give a fuck what you think about it).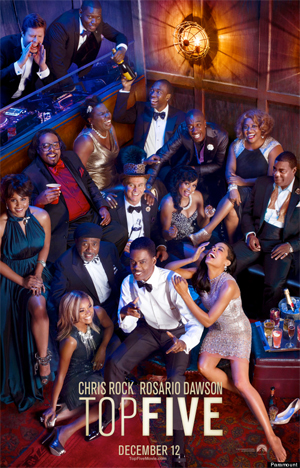 I love the scenes in the apartment with his old friends. They're all cracking on each other and poor Tracy Morgan looks like he takes it personally every time. And there's a scene with Ben Vereen as an old timer who calls Andre "Hollywood" and flips him a bunch of shit that's funny and uncomfortable, and then sad when you find out what's going on.
I'm so glad he put J.B. Smoove in here as Andre's old friend and bodyguard Silk. That guy can go on about anything and it's gonna be funny, even if it's technically street harassment. Even if it's how much he likes peanuts. He reminds me of a crazy dude I once had to 86 from a place of business. He called me "peckerwood" and claimed he killed a family in Vietnam. But Smoove is more lovable.
Rock as director gives a ton of people room to be funny without much screen time. Some play themselves, others play characters. Cedric the Entertainer's sizzurp sipping promoter is the best one of those. If you've seen it please don't give away in the comments which former Seagal co-star shows up late in the game. I wish I hadn't seen him in an ad. He shares his wisdom with Andre, who wisely ignores it.
Of course this is a romantic comedy, and it's easy to buy that he'd fall for Dawson. She's not only hot but smart and confident and easily holds her own in their conversation, which is a feat. At first he's pretty cold and rude to her, not wanting to do the interview, not taking off his sunglasses. But he keeps underestimating her and she keeps putting him in his place for it and she earns his respect.
These aren't cartoon characters, they're all very human. Chelsea is a dream girl, but she's also a little crazy. There's a story she tells him that gives him a big laugh, but should probly give him pause about her. His fiancee seems like a superficial fame worshipper, but when she pours her heart out to him you can't help but feel for her. And Andre may be smart and good at arguing his provocative opinions, but he doesn't have all his shit together either. His Serious Movie is well meaning but looks ridiculous. And the lie he's telling himself about not being interested in comedy anymore is keeping him from being happy.
It works as a love story, but it's also about his love for his chosen art form. There's a scene that does an amazing job of communicating to us outsiders the exhilaration of performing. And how could he not fall for the woman who brings him back to that high? Especially when she's Rosario Dawson with a cool shaved-on-one-side hairdo?
I got nothing against those ex-SNL guys, but most of the movies they make are a little on the cheesy side. This one looks and feels more classy, more slickly put together. ?uestlove from The Roots is the music supervisor and did a great job. He uses some classic hip hop instrumentals ("Rebirth of Slick" by Digable Planets), sources of famous samples (the David Axelrod song sampled in Dre's "The Next Episode") but also there's some jazz and I noticed a Betty Davis song. Not bad. Pretty eclectic. I wish there was a real soundtrack, but the one they made seems to just be songs from artists mentioned on people's lists. (And for some reason it includes the great Ghostface Killah song "The Champ," even though I'm pretty sure no Wu-Tang members are mentioned at all.)
* * *
Okay, you know I can't review this without trying to do my own top 5, but I always have a hard time with this because it really depends on the definition. When Andre does his it seems like he's doing top MCs of all time, which to me denotes an emphasis on vocal and lyrical skills over body of work. Being a great technician over having a classic album.
In that case I have to have Rakim in there, an obvious choice. And I personally would have Ghostface on there. I know nobody else does, but this is me. He's had more great albums than most and mostly decent ones in between. He has uniquely poetical lyrics and emotional vocal styles. He can rap like he's coming at you or like he's about to cry describing his friend getting shot. He's incredible live. He raps over an entire Delfonics song and makes it work. He's the champ.
I would have to have Eminem on there too. I know he has all kinds of lyrics and songs that make me cringe (he gets hung up on easy targets like pop stars and won't let go of the homophobic language) and also I feel weird about picking the white guy, but I also believe honestly his complex and varied rhyme schemes, his diversity of styles (speed-rapping, taking on different voices, screaming), storytelling, word play and ability to convey raw emotion in his lyrics put him in the pantheon.
A more unusual choice: Busta Rhymes. I think because he's kinda funny-crazy people underrate him, they think he's a novelty. But he has such a unique style and energy, the ability to sound wild and out of control while being laser-precise in his flow. Even on his early albums he was doing styles that to this day no other rapper can hope to touch. He's incredible.
And then… I think I should say Ice Cube. The more popular answer of Biggie is tempting. His flow is so compelling and I love when he does a more storytelling type of song, with the little details (the time on the clock when he woke up) and dialogue (doing both sides of a phone conversation). But he only did two albums and the second one isn't as good as the first. Meanwhile Ice Cube has changed hip hop with Straight Outta Compton, Amerikkka's Most Wanted, Death Certificate and The Predator, and plenty of other good stuff. And there's nobody like him either. The smoothest yelling rapper. I think I gotta go with him.
And on some days I'd be tempted to replace somebody with Kool Keith.
But you know what man, I would rather go by Rosario rules. She lists her favorite groups. That I can do pretty easy.
1. Public Enemy (indisputable)
2. Wu-Tang Clan
3. Beastie Boys (See, I would never choose them as "all time top MCs," but if I'm going by the greatness of their albums there's no question about it)
4. A Tribe Called Quest (3 and 4 could possibly switch)
5. Run DMC
I have a natural instinct to say N.W.A., but when I think about it they really only have Straight Outta Compton to go by. The second album is pretty good but doesn't have Cube, and I don' think it would be fair to consider Dre and Cube's careers (and Eazy's first solo album) as part of N.W.A.
Also, De La Soul is worth considering, especially if you look at longevity and the fact that they're still amazing now if you see them live. They might deserve a spot on that list. But Run DMC is so iconic to me. One time I heard "Walk This Way" at a club and I said "This song kinda sucks. But it changed my life."
See, there's alot of angles to a Top Five, and that's why it's fun to discuss. And why I hope the blu-ray has endless deleted conversations about it.
*I was as surprised as you are to find out I did a poorly written review of POOTIE TANG back in 2001 where I correctly predicted its future as a cult classic. Too bad I didn't mention the director's name at all.
This entry was posted on Tuesday, December 23rd, 2014 at 12:37 pm and is filed under
Comedy/Laffs
,
Reviews
,
Romance
. You can follow any responses to this entry through the
RSS 2.0
feed. You can skip to the end and leave a response. Pinging is currently not allowed.