The 2011 Oscars are on in a couple hours. I know it's supposed to be cool for movie fans to say they don't care about the Oscars because it's all meaningless and etc., but FREDDY VS. JASON was meaningless too and I still wanted to see who would win. Of course that one was ambiguous, I say Freddy won because of the wink but Jason got to do that cool strut holding the severed head. So I'm calling a best director/best picture split tonight.
I mean there's nothing wrong with it. We all understand the inherent flaws of an award show, but you can still enjoy them, just like you enjoy seeing everybody's stupid lists of the top 10 of the year or all time best explosions or whatever so you can get mad at what they left off or agree with some unexpected choices they made or whatever. It's part of being too into movies, don't get all uppity about it.
This year I was kinda feeling like I didn't have a bird in this cockfight, because I didn't even think I had a favorite theatrically released movie this year, but then I remembered that I did and I just didn't want to admit it because it was about ballet.
I crammed and watched WINTER'S BONE and 127'S HOURS this weekend, so I'd seen 9 of the 10 best picture nominees. I knew it was gonna be a bummer to watch the only one I hadn't seen be the winner so I went and saw KING'S SPEECH too.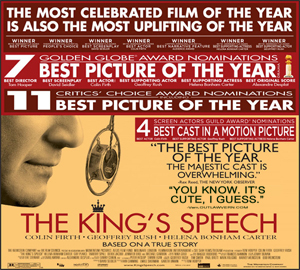 I guess I don't really get THE KING'S SPEECH. I know everybody seemed to really enjoy it, so I'm not gonna say they're wrong. But from my perspective it just seems like if you saw the trailer and you thought you know, I'd like to see what happens between those scenes, just to be sure, then you will be perfectly comforted. Yes, it is what you expect. It will wrap you in its gentle warmth and steadfastly refuse to surprise or startle you. I don't mean the trailer gives away too much, I mean there's not much to give away. It's a cinematic adaptation of a concise, easy to explain premise. You know. It's cute, I guess.
Colin Firth plays the Duke of York (not to be confused with A #1 Isaac Hayes), second in line for the throne of England just before WWII. It's the dawn of radio and that changed everything, before video killed the radio star and the internet turned video into little clips of animals doing funny things. It is explained in dialogue that a prince used to just have to stand there looking important, but now because of the new technology he has to be able to talk good. This poor bastard has to make a speech to everybody and he's had a stutter since he was a little kid. I never had a stutter, but I think most of us can identify with the stress of having to go do some thing where you talk in front of a bunch of people, and you can imagine how much more terrifying it would be if you stammer.
The movie starts pretty much the same as 8 MILE. He has to make this speech and he's nervous, there's a big buildup, he goes up there and tries but nothing comes out of his mouth and everybody stares at him. But this is no movie, there's no Mekhi Pfeiffer.
There's another movie it resembles more than 8 MILE. I had a whole thing written up about how much THE KING'S SPEECH was like THE KARATE KID, but then I used the google.com search engine when I realized somebody else had to have pointed this out before. The first one might be this guy in Vanity Fair. Shoulda kept up to date with kingsspeechfanz.org I guess and I woulda seen that link.
To make a long story short both are about an underdog moved to a place he doesn't want to be (California, the royal palace) who is bullied (by the Cobra-Kai dudes, by his brothers and dad) but meets an eccentric, uncredentialed foreigner (Japanese, Australian) who in a ramshackle dojo (in this case a set from a gay porno) makes the student do silly things that cause him to whine and the audience to gently chuckle because they know it's actually a brilliant, unorthodox training method that through a series of montages and growing experiences will lead to excellence.
I don't think Vanity Fair pointed this one out, but Hitler plays the part of Johnny, the mean blond kid who's better at karate/speaking and has to be taken down. It would be cool if the King gets an injury during the speech, like he bites his tongue real hard or something, and Geoffrey Rush tells him he doesn't have to finish, he's already proven himself, but the King insists so Rush does an Australian healing method (possibly involving eucalyptus) and he goes out there and finishes through the pain.
Then as long as they're hollywooding it up I think there should be a part where the King runs into his asshole brother – or shit, even Hitler himself – and speeds through perfect enunciations of a bunch of tongue-twisters. And the bully is taken aback and says "wh-whut?" and the king yells "Did I stutter, motherfucker!?" and pushes him out of the way.
This is not a bad movie, it's perfectly watchable and sweet, and the actors are all as good as you'd expect. Helena Bonham Carter is even likable playing a loving, supporting wife instead of another one of the crazies she's been playing lately. And I did find myself mildly involved in the climax and pulling for him to turn it into ROCKY 2 and win the big speech match or whatever.
I'll try not to linger on this point for too long, but I want to bring it up since this is also my Oscars post: it does bug me that so much lavish praise gets thrown on safe, middle of the road movies like this. They're like the centrist democrats of movies, they try so hard to  please everybody that they get very little done.
They have a broad, mainstream appeal but are British-y and histrory-y enough to seem a little more highbrow and grown up than more technically proficient and more intelligently made popcorn movies. I would argue that other best picture nominees like TOY STORY 3, THE FIGHTER and INCEPTION have the same kind of broad mainstream appeal while also being very distinctive movies, often with something more to say, and in at least 2 of those 3 have much more emotional weight. And one of 'em's about dolls.
KING'S SPEECH is fine but I don't think it's as good as those movies because it doesn't challenge you in any way or make you think or do anything you haven't seen before in a movie or do a better job of anything you have seen before in a movie. It clearly explains its themes in dialogue just to be safe. And it has jokes a little kid can understand.
It doesn't go as broad as it could with the humor but come on dude, you can't get much more obvious than ha ha ha, the King is saying "fuck" a whole bunch of times! And in this type of movie since it's not a comedy and there's no rule that says it has to be funny then anything that is very mildly somewhat funny-ish will make Seattle audiences laugh a little too hard. So at the "fuck fuck fuck" part they act like it's 1980 and they're watching AIRPLANE for the first time.
And there's even a part where Geoffrey Rush tells the bishop that he'll have to clear out Westminster Abbey for him to prepare with the King. The bishop looks like steam is about to come out of his ears, and you're obviously supposed to think "ha ha ha, he's really sticking it to that uptight clergyman, I'd like to take the starch out of his collar." I only regret that the bishop doesn't loosen up and go streaking at the end, or judge a wet t-shirt contest.
The Weinsteins, who you would sense were the producers of this movie even if it had no credits, are apparently re-releasing a PG-13 cut to get more money, so it's not gonna have the scene where he says fuck a bunch of times. I don't know if they plan to add in some farting or something to make up for it, but at least they'll still have the part where Geoffrey Rush sits on the throne just to fuck with him! Can you believe it? He's turning the whole system upside down. Next thing you know there's gonna be teachers standing on their desks throwing text books. The Man has gotta be shakin' in his boots after the way that King and his buddy stuck it to him. In fact I have a feeling this movie played a big part in what's gone on recently in Tunisia, Egypt and Libya.
* * *
The standard-def wisdom says it's gonna be THE KING'S SPEECH for best picture with the dark horse outside chance going to THE SOCIAL NETWORK. So it basically comes down to whether more people are willing to vote for a movie about British royalty or one about college kids – I don't think either one has won a best picture before. But let's compare the two I guess.
Both are about a priveleged but socially awkward weiner who works hard to achieve something. With THE KING it's through lessons, with SOCIAL it takes more smarts. Both sort of end up being about the importance of friendship, but in THE KING it's "and they remained friends afterwards, isn't that great?", with SOCIAL NETWORK it's "and he ruined his friendship, doesn't that suck?" So they're coming at it from different angles.
Both are sort of about technology creating a major change in culture, but THE KING is just going with the flow, SOCIAL is getting out in front of it and turning it to his advantage. But THE KING's goal is to unite the nation going into WWII, SOCIAL's is just to be the biggest to impress girls. But it's not like the movie portrays that as a good thing.
Both movies are meant to be non-judgmental about their protagonists, but I think SOCIAL comes across more as a cautionary tale and KING'S as a triumphant underdog. I think both kind of have small, unimportant things to say about the way changes in technology affect our culture, neither is real deep. But SOCIAL is a far better piece of filmatism as far as photography, editing and music, a far more layered and interesting script about a more difficult to dramatize subject. And as good as Colin Firth is I think plenty of fine British actors could've pulled off that role, but very few if any twentysomething nerds could've handled the personality and mouthsful of dialogue that Jesse Eisenberg did in his. So I'd give the Oscar to the kid. Don't think they will, but they should.
appendix: my loose ranking of the 10 nominees in case anybody gives a shit
1. BLACK SWAN
2. TOY STORY 3 (this might actually be the best but I don't want to admit it 'cause it's a cartoon and a part 3)
3. THE SOCIAL NETWORK (or possibly INCEPTION, but I saw SOCIAL NETWORK a second time and it grew on me more)
4. INCEPTION
5. THE FIGHTER
6. TRUE GRIT maybe? gotta see it again to deal with my remake vs. original issues
7. 127 HOURS
8.WINTER'S BONE
9 and 10: not sure between KIDS ARE ALRIGHT and KING'S SPEECH, those were the only two nominees I didn't like very much. Both have their positive qualities, KIDS is arguably more original but also more flawed
* * *
11 pm UPDATE: POST-OSCARS SCREED
Well, no surprises there, except the fella from The Nine Inch Nails won for the SOCIAL NETWORK score. I didn't expect that. Maybe we're making babysteps toward a more RZA-friendly future.
I was happy to see Natalie Portman win. Not a surprise but well deserved. Looks like doing movies instead of sex videos is a viable choice for some former child stars. (Jackie Earle Haley chose this route also.)
Even in a 10 nominee field it looks like the CRASH principle can hold true: I liked 8 of the 10 so it's gonna be one of the other two that wins. Looks like alot of people are mad about THE KING'S SPEECH winning over SOCIAL NETWORK, to me it's more about winning over several movies that I believe were way better.
Oh well. I'm a little more disappointed in the script and direction of KING'S SPEECH winning. I feel like it's a pretty blatant way of honoring mediocrity. Nothing against the dude but I have no clue what is special about Mr. Hooper's achievement as a director there. He did a professional job of plainly photographing a cast that wouldn't do a bad job even if they were in a STAR WARS prequel. They're all good but I don't feel like he got any career highs out of any of them or brought out any new sides of them that we haven't seen before. And the script is not terrible but it's a pretty by-the-numbers story complete with two "here I will explain what the themes are" lines of dialogue and what I think is a really phony emotional climax when he yells "BECAUSE I HAVE A VOICE!" To me that felt more like a line for the Oscar reel than a believable response from the character.
But life will go on, and I believe several of these movies will be remembered and re-watched much more fondly than this one, so what else is new? At least with the 10 nominees they give a little bit of respect to a bunch of really good movies that deserve a high five or two.
Now I would like to make an argument I don't think many people will agree with, but despite my ranking above I'm feeling that the nominee that had the least chance of winning best picture – TOY STORY 3 – was probly the one that deserved it most. Think about the emotions of that movie, the way it speaks to parents facing the day when their children grow up and leave them, to young people growing up and having to leave their families, to giving up the things that were meaningful to you in the past, to facing your own mortality and accepting it because of the love of your friends and makeshift family… and I think this list could go on with several other very relatable, human emotions that these animated inanimate objects experience. Now think of just the filmatism of it, the humorous way they tell this entertaining jailbreak story, and the incredible attention to detail in creating the world and culture of the toys living in a day care center. And think of the technical achievement, the animation and design that is so much more layered and textured and nuanced than even the previous TOY STORY movies. And the performances created between animators and voice actors. And all of this in an animated sequel, a movie that would've been a huge hit even if it was lazy and shitty, but instead managed to exceed all expectations, even coming after a couple home runs in a row from Pixar.
I guess I could make similar arguments for BLACK SWAN or SOCIAL NETWORK, which I think are both great achievements, powerful stories, exceptionally well told, and movies that could not have been made by other directors. Maybe I'm latching onto TOY STORY 3 because it's a pretty big underdog in the Oscar world. There's such a prejudice against an animated movie winning best picture, especially when it has a separate category to win in. If it somehow pulled off a win people would complain about it for years, like when the song from HUSTLE & FLOW, which was absolutely crucial to that great movie, justifiably and against all odds won an Oscar. I agree, I don't like Three Six Mafia, I don't like that entire genre of "dirty South" hip hop, but that was one of the most deserved original song Oscars ever. No wonder it's such an uphill battle for something unorthodox to win, even when it does win people grumble about it for years.
Now I would like to close off this rambling screed with a rant I have had developing all year but I don' t think I've unleashed it on the internet yet. I am sick and fucking tired of hearing people say that they don't want to see THE SOCIAL NETWORK or didn't get into it because "I don't want to see a Facebook movie" or "I don't use Facebook."
When the movie was new it was a mildly annoying thing to hear, because David Fincher is a director that most movie fans are familiar enough with to have some faith in, and the tagline "You don't get to 500 million friends without making a few enemies" succinctly sums up what the drama is gonna be.
But now that the movie has been seen and discussed by millions of people for a year I think it's fair to point out the utter stupidity of that logic. I saw it again in Entertainment Weekly's article where they talk to anonymous Oscar voters about what they voted for. Maybe I'm more open-minded than some, but I'm not a boxer, I'm not a crackhead, I'm not a king, I don't give speeches, I'm not a doll, I'm not a young girl seeking my father's killer in Indian territory, or a young girl seeking my father in the Ozarks. Yet I can see the drama inherent in all those topics. Nobody ever refused to watch SCARFACE because they don't use cocaine. Or WALL STREET because they don't invest in stocks. What the fuck are you talking about? Please stop saying it.
oh shit, the music is playing, I love you mom, etc.