After THE GIRL WITH THE DRAGON TATTOO I was real excited to see what would happen in the next installment. The second one starts with a flashback to the Netherlands in the 17th century. Scarlett Johansson plays a maid who goes to work for the famed painter Vermeer (Colin Firth). He finds out she's interested in art so he starts teaching her how to mix paints. I really wasn't sure what this had to do with Lisbeth Salander and I was kind of bored so I turned off THE GIRL WITH THE PEARL EARRING and skipped to THE GIRL WHO PLAYED WITH FIRE.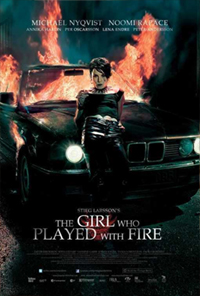 Remember Lisbeth Salander (Noomi Rapace), the girl with the dragon tattoo? She's also the girl who played with fire, as revealed at the end of that movie. Seems like that title survived the Swedish-to-English conversion better than the other one because I still don't get the significance of her having that big-ass tattoo, but I do understand how she played with fire both literally and figuratively and how those events are central both to the plot of this movie specifically and to the formation of her character in general. Plus it sounds cooler. Two less syllables. Sleeker, more aerodynamic.
Lisbeth is a computer genius, an expert researcher, and sort of hates men, for good reasons. She pouts alot, has three nose rings, enjoys the company of women, has a photographic memory and knows how to drive a motorcycle (those last two skills, established in the first movie, each come up once in this movie and it's cool because you think "yeah, she does know how to do that, I remember that.") In this one we also learn that she trained as a boxer since she was a teen. She's kind of a super hero but instead of patrolling for muggers she has a crusade to fight back at the "sadistic pigs and rapists" that she encounters. So appropriately her main weapons are standard women's self defense: pepper spray, stun gun, kick to the balls.
"Star reporter" Mikael Blomkvist (Michael Nyqvist) is back, he gets in some deep shit when he's helping a young reporter with an exposee on sex traffickers and comes over to find the other journalist and his girlfriend executed. Lisbeth is in deeper shit though, because her fingerprints are on the gun. The best part of part 1 was the way she turned the tables on her parole officer/rapist, and that becomes important here. She threatens him again and he tries to have her taken out, which you figure might explain why she got set up. Except he gets killed too.
So Lisbeth is on the run Bourne or Salt style, trying not to be seen, using her smarts, computer know-how and passion for terrorizing men to figure out what's going on and how to clear her name. So she doesn't get to rock a mohawk in this one. Disguises include Pretty Blonde (long blonde wig) and Young Boy (grey hoodie, backpack and Yankees cap). She has to take on some bikers and a big blond motherfucker who doesn't feel pain (Dolph, please report to the American remake).
Meanwhile Mikael is on the case too, using his dead colleague's sources and his magazine's investigative skills. Lisbeth remotely breaks into his laptop and scours all its files (thank God he doesn't keep a bunch of porn on there), leaves messages in text documents on his desk top.
That's what I thought was really cool about this one: the two heroes from part 1 reunite without actually uniting. In fact (SPOILER) they never see each other until the very end, by which point (SUPER SPOILER) Lisbeth is covered in blood and barely conscious and can't say anything to him. Yet they work together and in some ways become more close than before – for example Mikael finds out what happened to her (in fact he sees the video).
There are other people in her life: her old boxing trainer, her ex Miriam Wu (who we first know must be into martial arts because she subscribes to Kung Fu Magazine), her stroke-stricken former P.O. With the exception of the P.O., who she visits in the rest home, she's not close with any of them, but they get pulled into this thing where their fighting skills and knowledge come in handy, like they're part of her Mission Impossible team.
There's a girl she uses for sex and for occupying the apartment she doesn't really live in. She's not exactly sensitive to that girl's needs and doesn't seem to care about her too much. It's the guy she hasn't seen since the last movie, who obviously yearns for her but can't have her, who she thanks for being her friend. (doesn't say nothing about traveling around the world and back again, what would happen if he threw a party, etc.) I get the idea that to her he's the one true friend, that this is her strongest relationship, even though it's from a distance. Solving mysteries with him from an empty apartment.
I know these movies and books are a huge world wide phenomenon, but somehow I don't know anybody that's into them. I was talking to one guy about it, he says "I heard they were pretty rapey." I guess there's some truth to that, and I get it – rape is a real bum out that kills the entertainment factor in most movies. When you recommend RAIDERS OF THE LOST ARK to somebody you don't have to say, "Just to warn you, he does get brutally raped early on. But don't worry, overall it's a fun movie."
The rape in question is in the first movie, and it's not the key event like in I SPIT ON YOUR GRAVE. But it's absolutely crucial to the character of Lisbeth – she survives abusive men in childhood and in the system. So when she comes back at them we know she's not overreacting. If we didn't know what Lisbeth has been through we might have a problem with her showing up in a guy's house wearing scary face paint, enhanced-interrogating him and leaving him hanging from a noose when his teenage daughter gets home. She's the Woman Who Hates Men Who Hate Women. What they did to her made her this way, and they will live to regret it. At least they will live for a certain amount of time to regret it.
I think that's why she's such a cool character. She's a woman who survives and avenges and spits on your grave but also solves mysteries, accesses top secret files, holds her own in a scrap, looks good on a motorcycle and evades capture by the authorities. She's the Final Girl meets Jason Bourne with a dash of Shaft and a sprinkle of the girl from A NIGHTMARE ON ELM STREET 3 who has the switchblades and mohawk in her dreams.
In the first story (movie version at least) it was this great character that stood out more than it was the elaborate mystery about elderly Nazis she helped unravel. So in this one it's nice that the mystery revolves around her, and allows her to take on villains that more directly apply to her: sex traffickers and important people from her past. Actually it turns out they might be the ones playing with fire here.
I like Lisbeth Salander. I look forward to seeing what happens when she deals with this bee problem in part 3.