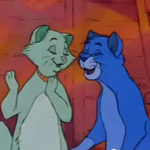 For some reason I am reviewing THE ARISTOCATS. You gotta fuck around and try out different shit sometimes, as my dear grandmother used to say.
THE ARISTOCATS is not one of the better Walt Disney pictures in my opinion. It was the first one they made after Disney's death, although he'd approved it before he died. It seems to rehash parts of LADY AND THE TRAMP and 101 DALMATIONS without being as good as either. At the beginning a nice old rich lady in Paris is drawing up her will and since she has no living relatives she wants to leave it all to her cat Duchess (Eva Gabor, the same voice as Miss Bianca in THE RESCUERS) and her three kittens. This is upsetting to her human butler, who responds by giving the cats date rape drugs and abandoning them out in the country.
For a second I was thinking I'd already seen this, it was so familiar, but then I realized I was thinking of GARFIELD: A TALE OF TWO KITTIES, which had almost the same plot. But great minds think alike, you know.
Duchess immediately runs into Thomas O'Malley (Phil Harris, the same voice as Baloo in THE JUNGLE BOOK). His low voice made me think it would be cool if Johnny Cash played him, but then I realized how much he sounds like John Wayne, and that's really the type of character he is.
Thomas claims to be an alley cat, so I'm not sure why he's out in nature. But he flirts with Duchess, calls her "baby" alot, and helps them travel back to Paris to confront the butler.
The crazy part is when Thomas brings these Aristocats over to the ramshackle house where he stays when he's in Paris. He doesn't have an owner – this is a squat or a flophouse or something. He hears that his friends the Scat Cats (led by the voice of Scatman Crothers) are in there and he says they should go somewhere else, 'cause "They're not your type" and "they're real swingers!" But Duchess wants to go in. She's adventurous.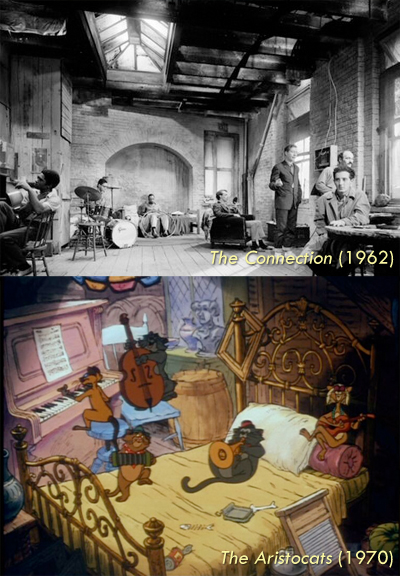 The Scat Cats play a song for them, "Everybody Wants to Be a Cat." They're jazz musicians. Man, I've seen THE CONNECTION, I know what's going on here. These cats are shooting heroin in the bathroom. That's probly why they wear hats and ties and stuff, to cover the track marks. Or to have something to tie off with. You can see why Thomas didn't want to bring the kids in here. They get crazed, everything starts flashing different colors. During the climax the camera starts shaking up and down, even though they're just drawings. That's some intense music. Good song. Although I gotta say I could do without the out-of-the-blue Asian caricature, a cat playing piano with chopsticks. It doesn't even fit the jazz theme. They had to go out of their way to get some racism in there.
Now let's address the class issue. This is a story for the one-percenters who would think it was bad for a butler to be upset that he loyally served this lady for decades but she would rather give her estate to fucking animals than to him. It acts like he's the crazy asshole. It's suspicious of the help like white ladies in THE HELP.
I want to repeat, he is a human being who has bent over backwards to serve her needs for years and years and years. They are animals who eat out of a bowl on the floor and shit in a box. It is true that this is a world where animals can speak English to each other, fall in love and play jazz music, but no human knows about this, and even if they did, it would be clear that there is no sane reason to give your money to them and not to the human. They don't have any way to use money, and if they did I guarantee you the Scat Cats steal it and blow every last cent on dope. Money is a human system, in my opinion, it was never meant for domestic animals. Where would they keep their wallets.
That's how bad classism is. Even to a nice old lady like this, the servant class are lower than box-shitting domestic creatures that puke up hair on the floor all the time and think nothing of it. So there is some serious class conflict going on here. But within the animal world there's not so much division. There's a mouse named Rocquefort (Sterling Holloway, the same voice as Winnie the Pooh) who lives at the mansion and is more upset than anyone about the disappearance of the cats. He tries to investigate, but doesn't call in the Rescuer Society. Maybe they don't do cat cases. Or maybe he's a dead beat dad or something and they'd bust him if he called them.
There's also some geese who don't fear the cats. The only inter-species tension is between Rocquefort and some alley cats, who threaten him until they find out O'Malley sent him. This suggests again that it's a class issue. In this movie only the poor or working class have malice in their hearts.
To her credit, Duchess never seems put off by Thomas's lower status or hobo lifestyle. She just thinks he's great, and more in an accepting grandmotherly way than in a condescending touristy way, though obviously she knows she's going back to her mansion ASAP. The rough part is how the movie acts like he's this wonderful free-spirited cad, but at the end he lives with them at the masnion, and Madame even combs his hair like a square. I know it's a happy ending because they're in love and he likes those kids and everything, but this means no more wandering for Thomas O'Malley. No more falling into rivers. No more jazz? Well, I guess his junkie friends do come over at the end.
Anyway, not a great movie, but one of the only Disney cartoons about homeless junkies. And the background paintings are nice.
This entry was posted on Sunday, February 10th, 2013 at 10:18 pm and is filed under
Cartoons and Shit
,
Reviews
. You can follow any responses to this entry through the
RSS 2.0
feed. You can skip to the end and leave a response. Pinging is currently not allowed.