ALICE IN WONDERLAND by Louis Carroll or whoever is one of the most beloved and iconic children's literatures of our times. It has also been one of the most adapted, referenced and re-interpreted. Ever since the books Alice's Adventures In Wonderland and A2: Rise of the Looking Glass were first published in such and such a year, I myself as a child growing up was inspired by, blah blah blah and you know the rest. In 1951 Walt Disney, etc.
As an adaptation of the original book, ALICE IN WONDERLAND is not entirely faithful. Like many versions it combines characters from the first book and the sequel (Tweedle Dee, Tweedle Dum and Humpty Dumpty were from the second book according to Wikipedia, a popular websight). However it's not meant as a straightforward translation of the book, but more a riff on the world of Wonderland, using our familiarity with some of the imagery and characters from previous adaptations and trying to be clever about re-interpreting them in a different context.
In this version Alice is not a little girl anymore, she has grown up quite a bit. In the world of reality she's having relationship troubles. But this awkward looking white rabbit runs by, she follows him and escapes into this fantasy world where her encounters make her realize what she needs to do.
She's completely naive and innocent, but because of her age her interactions with the fantasy characters take on more adult meanings. When she shrinks out of her dress she ends up naked, and the behavior of the weird animal people she runs into makes her uncomfortable. But it's not until nearly a half hour into the movie that a talking rock convinces her to finger herself and then next thing you know she meets the Mad Hatter, who has no pants on, and she gets curious enough to start giving him a blow job.
By the way I don't know if I mentioned this is the 1976 porn version of ALICE IN WONDERLAND I'm talking about, not the new Tim Burton one. I'm gonna talk about that later in the review.
Directed by Bud Townsend (NIGHTMARE IN WAX), it stars Kristine DeBell as Alice. She was a Playboy model, but there's at least one hardcore scene that seems like it's gotta really be her. (There's also an R-rated version, like PIRATES). She still managed to go onto a pretty good career in TV and movies, everything from MEATBALLS to THE BIG BRAWL to The Young & the Restless. And she's the best thing in the movie, playing the ludicrous porn naivete pretty straight. She's kind of like the poor man's Barbarella, and come to think of it I never really thought about how much the plot of BARBARELLA resembles a porno with the sex scenes cut out. Oh well. Coulda woulda shoulda.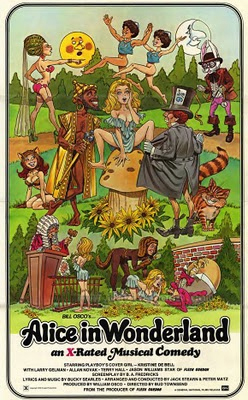 Basically the story is about her going around meeting the different Wonderland characters, but don't worry, she doesn't screw all of them. Tweedle Dee and Tweedle Dum for example are depicted as a man and woman wearing beanies and no pants, they take care of each other. Humpty Dumpty (played by screenwriter Bude Searle) gets his boner back thanks to Alice's help, but her technique is offscreen and then it looks like he just has a dildo attached to his costume. She doesn't have to actually do an eggman. That's why she could still be on CHiPs and NIGHT COURT.
The weirdest thing about the movie is that it seems to be trying harder than you'd expect. The sets and costumes are cheap, and for some reason the rabbit's ears attach to the side of his face. But it's got all these musical numbers and dance sequences and they obviously have real dancers and choreographers, even if sometimes they end up getting naked and licking each other. There's more time and emphasis spent on the musical numbers than the sex scenes, though. And it seems kind of serious about Alice going on this journey, it's only the wacky music and title cards with sex puns that make it seem like it's trying to be funny. Also there's a joke where a character says they used to have a towel but a hotel stole it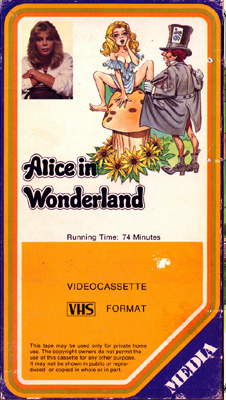 from them. There's a character who looks kind of like Bruce Vilanch, but I don't think he was a writer on this one.
I don't remember a Cheshire Cat or a Caterpillar. Some Carroll purists may be disappointed by these liberties, as well as the part where Tweedle Dum pulls out of Tweedle Dee and cums all over her butt. (I could've said "some may be disappointed by these omissions, as well as several emissions," but this is a pretty classy websight in my opinion so I don't write that kind of garbage.) I personally was disappointed that the credit for "nude underwater volleyball sequence" turned out to be a joke.
To be honest ALICE IN WONDERLAND is not all that entertaining. It's kind of funny that it exists, and there are some okay blowjobs. And it is probly one of the only movies where a girl talks to a bunch of animals and learns that she should stop being so uptight and screw her boyfriend. But there are better porns, better musicals and better versions of this particular story.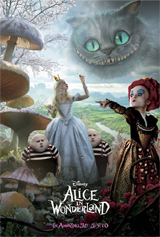 By coincidence I also watched the new Tim Burton movie called ALICE IN WONDERLAND. This one is designed more as a RETURN TO OZ type deal, a sequel, where an older Alice (Mia Wasikowska) returns to Wonderland, although she can't remember being there before. It has the Mad Hatter and the Queen of Hearts and everybody but in more of a fantasy quest type thing where Alice is a chosen one who gets a sword and fights a dragon and shit.
I have some real mixed feelings about this movie. As a visual experience I think it's unprecedented. Some people claim it's more of the same from Tim Burton, but that's not true at all, he's never made anything half this elaborate. It's fucking incredible to look at, even ignoring that it's in 3-D with lots of nice CAPTAIN EO style flying-out-at-the-audience show-off shots. He's using all that "mo-cap" and what not but in a more artful animatory kind of way. It looks like a very detailed psychedelic painting like you'd see in that "Juxtapoz" magazine they got at Borders.
The Queen of Hearts is Helena Bonham Carter with a head the size of a La-Z Boy, and it looks pretty real. Tweedle Dee and Tweedle Dum (strictly Platonic in this version) look like a painting of Pugsley Addams. Crispin Glover plays the Knave of Hearts, whose proportions look very exaggerated but it was a while before I realized they were digitally stretching his limbs. And you got all these little frogs running around wearing clothes, living playing cards that could be stop motion characters, a very real looking Cheshire Cat floating out of the screen into your face, a talking bassett hound who strikes a perfect balance between realism and cartoonish characterization, 100% free of GARFIELD style creepiness.
They also do a good job with the shifting of sizes. You remember Alice drinks potions and eats cookies and it makes her shrink or grow and all that? They do that here too, she changes sizes many times so we see the characters from different perspectives. Sometimes the caterpillar is her peer, sometimes he's a bug on her shoulder. When she first meets the Tweedles they're behemoths, later they're little boys. That's one aspect where they got the dreamlikeness down just right.
It all looks fucking incredible, I never seen anything like it. It really puts the Whoopi Goldberg version to shame, in my opinion. Unfortunately it's an amazing visual depiction of a pretty boneheaded script. If it was a straight adaptation of the story people would probly say "been there, done that," but fuck 'em, it would be an impressive new visualization of a classic story, like that version of A CHRISTMAS CAROL that I loved and nobody else I know was willing to watch. Instead they decided to make references to all the familiar Wonderland shit (the Mad Hatter is still having a tea party, still asks the same riddle, caterpillar's still sitting on a mushroom smoking a hookah asking "who are you?", Queen is still trying to find out who stole her tarts, etc.).
THen they take that half-assed ALICE IN WONDERLAND and cross it with some obvious CHRONICLES OF NARNIA shit. And I say that as someone who has only seen the trailers for NARNIA. This has the same amount of depth as those trailers. And when it gets into this by-the-numbers fight-the-monsters plot it no longer feels like Wonderland. Instead of trying to follow these characters and their insane logic you just watch them run around on a mission to save the kingdom from evil. It loses way too much crazy.
I don't give a shit that they're changing the story, but it just doesn't mesh. THe new shit is not in the spirit of the old shit and doesn't have any imagination to it. And putting the characters into that type of story takes away what makes them cool in the first place. To me the Cheshire Cat even in the Disney cartoon is a terryifing character without doing anything evil. He's just unpredictable and hard to read and jesus man stop smiling at me you're gonna make me shit my pants. In this movie he turns out to be heroic. That fucking ruins it, man!
Same goes for the Mad Hatter. In fact, they're all facing a grave danger and are working together to save the world or whatever. This can be scientifically proven to be less entertaining than when they were crazy and had no logic or purpose. The story is supposed to be nonsense, right? So how do you shove it into a formula? Mathematically that can't work.
Here's an example. Alot of it is based off of that "Jabberwocky" poem. The poem says "Oh, frabjous day," so they turn that into an important holiday called "Frabjous Day" when a prophecy is gonna go down. They're literally trying to turn nonsense into sense. But they're not Jodorowky, they can't turn shit into gold. It's just a bad idea.
Also it's strangely humorless for Tim Burton. Anne Hathaway is kind of funny, though. She plays some kind of queen and she keeps posing her arms into bizarre poses. I'm not sure why.
Have you noticed, they got Sam Worthington in AVATAR and CLASH OF THE TITANS, now this Mia W. in ALICE IN WONDERLAND. For some reason they're farming out the cast of Greg McLean's ROGUE to all the 3-D movies. She seems like a good young actress, but unfortunately the character in the movie is pretty bland, I didn't really feel like following her into the rabbit hole necessarily. She's almost as old as Kristine DeBell was in the other one, but she looks more like a kid so I think it was a good choice by Walt Disney Pictures not to do it as a porno.
It's a movie full of cool looking characters but not memorable ones. If I had to pick one that was the best I guess I would go with the Queen of Hearts. They actually added a little vulnerability to her. She still cuts off heads but she's really self-conscious about her own giant head (wait a minute, I just now I understood that) and very susceptible to people who pretend to care about her. I've heard criticisms of Burton casting his lady friend in a movie yet again but I have to ask, who else would be better at this character? I can't think of too many. Although it would've been funny if they cast Helen Mirren.
Glover's Knave of Hearts is not as memorable but I approve of the scene where Alice is bigger than him so he fondles her head and talks excitedly about liking her size. And you realize he's a fuckin fetishist just like he was with hair in the C's A's pictures.
So unfortunately the movie is pretty boring. Amazing and boring. Jawdropping and thumb twiddling. I almost want to see it again just to try harder to like it. It should be great. But it's not. Somebody's gotta figure out how to make Tim Burton hungry again. Or maybe just write him a better script.
This entry was posted on Tuesday, March 9th, 2010 at 12:54 am and is filed under
Fantasy/Swords
,
Reviews
. You can follow any responses to this entry through the
RSS 2.0
feed. You can skip to the end and leave a response. Pinging is currently not allowed.