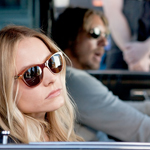 Here's how I know marketing failed HIT & RUN: I was one of its test subjects. Some time last year I was at the multiplex picking up tickets for later in the day. In the lobby sometimes they have these survey people showing trailers on little monitors and asking focus group type questions. I always wondered what that was about, and I had some time to kill, so when they asked me to do it I said yes.
I saw other people being tested on THE EXPENDABLES 2, which at the time seemed exciting. But too my disappointment the survey focused on HIT & RUN, which I learned was a comedy starring Dax Shepard, Kristen Bell, Tom Arnold and Bradley Cooper as the bad guy. They showed me variations of different commercials, mainly consisting of Arnold yelling, Shepard getting hit in the face with a golf club, a car going off a jump, and the various actors in cars looking scared like they're gonna crash. Some had a heavy emphasis on a scene where squeaky-voiced Kristen Chenoweth talks about taking Xanex. I struggled to answer questions like "What do you think the movie is about?" and "What is your favorite part?" (Answers: 1. "Well, they said he was a bank robber, so they're after him? I don't know." 2. "I guess Bradley Cooper in dreadlocks looks funny.") In the end I had to answer that no, I did not think there was any chance that I would see this movie, because it doesn't look funny at all.

Fast forward to when the movie actually came out, and I heard Shepard on The Treatment with Elvis Mitchell. That's when I learned he wrote and co-directed (with David Palmer) the movie, that it's about his relationship with his real life lady friend Bell, that it's a car movie featuring his own car, that it's influenced by the unholy combination of Quentin Tarantino and Burt Reynolds movies. Even Tom Arnold being in the movie sounded more appealing after Shepard talked about Arnold being his sponsor and saving his life, and that's why it was important to him to have him in the movie. Suddenly I pictured an entirely different movie than they'd even hinted at in the several different attempts at commercials they'd shown me. And then somebody told me it was pretty good, so I put it on my mental list of things to see. I wonder if I should get in contact with those survey people and change my answer?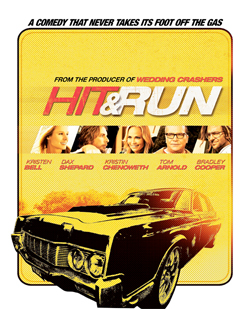 The key to the movie is the sweet and authentic chemistry between Shepard and Bell. Some real life couples are just gross on screen, but these two are actually more appealing together than apart. At first they seem mismatched as Charlie Bronson (long story), the lanky, not-so-outwardly-intelligent-seeming slob with Annie Bean, the little self-assured blond, but you quickly see how they calm and support each other. Annie is a highly skilled conflict resolution expert stuck working at a high school when suddenly she gets a dream job opportunity in L.A. Charlie agrees to move with her, which is a big gesture on his part because he's in witness protection and the people who want to kill him are there. His backstory – most of it unknown to her – is rolled out a piece at a time as they hit the road and face various obstacles (ex-boyfriend, thief, criminals, overprotective federal marshal, dark secrets) and there's alot of good conversation where both of them get to be funny, both get to be right and wrong, a good balance. Gender and character equality.
It's also Shepard's love letter to cars, so he drives his own souped up Lincoln Continental and talks adoringly about its various features, up to and including trunk size. There are multiple car chases and a big scene with a high speed dune buggy thing that also belongs to Shepard in real life (in the movie it belongs to his dad, played by Beau Bridges). The chases are shot in a very basic, non-confusing way, but also aren't all that exciting. It's alot of doing donuts. One big chase involves three cars circling around a giant airstrip. There's more danger of rolling than crashing into anything. But there's a certain charm to it, they obviously love shooting real cars, doing their own stunt driving and dreaming about SMOKEY AND THE BANDIT.
Academy Award nominee (!) Cooper is good. He's introduced attacking a stranger outside of a grocery store over a disagreement about pet care. It's kind of an Elmore Leonard moment because it establishes him as a total psycho and a genuine threat to our heroes, but also makes me kinda like him. Later he addresses being snitched on more as a you-hurt-my-feelings situation than an I-will-avenge-you.
It's also got a pretty good soundtrack with some funk mixed in. I was really surprised to hear a favorite obscurity of mine, "The Funky 16 Corners" by the Highlighters Band. I've always been a sucker for James Brown counting off hits from his band, saying "one time" and they go "BOMP" and "two times" and they got "BOMP BOMP." Well, this song is great because it works its way up to sixteen times. I just wish I knew what this 16 corners dance was they were talking about so I could participate.
When a filmatist mentions being influenced by Tarantino the buzzers start going off for me. It seems like more often than not the people who look to Tarantino have a really superficial understanding of what makes his movies tick, and then you end up with some dorks pointing guns and talking tough, way more convinced of their awesomeness than we are. That's not what HIT & RUN is at all. Nobody even thinks they're a master criminal, they're all pretty awkward and inept, nobody's supposed to be Steve McQueen. The way it does remind me of Tarantino a little is in the natural but inevitable way the story rolls out, seeming to flow organically from the personalities of the characters instead of trying to fit into a normal movie template. (Of course it's also kind of a road movie, so it's gonna be pretty episodic anyway.)
There are alot of little surprises and laughs that come entirely from character. Like, Charlie gets full of himself and his muscle car, tells off a guy who asks him about NOS by saying "Nitrous oxide is for fags" and roaring off like a badass. The movie lets you sit on that for a second, thinking "Huh, pretty funny, it's kinda weird that he didn't say 'pussies' or something though" as it moves on to the next scene. Only then does Annie bring it up and argue with him about it. It's a unique movie relationship because usually it would be Ha ha, he's not politically correct, it's funny 'cause he says what he wants and she gets all uptight. But Charlie is not a lovable asshole, he's a nice guy, so he knows she's right. She convinces him, and he tries to be better.
When he comes face-to-face with his former partner that he ratted out he gets really apologetic, but does a poor job of trying to smooth things over. Let's just say that his weirdly racist attempt to put an "it could've been worse" spin on prison rape does not go over well.
Arnold gets the broad jokes that were in those commercials, alot of yelling and crashing. But I got a good laugh at the part where he's flipping out on Charlie, sweet-voiced Annie asks if he's okay and he instantly turns calm because of her conflict resolution skills.
It's a modest, likable little movie, fun and good natured (but with some blood), and it deserves to be watched. I'm sorry I couldn't help, marketing department.
This entry was posted on Thursday, July 18th, 2013 at 12:31 am and is filed under
Comedy/Laffs
,
Crime
,
Reviews
. You can follow any responses to this entry through the
RSS 2.0
feed. You can skip to the end and leave a response. Pinging is currently not allowed.