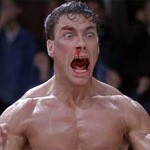 WARNING: This unfinished review here was written in the year 2000 when I was young and stupid. I'm leaving it here for the comments, for historical purposes and for my own accountability, but please if you're just looking for a review of HARD TARGET read the one I wrote 16 years of wisdom later.
Well as you can see above, I reviewed John Woo's HARD BOILED long ago. In that review I was obviously right about a bunch of crap that I said. For example, HARD BOILED is still a masterpiece. And as I predicted, CROUCHING TIGER, HIDDEN DRAGON was a masterpiece that blew away the combined artistic merit of every American Chow Yun Fat movie times ten. But I was wrong that after the success of CROUCHING TIGER my man Fat would never do an american movie again. Back then I would've been happy to hear that but that's because I never saw fucking BULLETPROOF MONK. Oh for crying out loud, what is the man doing?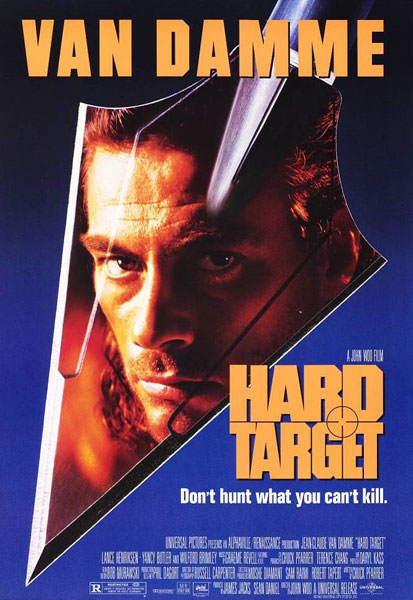 Anyway, hindsight is 50/50 or whatever but looking back I think I should've focused my review more on John Woo. That's the real tragedy is what happened to John Woo after we abducted him to American shores. The very next movie he did was this one, HARD TARGET. And man, this is not even a huge step down. It's like, he just falls all the way down the stairs. I mean you can see similarities in the use of slow motion and everything but everything substantial about John Woo and his style is not here. And these days the slo-mo could be considered a bad thing now that we've seen it imitated for more than a decade. Anyway, this is a historic movie because it signalled the beginning of the importation of Hong Kong directors and the first known case of the legendary Curse of Van Damme, which would later strike Tsui Hark (2 times), Ring Lam (3 times) and Ching Tsu-Tung (the rare Steven Seagal variation of the curse).
A few movies later Woo recovered his footing with FACE/OFF but that was it man. The best we can expect from him now is a dumb action movie that is entertaining in it sheer stupidity and surprises you with the occasional light touch of John Woo sentimentality. Think MISSION IMPOSSIBLE: 2.
Now that we know there's no hope for a return to the real John Woo, it is easier to enjoy this moronic piece of shit. The story is a variation on the Most Dangerous Game story of humans hunting humans. Lance Henriksen, one of our greatest actors in our worst movies, leads a group of scumbags running a service for decadent millionaires who want to hunt homeless veterans ("volunteers," they call them).
[why didn't I finish this review?]