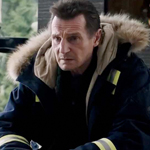 COLD PURSUIT – which could be called HELLY HANSEN PRESENTS 'COLD PURSUIT' in my opinion – is an odd duck of a Liam Neeson vehicle. His character Nelson "Nels" Coxman is a man with a very particular set of skills, but they mostly involve driving a snow plow. He lives a simple life in a big house in a tiny ski resort town 3 and a quarter miles from Denver, Colorado. It's one of those places where people have to be kinda rugged but they're also laid back and individualistic. It's always cold outside so they mostly just find ways to relax in their big houses. Nels's wife Grace (Laura Dern, WILD AT HEART) smokes a joint while cooking up some meat from the reindeer that Nels and their son Kyle (Micheal Richardson, VOX LUX) hunted a while back.
Nels is a little nervous about having to make a speech after winning Citizen of the Year. Otherwise they seem to have a nice comfortable lifestyle going when all the sudden Kyle turns up dead – we know he was murdered by drug dealers, but the coroner (Jim Shield, SHANGHAI NOON, who looks like a more hard living Chris Pine) says it was a heroin overdose. Nels is so broken up he puts a shotgun in his mouth but when he's interrupted by Kyle's bloodied and apologetic friend Dante (Wesley MacInnes, POWER RANGERS) and learns what really happened, it's not long before he's sawing off said shotgun to fit in his jacket and go trying to find the people responsible. (read the rest of this shit…)
VERN has a new action-horror novel out called WORM ON A HOOK! He has been reviewing movies since 1999 and is the author of the film criticism books Seagalogy: A Study of the Ass-Kicking Films of Steven Seagal and Yippee Ki-Yay Moviegoer!: Writings on Bruce Willis, Badass Cinema and Other Important Topics as well as the crime novel Niketown.