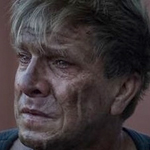 I don't think any of you would disagree that I've been neglectful of DTV action lately. I'll always try to see the new Scott Adkins and what not but I don't get down in the dirt like I used to. I mean I'm proud of the other stuff I write about, but I do have some concerns about the state of my mojo. And to be honest I've been feeling a little down worrying that too many of my proudest moments are now associated with skeezy people. It's like, I mention the guy I wrote a book about, the websight I started out at, the place where I did my first public appearance, I gotta distance myself from three different sexual harassment scandals. And as I'm about to post this I just found out about allegations against an iconic hero for most of us around here, and it's absolutely crushing me.
I'm gonna have to start hiring detectives to do background checks on these people before I start writing books on them. Pretty soon the fictional characters in my novel are gonna turn out to have secrets. I'm gonna have to write strictly about inanimate objects, because people always turn out to be creeps.
I know it's more important to expose scumbags than to make sure I feel good about my legacy, but it's kind of a bummer. So while I process all this I've decided to put more effort toward seeing probly-gonna-be-shitty-but-hopefully-not DTV/VOD type action movies like I used to, to see if it brings me back to full strength.
So far the results are inconclusive. I started with CHECK POINT, a film from this year, directed by Thomas J. Churchill (LAZARUS: APOCALYPSE). I chose it based on the following signs of b-action legitimacy in the cast: professional wrestler (Bill Goldberg), horror star (Kane Hodder), professional wrestler turned horror star (Tyler Mane), blaxploitation icon (Fred Williamson) and great character actor (William Forsythe). The lead turns out to be Kenny Johnson, who I assumed was also a wrestler because in close-up he looks kinda like present day Mickey Rourke, but in fact he's an actor who I would've recognized if I watched The Shield or Sons of Anarchy.
But after a couple scenes I realized he was the sucker who Traci Lords brings to the Blood Club in the opening of BLADE. He looks alot tougher these days.
It's slicker than some movies of this type. Good font choice on the credits. Great drone footage. Some effective uses of southern rock, though it also has enough modern country songs to make me worry I'm gonna get stuck in an uncomfortable political conversation with it. (There's a reference to a veteran knocking down American flags because he doesn't like the president – I couldn't tell if it was a generic fictional president, a swipe at Trump, a leftover swipe at Obama, or a filmed-when-we-assumed-Clinton-would-win.)
There's also some filmatistic over-eagerness. It opens with a dedication to a deceased cast member, then a quote from James Comey's favorite theologian Reinhold Niebuhr, then a suspicious claim that it's "INSPIRED BY TRUE EVENTS." It has a fairly intriguing cold-open close-quarters fight scene inside a submarine, followed by a type of title logo I like: the type that's sizzling hot and then pounded into metal.
The fight turns out to be a flash-forward, but when they get to it again toward the end there's nothing particularly significant about it, there's no further context to explain why the dude is doing a monologue about James Dean, and they make you sit through the entire fight again, unedited.
Also the movie ends with a Ronald Reagan quote. And outtakes. So there's alot going on here.
But there are signs of real character. Johnson plays Roy, an ex-Marine, now homeless, sleeping under a rock on a beach. He wakes up, stumbles down to the shore, cries, drops to his knees like the ocean is God and he's begging for mercy. It's a pretty wrenching piece of out-of-the-blue grief, and impressive acting since I was thinking he was some WWE dude.
Then a weird balding guy comes over, kneels next to Roy, tries to comfort him. Some random dude? No, a friend. Another homeless guy named Grant. The small yappy dog that follows around the bulldog. He has a crazy voice. A funny voice. OH MY GOD THAT'S STEPHEN GEOFFREYS FROM FRIGHT NIGHT. Decades later he looks like a different person but yeah, that's Evil Ed.
Johnson makes odd choices for an action hero. He looks the part of the troubled Special Forces vet turned homeless badass enough that he could walk around looking cool like Chance Boudreaux or John Nada. But that's not how he plays it. His hair is always mussed in dorky ways, his clothes are too big, he's covered in filth, he scratches himself alot, sometimes his expressions look like a kid in an adult body.
He lives in a small town in North Carolina where everybody knows each other and eats breakfast at the same place every day. (This seemed weirder when I thought it was supposed to be a Chinese restaurant, but I guess the dumplings they keep talking about don't represent the whole menu.) Roy and Grant sit on the cement by the back door and get scraps from the owner Suzie (Michelle Lee, BLOOD & BONE) and then get chastised for it by her husband Kenny (Ricky Harris, MURDER WAS THE CASE, TALES FROM THE HOOD, THICK AS THIEVES, SIMON SEZ, BONES), who knows of Roy's military past and thinks he needs to clean himself up and get a job.
Alot of people in town do care about Roy. Goldberg plays TJ, some beer-belly dude (I only mention that because I read that he gained weight for the role, which is alot of dedication for a pretty small role) who drives the motorcycle equivalent of those pickup trucks that look like they ate two other pickup trucks.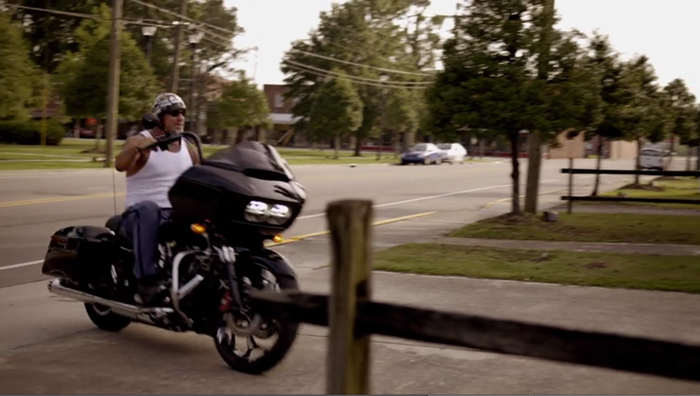 He's an old war buddy or something and is looking for Roy to try to give him a job on his farm.
Meanwhile, some shit is going down in town. A tough wrestler-looking lady in leather pants (Krista Grotte) is murdering dudes in hotels. And the news keeps talking about American soldiers joining a terrorist organization. And the sheriff (Forsythe) walks around looking friendly, calling people by their first names and asking "How the hell are ya?" He goes to shoot the shit with his mechanic buddy Chester (Williamson in more of a Danny Glover role). TJ seems to be striking up a relationship with his daughter's teacher (Mindy Robinson, V/H/S 2, GINGERDEAD MAN VS. EVIL BONG), an ex-army medic. Not to be judgmental, but this lady is practically wearing Daisy Dukes to school, it's kinda weird.
These various threads seem to come at us in random order and at a leisurely pace, with more time spent on sitting around drinking coffee in the diner or beer on a porch than on Hodder as Cyris, a terrorist who burns candles, makes speeches and carries "the master plan" for taking over a battleship on his lap top. He makes a strong impression in a couple scenes and then is barely seen again. But it made me think about the irony that Hodder has a great voice but will always be remembered for playing Jason.
Then Grant stumbles across some terrorists making an execution video in a warehouse, and ends up becoming a co-star. Roy sees it on TV and realizes the terrorism is coming from inside the town, but everyone thinks he's crazy. Turns out (SPOILER) the sheriff is actually part of a sleeper cell planning an attack, so a group of veterans – Roy, TJ, the teacher, Kenny – band together to stop them, mostly with guns.
Harris, who died of a heart attack at the end of last year, gets kind of an interesting arc as Kenny. He's obviously a comedian by some of the joke lines he gets, but he gets real mean with Roy, and then serious when he has to kick ass. He discovers his wife is involved in this and shoots her! I looked Harris up and it turns out he was the husband of Dee Barnes and a childhood friend of Snoop Dogg who did a bunch of voices on Doggystyle, most memorably DJ EZ Dicc, host of the Jack-Off Hour on W-BALLS radio.
(warning: catchy song with off-the-charts misogyny levels)
CHECK POINT definitely intrigued me at first. It has that mix of accidental strangeness and surprising good qualities that can make DTV action enjoyable. But the pieces never come together smoothly or build to any kind of momentum, and by the climax I had mostly lost interest.
In fairness, though, it did give me some things to think about, almost as if it was about something more than the obvious "bad things can happen in small towns" premise. There's this old friendship between the sheriff and Chester – a white cop and a black citizen – and it seems completely genuine. But when the shit goes down and Chester is in the way the sheriff is still willing to shoot Chester, even if he doesn't feel great about it. And there's alot of talk about the civil war and Abraham Lincoln, because Chester has this tunnel under his house that supposedly dates back to those days (long story). So the sheriff's actions could be a statement about the nature of white supremacy, that there are people like this who maybe in their regular life might be friends with people of different races but when it comes down to it their ideology supersedes the actual people in their life, they don't truly respect their humanity. Kind of the reverse of GRAN TORINO where getting to known his Hmong neighbors overwhelms his usual state of being a racist asshole.
But this uprising isn't BUSHWICK. The movie makes a point of the insurgents not all being white dudes, which seems to point to it not being about racism and me reading too much into it.
I can't really recommend CHECK POINT, but I can say it has more going for it than some. The MVP is Forsythe, who is so all-in on the nice guy sheriff part of the movie that I really believed he was gonna be a good guy for the whole movie, despite my awareness of his filmography. And it was cool to see Geoffreys again. I would've liked for Hodder and especially Mane to have more to do, though.
(Not to discourage you from using my Amazon links, but I confess I found this one streaming on Netflix.)