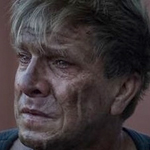 I don't think any of you would disagree that I've been neglectful of DTV action lately. I'll always try to see the new Scott Adkins and what not but I don't get down in the dirt like I used to. I mean I'm proud of the other stuff I write about, but I do have some concerns about the state of my mojo. And to be honest I've been feeling a little down worrying that too many of my proudest moments are now associated with skeezy people. It's like, I mention the guy I wrote a book about, the websight I started out at, the place where I did my first public appearance, I gotta distance myself from three different sexual harassment scandals. And as I'm about to post this I just found out about allegations against an iconic hero for most of us around here, and it's absolutely crushing me.
I'm gonna have to start hiring detectives to do background checks on these people before I start writing books on them. Pretty soon the fictional characters in my novel are gonna turn out to have secrets. I'm gonna have to write strictly about inanimate objects, because people always turn out to be creeps.
I know it's more important to expose scumbags than to make sure I feel good about my legacy, but it's kind of a bummer. So while I process all this I've decided to put more effort toward seeing probly-gonna-be-shitty-but-hopefully-not DTV/VOD type action movies like I used to, to see if it brings me back to full strength.
So far the results are inconclusive. I started with CHECK POINT, a film from this year, directed by Thomas J. Churchill (LAZARUS: APOCALYPSE). I chose it based on the following signs of b-action legitimacy in the cast: professional wrestler (Bill Goldberg), horror star (Kane Hodder), professional wrestler turned horror star (Tyler Mane), blaxploitation icon (Fred Williamson) and great character actor (William Forsythe). The lead turns out to be Kenny Johnson, who I assumed was also a wrestler because in close-up he looks kinda like present day Mickey Rourke, but in fact he's an actor who I would've recognized if I watched The Shield or Sons of Anarchy. (read the rest of this shit…)