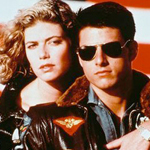 I'm pretty sure this is the first time I've watched the whole TOP GUN since the '80s. But I wasn't too surprised to watch it and see the primordial matter that eventually crawled out and grew into the works of Michael Bay. It's a mix of gorgeous sunsets, heat trails, fetishized military hardware, bosses played by grizzled character actors (Michael Ironside, Tom Skerritt, the principal guy from BACK TO THE FUTURE), sweaty foreheads, sunglasses, electric guitars, crisp uniforms, the glorification of glistening bodies (in this case mostly male, and good at volleyball), and profoundly unprofessional hot shot yahoos who are supposed to represent the best of the American best.
One difference: less spectacle. This is an impressively small story. For all its bluster this isn't RED DAWN positing a communist invasion of America. This is about a guy involved in two small international incidents, basically just encounters between jets from opposing armies (nationality unspecified, but you fuckin know it's Ivan Drago under that helmet). And though it has a reputation as a Navy recruiting film, since it famously worked as one, it's not politically propagandistic. There's nothing to make these "Bogies" evil. They're just part of a system, people doing their job. They see American fighters where they're not supposed to be, so they try to scare them off. The reverse of what happened in the opening. (read the rest of this shit…)
VERN has been reviewing movies since 1999 and is the author of the books SEAGALOGY: A STUDY OF THE ASS-KICKING FILMS OF STEVEN SEAGAL, YIPPEE KI-YAY MOVIEGOER!: WRITINGS ON BRUCE WILLIS, BADASS CINEMA AND OTHER IMPORTANT TOPICS and NIKETOWN: A NOVEL. His horror-action novel WORM ON A HOOK will arrive later this year.