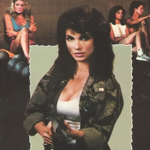 There's another TOY SOLDIERS besides the Sean Astin/Wil Wheaton one from 1991 that I reviewed before. This is the one from 1984 that's kind of like UNCOMMON VALOR but with rich college kids instead of Vietnam vets. Jason Miller (THE EXORCIST) plays a Vietnam vet now working as a family's personal yacht captain. When he chaperones their daughter Amy (Terri Garber, SLAPPY AND THE STINKERS) and her loser friends on a trip to Panama, they totally prank the shit out of him by purposely leaving him behind on a dingy. Cut to montage of dumping beer on each other's heads, smoking joints, making out and comical sexual harassment.
"What they didn't know, what nobody knew, was that the fun was just about over," intones Sarge in his weirdly Wonder Years-esque opening narration. The accident that fucks up everything is realistically random: drunken Tommy (Jim Greenleaf, TAG: THE ASSASSINATION GAME, JOYSTICKS) jumps belly first onto an inflatable raft, bounces off it and hits his head. They bring him to land to try to get medical help, but they end up quickly abducted by paramilitary forces. They're tied up, beaten and groped. Amy is defiant, so they lock her separately in a pit with a dead priest currently in the process of being eaten by rats.
But otherwise that would've been pretty funny how they ditched that old wet blanket so they could party, ha ha. (read the rest of this shit…)
VERN has a new action-horror novel out called WORM ON A HOOK! He has been reviewing movies since 1999 and is the author of the film criticism books Seagalogy: A Study of the Ass-Kicking Films of Steven Seagal and Yippee Ki-Yay Moviegoer!: Writings on Bruce Willis, Badass Cinema and Other Important Topics as well as the crime novel Niketown.