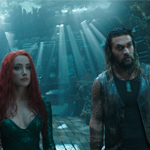 AQUAMAN is about a Superfriend, but it's much more than a comic book movie. Arthur Curry (Jason Momoa, Baywatch) is the son of a lighthouse keeper (Temuera Morrison, STAR WARS II, THE MARINE 2) and the Queen of Atlantis (Nicole Kidman, BMX BANDITS). After his mom was taken away and possibly killed by her kingdom, Arthur grew up a landlubber, but with some clandestine swim and fight training by the vizier Vulko (Willem Dafoe, SPEED 2: CRUISE CONTROL). Like Arthur, the movie is a bridge between two worlds, that of an action movie and an epic fantasy. And Momoa, having been so good in BULLET TO THE HEAD and BRAVEN, but more known for Game of Thrones and CONAN THE BARBARIAN, is the perfect actor to do that.
Arthur, a.k.a. The Aquaman is a beer-stein-pounding lout and freelance swimming vigilante living in a small coastal town. In the opening he rescues the crew of a submarine from high-tech pirates – his version of stopping a grocery store or mini-mart robbery. Though he can communicate with fish, he's your basic rowdy tough guy complete with black duster and slo-mo glory shots accompanied by rockin guitars just this side of "Bad to the Bone." So he's resistant to all this heir-to-the-throne-of-Atlantis shit, but by the end he's given the beast-riding, lightning-throwing, fantasy painting god opportunity that CONAN failed to provide for Momoa. (read the rest of this shit…)
VERN has a new action-horror novel out called WORM ON A HOOK! He has been reviewing movies since 1999 and is the author of the film criticism books Seagalogy: A Study of the Ass-Kicking Films of Steven Seagal and Yippee Ki-Yay Moviegoer!: Writings on Bruce Willis, Badass Cinema and Other Important Topics as well as the crime novel Niketown.