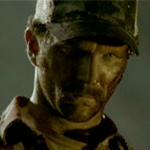 I remember REST STOP (2006) being a decent DTV horror movie. I remember nothing else. I thought maybe it was about a slasher who hides in a rest stop restroom or something. I don't know. So the opening of the sequel, REST STOP: DON'T LOOK BACK (2008) was a little befuddling. It starts in 1972 on "The Old Highway," when a "Yes Jesus Loves Me" singing family picks up a hitchhiker in their RV. Weirdo mother Diane Salinger (CREATURE) ends up seducing him and then screaming in delight when her husband (Michael Childers, SOUTHERN JUSTICE) catches them together and kills the guy. The family – also consisting of twin sons and a disfigured dwarf – delightedly bury the body at a (the) rest stop, but suddenly the guy they're burying appears, chops them all up, and buries their bodies.
Okay, so it's a ghost movie, I don't remember this at all. (read the rest of this shit…)
VERN has a new action-horror novel out called WORM ON A HOOK! He has been reviewing movies since 1999 and is the author of the film criticism books Seagalogy: A Study of the Ass-Kicking Films of Steven Seagal and Yippee Ki-Yay Moviegoer!: Writings on Bruce Willis, Badass Cinema and Other Important Topics as well as the crime novel Niketown.