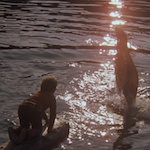 August 19, 1983
THE GOLDEN SEAL is a PG-rated movie about a 10-year-old boy named Eric (Torquil Campbell) who befriends a seal matching the description of one from Aleutian myth and local poacher legend. It's directed by Disney-animal-movie veteran Frank Zuniga and written by John Groves (TARANTULAS: THE DEADLY CARGO), based on the book A River Ran Out of Eden by James Vance Marshall (a.k.a. Donald G. Payne, whose novels were also turned into SANTA FE, WALKABOUT, and THE ISLAND AT THE TOP OF THE WORLD).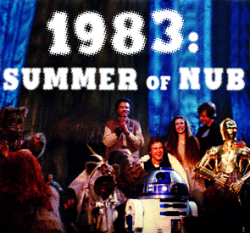 I expected this to fit somewhere in that cloying kid-and-animal subgenre we know today, and yeah, there's a section in the middle with montages of seal frolicking. But it kinda leans more on being an old fashioned family adventure movie. There's a remote island, a violent storm, a rope bridge, a cave, some rescuing, some father and son conflict. I kinda liked it.
Eric's dad is Jim Lee (Steve Railsback after a consecutive run of THE STUNT MAN, DEADLY GAMES, TRICK OR TREATS and TURKEY SHOOT), an Alaskan rugged individualist who settled down with his wife Tania (Penelope Milford, COMING HOME) on Umak Island, which seems to be just about uninhabited. Tania gardens, Jim traps animals, and when they need supplies they take a little boat to "Dutch" (short for Dutch Harbor, I believe). On this particular trip Eric is very excited to go because they've arranged for shopkeeper Gladys (Sandra Seacat, THE KIDNAPPING OF THE PRESIDENT) to give him one of her dog's puppies.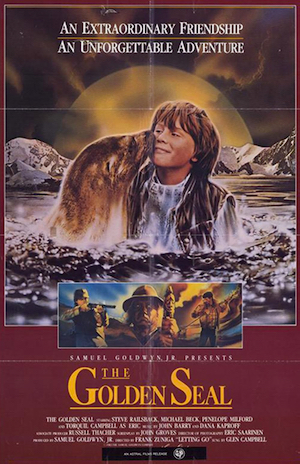 They also give a ride to a wise old blind man named Semeyon (Seth Sakai, later a Buddhist monk in THE NEXT KARATE KID) and his nephew or something Alexei (Richard Narita, MURDER BY DEATH). They're supposed to be Aleut, and when Eric swears he saw the titular shimmery creature (really more of a shiny brown than a gold most of the time) Semeyon tells him a story about the Golden Seal who taught the Aleut people to love the earth and live together as a family until men started hunting seals. But some day she'll return.
There are two types of tension going on when they get to the store in Dutch. One, the locals who hang out there relentlessly make fun of Jim for being the weirdo who moved to a remote island. Two, Gladys has trouble broaching the subject that the whole litter died so the boy doesn't have a puppy waiting for him after all. She tried to warn them but her transmitter wasn't working. Ever think of having a phone, Jim?
A couple things come out that the kid obviously didn't know about: seven years ago Jim told everybody he saw the Golden Seal, so everybody considers him a kook. Also, they think Tania is a weirdo, partly for marrying said kook, and they moved out to the island to free themselves of that judgment. I would recommend moving to a city, but obviously that's not what they're into; Jim even jokes about being a country boy and considering Dutch to be the big city.
I thought this backstory was pretty interesting. It reminded me a little bit of THE WITCH, and my biases give me a stronger affinity to "we had to move because the town made fun of us" than "we had to move because the town wasn't Christian enough for us." Is the seal Black Philip in this comparison, though? I'll have to think about it more.
Gladys warns them of a storm coming, and when they get home they get going on their hatch-battening routine – covering up the garden, tying the roof down with ropes, checking the shelter and the traps. Jim brings Eric out to help, then makes the mistake of sending him home on his own. The boy takes a detour and gets trapped, so Jim looks like a real asshole coming home without him and having to convince Tania that he's a tough kid, he can survive the night in a storm.
Actually he can – he makes it to the little shelter built on the other side of the island for just such an occasion. To his shock, the Golden Seal has also crawled in there. She seems to be dying but actually she just gave birth to the Golden Seal Jr.
The main villain of the movie is Billy Crawford (Michael Beck, THE WARRIORS), a strapping, handsome blond guy who overheard them talking about the Golden Seal in Dutch and decided to come looking for the bounty. He shows up bloodied at their door during the height of the storm, saying he's shipwrecked, while Jim is searching for Eric. Tania helps him out and the next day he helps Jim with the search and risks his life to carry the kid across a broken rope bridge. We got a good hunch he has ulterior motives but there are some layers to him – in his first scene he tells Gladys a story about his dog dying when he was a kid, and he seems like the good guy when he tells Jim to go easy on Eric for getting stranded during the storm.
I think the moment when it officially goes from "maybe he really does just want to help" to "this motherfucker is moving in for the kill" is when Tania complains about her stove breaking no matter how many times Jim fixes it, and Crawford says, right in front of Jim, "Why don't you let me give it a try? Maybe it just needs somebody who knows what he's doing." Jim watches skeptically but tries to prove he doesn't feel threatened by allowing the use of his tools.
Eric tells Jim about the seals back at the shelter, so they sneak off to look for them. When Crawford is alone with Tania, he starts being sexually threatening, standing too close to her in the kitchen, so he's demonstrably the bad guy. But Jim tries his hand at villainy when he first encounters the Golden Seals.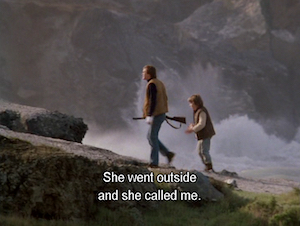 When they go looking for the seals, Jim carries his rifle. Not on his back, but in his hands. I figured it must be in case a bear shows up or something, but it's weird to see him holding it at the ready while the kid is excitedly talking about how great these seals are. Sure enough when Dad does spot them along the shore he tries to shoot them. The kid sees him aiming, runs and leaps down and it seems like he's taking a bullet for the seals, but the shot misses. Good non-violent protest there, kid. I'm proud of you.
So Eric tries to hide the seals while all the grown men in the cast try to find them for their own reasons, and the story starts to be about macho shit. Jim says he has to get the seal because he needs the money to provide for his family, then because he has to stand up to guys like Crawford. But Eric accuses him of just wanting to show up the guys who made fun of him, and Tania says he's trying to compete for her with Crawford, which is stupid because he doesn't need to prove himself to her.
It also hits on a related theme I'm a sucker for, the masculine aversion to expressing vulnerability. Eric tells his mom not to tell Dad he cried about the puppies dying. She tells him he has his dad wrong: "He knows there's a time and a place for tears." And we later see that although Jim pushes a certain ideal of toughness on his kid he does manage to tell him he loves him. So good for him. Even though he tried to shoot the kid's seal friends right in front of him.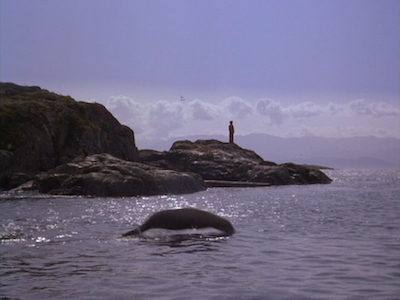 The production values are good. There's a climactic fight with a big fall and underwater wrassling. The storm scenes and the rope bridge stunts are impressive, as is some of the seal footage. I really wasn't sure how they did some of it. They get these shots with obviously a trained seal swimming around but it seems to be on location – did they really let trained seals out into the water on the honor system? Did any of them say "fuck this" and make a swim for it? Or do they make them wear explosive collars like BATTLE ROYALE? I don't know the answers.
On a personal note, I live near the Elliott Bay waterfront, so I see seals swimming around sometimes, but it's rare enough that it's still exciting. For the record I do not want to get knocked into the water and splash around with them like this kid does. I respect them as my neighbors and appreciate their fellowship.
For some reason Roger Ebert didn't review THE GOLDEN SEAL until October, and noted that you should just wait a week and watch NEVER CRY WOLF instead. But all the box office sites list it as an August release. Either way, it's too late – I already watched it. Ebert's review wasn't really all that negative, but he says it lost him when the seals were supposed to understand and respond to what the kid was saying to them. I'm open to the possibility that that was the intent, but luckily the seal acting is not good enough for that to have occurred to me for a single moment while watching it.
According to Wikipedia, the young star Torquil Campbell grew up to be "co-lead singer and a songwriter for the Montreal-based indie rock band Stars." On stage he was in the original New York production of Shopping and Fucking starring Philip Seymour Hoffman, and he's directed and starred in various Shakespeare plays. Also he voiced Bill Badger on Rupert.
I knew I recognized Milford, and it turns out it's because she later played Pauline Fleming, the nice counselor in HEATHERS. Railsback's next project was a Yugoslavian movie called GREAT TRANSPORT, but after that he starred in Tobe Hooper's LIFEFORCE. So he was really on the verge here. Writer John Groves would go on to write such time travel favorites as BIGGLES: ADVENTURES IN TIME and Back to the Future… The Ride.
Almost all of Zuniga's directorial output was animal/nature movies made for The Wonderful World of Disney: THE OWL THAT DIDN'T GIVE A HOOT, THREE WITHOUT FEAR: LOST ON THE BAJA PENINSULA, MUSTANG, THE FLIGHT OF THE GREY WOLF, BARRY OF THE GREAT ST. BERNARD, THE TRACK OF THE AFRICAN BONGO, STRANGE COMPANIONS. He did only three non-Disney animal movies: THE FURTHER ADVENTURES OF THE WILDERNESS FAMILY, this, and KRAG, THE KOOTNEY RAM. Most importantly he did only two non-animal movies: another 1983 release I'm not familiar with called HEARTBREAKER: STREETS OF FIRE (1983) – which has a butt on the cover and features Apollonia – and his final film FIST FIGHTER (1988), which is a really cool underground fighting movie I have on VHS. The main character is named C.J. Thunderbird, just so you know, and when I reviewed it I noted that an important dog character connects it to his previous work.
Obviously FIST FIGHTER is more my speed and I'm always gonna say it was the masterpiece Zuniga was working toward his entire career. But THE GOLDEN SEAL ain't bad. A pretty well constructed version of this type of thing. Probly the top seal adventure of '83.