As I have mentioned before I live in Seattle. We are famous for a couple of different people. First of all we got Bruce Lee. When he left China he came here, he went to the University of Washington, he opened up a Jeet Kune Do school. The movie about his life, Dragon: The Bruce Lee Story, largely took place here although they didn't film here because the University of Washington wouldn't give them permission because they wouldn't remove the part about the football team calling him a gook. He and his son Brandon, star of Laserblast, are both buried here.
Then we got Jimi. Jimi grew up here and he's buried here too, although he hated it here and probaly woulda wanted to be buried in London if he had lived long enough to think about that kind of shit.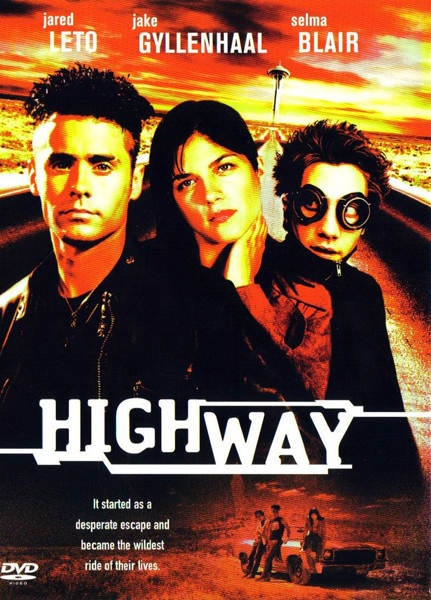 Then we got Elvis. He didn't live here or anything but he filmed It Happened At the World's Fair here. I never seen it but I think he dances with Ann Margaret on the Space Needle.
Finally, there's Kurt Cobain. He wrote some nice songs and then killed himself in 1994. He's not buried here, because he was cremated. But after his suicide there was a public memorial service at the fountain in Seattle Center, the same grounds where Elvis walked and, if I'm right, danced with Ann Margaret.
That memorial service was an important moment in music, I guess, and it's been the jumping off point for at least a couple of different movies. You got a Canadian one called The Vigil about a bunch of Nirvana fans from Alberta taking a road trip to the memorial. Now we got this one, which I think was actually made first, from this jackass Scott Rosenberg who wrote Con Air but is most famous for having a movie where the first line is "Self-mutilate this, Fluid Boy." I guess he specializes in awkward clumps of words because the original title for this one was A Leonard Cohen Afterworld. Anyway it's basically a collection of cliches: young man sleeps with gangster's wife, goes on run chased by thugs, accompanied by friend who wants to reunite with the girl he had a crush on in high school, they meet a kind-hearted hooker, etc. Their destination is Seattle and the climactic chase scene is during the Cobain memorial.
I must say I was a bit disappointed though because the picture wasn't really as bad as I expected. Don't get me wrong, it's pretty embarassing. They got a main character named Pilot. On the cover of the video, he's wearing goggles. The other guy (Jared Leto, once a tv heart throb, now a hipster film sex symbol due to his roles in Fight Club, Requiem For a Dream and soon Panic Room) calls himself "The Fuck King" and walks around in slow motion with his mullet mohawk and confederate flag shirt – the fashion magazine version of "southern" "white trash" chic. Also you got John C. McGinley, one of the Michael Bolton loving consultants in Office Space, running around naked with his hair in corn rows like Bo Derek, raising his arms to God and yelling out grand statements about the universe. And the bad guys are called "Miranda's Pandas." But still, it wasn't as bad as I thought it would be.
For one thing they're not trying to go to the Cobain memorial. I thought that was the whole gimmick. The plot summary on the box is like "blah blah blah grunge music scene of the '90s blah blah blah." So you want to have some speeches about what the youth want and why the music moves them and etc. You know, the funny shit. Unfortunately the filmatists are smarter than that, and that makes the movie boring. There is mention of Cobain's suicide but they just go "Oh, shit" and don't discuss it. For all we know they listen to Gene Kruppa or something. So they just end up at the memorial by accident.
If you live in the northwest you might get a few chuckles. For one thing they portray oregon as fucking little house on the prairie. Everybody's a hick and talks in a southern accent. The towns are small and backward and the villagers (as you might as well call them) are all obsessed with an old fashioned alligator boy sideshow. Kinda reminded me of that old movie Bigfoot: Legend of the Sasquatch or whatever it was called, where everybody in washington is a woodsy old hick with a long beard.
The memorial service is pretty ridiculous too. They obviously couldn't get enough extras. Then they just passed out a bunch of blue flannel shirts to make the kids look "grungey." Kinda looks like a mormon picnic with a "come dressed as a Crip" theme. My favorite part is when the good guys get chased out of Seattle Center, they cross the street and are in Pioneer Square, where they almost get run over by a trolley!
Anyway the acting is okay. Jake Gyllenhall is good at playing these type of brain dead stoners. And I kinda like the Selma Blair gal, in an inappropriate way I mean. The cinematography is pretty good for this type of generic MTV movie. It looks better than straight-to-video.
Still not good though, and not bad enough to recommend, or to continue Writing ab