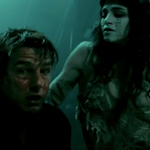 There are some things too powerful, too uncontrollable, too dangerous to play around with. Ancient, vanquished forces brought back to life in a world they were never meant for, doomed to fulfill prophecies of disaster. In this case, I'm talking about the 85-year-old Universal Monsters franchise properties, resurrected once more using the fearsome occult invocation "SHARED UNIVERSE REBOOT."
Of course, most people don't see this summer's THE MUMMY as a remake of the 1932 film starring Boris Karloff in a fez, which is in my opinion the least memorable of the Universal Monster introductions. No, they see it as a remake of Stephen Sommers' frantic, rhythmless action-adventure version from 1999, and they're not really wrong. This one borrows the idea of a globetrotting adventurer hero, capable but fallible, who teams with a "funny" sidekick and a strong-willed female antiquities expert who he bickers with while exploring some tombs and accidentally unleashes an evil ancient Egyptian royal who has magic powers and a tragic backstory and at one point appears as a giant face in a sandstorm.
But it's a contemporary version, not only because it takes place in the present day, but because by its imagery and content you can tell it was made after the J-horror wave, and the zombie wave, and James Wan, and years of conflict in Iraq, and most notably THE AVENGERS. So the mummy is pursued not only by our hero Nick Morton (Tom Cruise, THE LAST SAMURAI), but by a secret monster-studying militia called Prodigium, led by Dr. Henry Jekyll (Russell Crowe, THE MAN WITH THE IRON FISTS). (read the rest of this shit…)
VERN has a new action-horror novel out called WORM ON A HOOK! He has been reviewing movies since 1999 and is the author of the film criticism books Seagalogy: A Study of the Ass-Kicking Films of Steven Seagal and Yippee Ki-Yay Moviegoer!: Writings on Bruce Willis, Badass Cinema and Other Important Topics as well as the crime novel Niketown.