As a producer and an influence, Judd Apatow dominates the current comedy movie scene. His movies re-popularized the R-rated, filthy-mouthed comedy, they started a much-imitated improvised approach to comedy scenes, his TV shows and movies started or kickstarted the careers of Seth Rogen, James Franco, Jason Siegel, Jonah Hill and others. In a few years he's completely changed comedy movies, started a few cliches, and gained the inexplicable antagonism of talkbackers.
But just a couple years ago he was a hard-working, mostly ignored writer and producer whose name you'd see on stuff like The Larry Sanders Show, ZERO EFFECT and ANCHORMAN. He was a behind-the-scenes guy for Ben Stiller and Jim Carrey. He rewrote THE CABLE GUY from Chris Farley vehicle to the weird stalker comedy it became. Apparently he wrote Jim Carrey some jokes for the AFI Salute to Clint Eastwood. Nobody hated him back then. He was just another joke writer who had been roommates with Adam Sandler.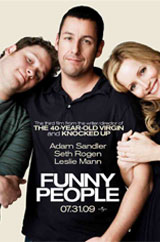 As a director FUNNY PEOPLE is only his third, and it shows kind of a progression. THE 40-YEAR-OLD VIRGIN was lots of laughs with just the right amount of sincerity to make it more touching than you expected. KNOCKED UP dedicated a little more screentime to the serious aspects, so it was a little less laughs but more emotionally effective. The shift continues with FUNNY PEOPLE so now we're almost at the point of a drama that happens to have some laughs because it takes place in the world of comedians. But this time it's less sweet and more depressing.
Seth Rogen plays Ira, a struggling do-it-for-free-when-they-have-an-opening standup comedian. He lives with the star of a successful but terrible sitcom (Jason Schwarzman) and a slightly-more-successful-than-him standup (Jonah Hill) and hates working a real job at a fake version of Noah's Bagels, even though he gets to work with the RZA.
Then one day by accident he happens to be performing when depressed movie star comedian George Simmons (Adam Sandler) decides to come in and do an impromptu set, and from that chance meeting ends up becoming his assistant and joke writer. It turns out Simmons has a rare blood disease that will most likely kill him and he's realizing that all his money and groupies have not made him happy. To Ira this celebrity world is exciting so he struggles between his greedy impulses to take advantage of the situation and his more ethical side that wants to be a good friend to George and help him do the right thing.
It's even less high concept than it sounds, it's about 2 and a half hours long, and most of the funniest lines were already in the trailer. So even with Sandler in the starring role I don't think it's gonna be as popular as the other two. But I do think it's a good movie. I like that the characters are flawed. Ira does a horrible thing right at the beginning (not telling Hill's character that Simmons wants him as a writer) so I thought he would be too weak for hanging around with the super rich and famous and would be completely corrupted, but he ends up making some of the more ethical moves in the movie. Meanwhile Simmons' joking around makes him seem like a nice guy who just happens to be a little sleazy because of his situation in life, but as he tries to improve himself he just behaves worse and worse, without seeming to even realize it.
Eric Bana is in a supporting role that finally takes advantage of his sense of humor, even if he's mostly a straight man. He's not a psychopath or anything but there's a scene where he's watching Australian football on satellite TV that's the first time I've seen a flash of Chopper Read in a post-CHOPPER Eric Bana performance. He plays the husband of George's old flame. You expect him to be an irredeemable asshole like, say, the equivalent character in THE WEDDING SINGER who Adam Sandler has to steal Drew Barrymore away from. But he's not.
I'm not anti-Sandler. His first couple movies made me laugh and I love PUNCH DRUNK LOVE. I saw YOU DON'T MESS WITH THE ZOHAN and I thought it was kind of funny and even daring in that it seriously was a lowbrow comedy taking a shot at ending the Israel-Palestine conflict. For the most part though I'm not interested in the movies he makes these days and don't usually watch them. But from the ones I've seen, this is his most subtle performance and possibly his best. He does a good job of playing sad and hopless without going overboard, selfishness and downright meanness without becoming a villain. He's still a fairly likable character even as all his flaws come to the surface. It's also nice to see him playing a character that's not supposed to be any more naive or dumb than Sandler is in real life. So he's more like the Sandler you see on talk shows than the one you see in movies.
I usually avoid writing reviews of comedies because I hate trying to argue why something is funny. So it helps that this one isn't that funny. The aspect that I thought made it interesting enough I wanted to write about it is the way the movie seems to subvert and question the romantic gestures that take place in movies. I've seen many movies where somebody had to rush to the airport to tell somebody they love them, but this is the first I've seen where a character is rushing to the airport to tell her husband she wants a divorce. In the minds of George and his old flame they're making things right, reuniting with the loves of their lives, doing what's meant to be. But in the view of the movie they're breaking up a family. Earlier, George argues that Ira's generation doesn't have as much pain to deal with as his, they just have divorce. This explains why Ira is the one who wants the family to stay together. With a little different context their rekindled love could be the happy ending to a romantic comedy with Sandler or any number of other actors, but in this more realistic world it's the disaster you want to avoid.
I don't know how autobiographical any of this is. They use old videos of Sandler standup and prank phone calls to establish his past, and the lame comedies that George is supposed to have starred in don't seem that far removed from some of Sandler's actual movies. But I always got the impression Sandler was kind of a family man, and I doubt he's as lonely as this character considering how many of his old buddies he has repeatedly directing and co-starring in his movies. Apatow includes his real wife and kids in the movie, with footage of some of his wife's real movies, but obviously Eric Bana is not playing Apatow, and I don't think Ira's based on him. So I don't think this is based on any specific people. But it obviously is a world these guys are familiar with, it feels very accurate.
So I think this is the most personal of Apatow's movies, but also the least universal. Sandler, Rogen and Apatow have been on all the late night talk shows the last week or two. All the hosts have seen the movie and loved it. But that's because they come from that standup world. To me Hollywood shit is interesting, but not that interesting. At least they don't show them making a fake movie. It's a worthwhile story for Apatow to tell, but to be honest I enjoyed the other two more.
This entry was posted on Monday, August 3rd, 2009 at 1:31 pm and is filed under
Comedy/Laffs
,
Drama
,
Reviews
. You can follow any responses to this entry through the
RSS 2.0
feed. You can skip to the end and leave a response. Pinging is currently not allowed.