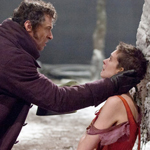 As you may have noticed, this week I'm doing some leading-up-to-the-Oscars-on-Sunday reviews. This one here completes my best-picture-nominees checklist, and then I'm gonna do a few less acclaimed previous movies from some of the nominees or people involved with the nominated films.
I know, I know. The Oscars don't mean anything, blah blah blah. You know, the Super Bowl doesn't prove who the best football player is either, but I don't begrudge football fans for enjoying watching it. I like watching the Oscars every year and rooting for movies I like and against ones that I don't like. I have no illusions about it being real important or an accurate scientific measurement of artistic worth or anything stupid like that, so skip the condescending lecture this year. I'll just re-read the ones I got last year and the year before and the year before and repeat if desired.
The fact is I have fun watching the Oscars and I like to see all of the best picture nominees beforehand. As a non-professional critic and with the up-to-10-nominees they have now this is somewhat of an achievement, I think, and it forces me to watch some things I normally wouldn't get around to. Before the nominations came out I was hoping the not-great buzz on LES MISERABLES would spare me having to sit through it, but no dice. So a couple weekends ago I saw AMOUR and the next weekend I capped it off with a Miserable Sunday.