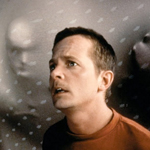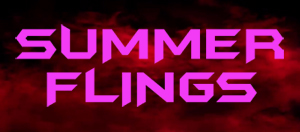 It was July 19, 1996, and there were four new movies in theaters: the action movie with Laurence Fishburne, the genie movie with Shaquille O'Neal, the clone movie with Michael Keaton, and the ghost movie with Michael J. Fox. That last one did the best of the batch, but more people went to see previous releases INDEPENDENCE DAY, PHENOMENON, COURAGE UNDER FIRE and THE NUTTY PROFESSOR.
Not that surprising. Normal people didn't know what the hell THE FRIGHTENERS was, or have any reason to give it much thought. Universal couldn't make that big a deal about BACK TO THE FUTURE's Marty McFly reuniting with Robert Zemeckis (as a producer) because it's not that kind of movie. Whiz bang special effects movie, yeah, but rated-R, with some grossness and disturbing flashbacks to a realistic spree killing. Like the one we looked at last week, WOLF, there was no McDonalds tie-in (although the skeletal face imprint on the movie poster would've looked cool coming out of the side of those glass mugs!). (read the rest of this shit…)
VERN has a new action-horror novel out called WORM ON A HOOK! He has been reviewing movies since 1999 and is the author of the film criticism books Seagalogy: A Study of the Ass-Kicking Films of Steven Seagal and Yippee Ki-Yay Moviegoer!: Writings on Bruce Willis, Badass Cinema and Other Important Topics as well as the crime novel Niketown.