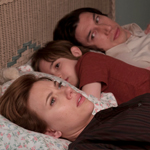 MARRIAGE STORY seems like kind of a cheeky name for a movie about a divorce. I first learned of writer-director Noah Baumbach by seeing his fourth movie as a director, THE SQUID AND THE WHALE. That was a movie clearly based on his childhood during his parents' divorce, and here's one clearly based on a divorce he himself had years after making that movie. The circle of life. Hakuna matata. Did you know he was a writer on MADAGASCAR 3?
The best-picture-nominated-straight-to-Netflix-but-it's-coming-to-Criterion MARRIAGE STORY has all the dry humor, smart dialogue and outstanding, emotional performances his movies are known for (three of them also Oscar nominated), and the heartache and discomfort the topic demands, but somehow it feels kind of… warm for Baumbach? And even kind of romantic?
Part of that comes down to our Noah Baumbach character — I mean our male lead — not coming across as as much of a self-regarding dickbag as some of the others. Charlie (Adam Driver, one episode of Law & Order, WHILE WE'RE YOUNG) runs a small New York theater company, directing plays that often star his wife Nicole (Scarlett Johansson, THE SPIRIT), a former teen movie star. Charlie is entirely at fault for the dissolution of the marriage, he has the least excusable behavior and turns out to have serious emotional issues he's left unaddressed. But he seems to be going at this divorce thing in good faith, trying to do it as amicably as possible, even trying to stay friends. (read the rest of this shit…)
VERN has a new action-horror novel out called WORM ON A HOOK! He has been reviewing movies since 1999 and is the author of the film criticism books Seagalogy: A Study of the Ass-Kicking Films of Steven Seagal and Yippee Ki-Yay Moviegoer!: Writings on Bruce Willis, Badass Cinema and Other Important Topics as well as the crime novel Niketown.