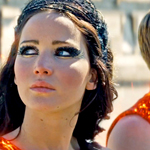 (I'm trying to mark the biggest spoilers as usual, but be careful with this one if you don't want anything given away)
You remember back when THE HUNGER GAMES came out I avoided it. I know this makes me a weirdo, but it wasn't until Francis Lawrence signed on to direct the sequels that I got interested. The conventional wisdom was that part 1's Gary Ross (PLEASANTVILLE, SEABISCUIT) was a classy director and this was a step down to replace him with the guy who did CONSTANTINE and I AM LEGEND. But I'm a fan of Mr. Lawrence, I see some genius behind the admittedly large flaws of those movies. As pretty good as THE HUNGER GAMES is I'm way more impressed by Lawrence's depiction of post-human-New-York-City and Will Smith's performance as the lonely omega-scientist. Yeah, we all know that there are some problems when the vampires turn out to be leaping computer animated beasts, but shit, they're better than the animated dogs in HUNGER GAMES. Scarier and with more personality and meaning. Let's not pretend either of these is flawless, but I know which one I like better.
Now Lawrence's first HUNGER GAMES chapter has hit, and virtually ever review I've seen says what I predicted, that he made a better movie than the first one. See you guys, I know shit.