I wasn't planning to see THE BLIND SIDE, but I'd seen 8 out of the 10 best picture nominees already, and I heard it wasn't that bad. So what the hell. Figured I could start filling out the checklist and have a review for Super Bowl Sunday.
Adapted from part of a Michael Lewis football book, this is the true story of how a completely uneducated homeless kid in Tennessee who barely spoke and didn't know what an ocean was got brought into a private Christian school, adopted by rich white people, learned how to play football and got his grades up enough for a college football scholarship. He was Michael Oher, now an offensive lineman for the Baltimore Ravens.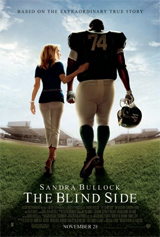 Quinton Aaron plays Michael, Sandra Bullock (having been cured of racism by falling on her ass in CRASH) plays Leigh Ann Tuohy, the wealthy white woman who sees him walking around in the cold without a coat on and decides to let him sleep on her couch. She's a takes-no-shit interior decorator with a love of tacky sunglasses and a nice husband (Tim McGraw) who owns dozens of Taco Bells. They have plenty of money and they like to help people. So they help him.
This is a well-tread formula and pretty transparent audience manipulation, but I didn't hate it. What I like about it is that it's about nice people doing good things. I like nice people, I like good things. I'm especially a sucker for a non-traditional family. I mean we've been seeing this since Dif'rent Strokes, but still. You don't expect a Republican family in the South to invite a black homeless kid into their home and then adopt him, so it activates an automatic heart-warmth reflex. Sadly, Christianity is no longer always about being Jesus-like and helping poor people, so although they play down the religious angle in the movie (I bet the real family went to church at least once) it's a good example for the people who go around shouting about Jesus but are more worried about lowering their taxes than, say, feeding the hungry. Which was one of Jesus's biggest passions, in my opinion. These people follow through on their Jesus, so good for them.
I read an article that's some kind of excerpt/adaptation from the book, and it seems like they stuck pretty close to the true story. Unfortunately it still has more the feel of Hollywood bullshit than of reality. It's not like, say, ERIN BROCKOVICH, where Steve Soderbergh had a pretty traditional Hollywood stick-it-to-the-man feel good story but found some kind of unexpected honesty in the performances, cinematography and the little details of the screenplay. No, this is the type of movie that goes for lots of underlining and nudging.
When Michael first arrives at the Christian school there's a long establishing shot of a stone archway with an engraving that says, "WIth man this is possible. With God all things are possible." Then there's another shot of Michael coming up and reading the engraving. So you get two shots in a row to read it. It's a little thing, but representative of the movie as a whole. When Leigh Ann explains and then reads "Ferdinand the Bull" to Michael they're not gonna take any chances that you don't pick up on it being a parallel to him, so they later have her say out loud "He's Ferdinand the Bull." You get it? That's why we keep talking about that book. Because it's him! Do you see?
Michael barely talks. When people ask him a question he usually answers "I 'on't know." His new little brother has to teach him how to smile. This is why he's an interesting character, and Aaron is very good in the role, giving us some subtle signs of life behind the enigmatic shell. But subtle's no good, what if the audience wants to know specifically what he's thinking about? Oh, look here, that's convenient. His teacher found a piece of paper in the garbage where he wrote out his deepest inner thoughts!
(if that's in the book then I guess I'll give it a pass, but from here it looks like the laziest screenwriting shortcut of all time)
But, you know, most of the movie's better than that. I'd say it's stronger than some of the other watchable-but-should-be-so-much-better-feel-good-true-story-football-movies like GRIDIRON GANG and THE LONGSHOTS. And after you get used to her accent Sandra Bullock is good in it. But the best stuff is with the family, and when it gets more into the football (admittedly a smaller section of the movie than in those others) it seems to forget all about believability. The way it's portrayed Michael is terrible at football until Leigh Ann comes out during practice and tells him to pretend that the other players are her and her family and he needs to protect them. This one pep talk magically transforms him into a great player.
Still, when there's a game the team is losing badly. Then the asshole coach says that he would protect Michael like a son, so Michael is magically switched on, the game turns around and from this they suddenly have a DVD full of incredible highlights that attracts a swarm of college football recruiters to this previously unexplored school.
(The funny part where he picks up an asshole from the other team and carries him all the way off the field toward the bus he came in on is actually true. I was happy to read that.)
Obviously the real Michael Oher has an unusual personality and way of learning, but the way his inspiration gets boiled down into movie form kind of makes him seem like an imbecile. I know movies can't reproduce the complexities of life, but you gotta be careful. At least leave out the jokey scene where Kathy Bates (who comes in late in the movie as his tutor) scares the bejesus out of him by telling him there are body parts buried under the playing field at the Tennessee college and they might grab him. He believes her and she never tells him she's joking. Suddenly they're acting like he's retarded.
So, yes, this is a type of story white people like to see, where the nice white people help the unfortunate others. So it's not that surprising that it gets a best picture nomination. Overall it's been well received but I know there are some criticisms of it being patronizing or what have you. The part that makes me uncomfortable is the way it contrasts his new family with his old. The nice black people in the movie are his friend, his friend's dad, and his brother – all of them are seen briefly in the beginning and never mentioned again. There's also a menacing ethics investigator from the NCAA who makes him feel bad about himself. Otherwise all the black characters are crack smoking, 40 drinking, gun toting, sexually harassing, call-in-a-suspicious-persons-report-to-Steven-Seagal types. The movie accidentally portrays other black people as a bad influence that Michael needs to stay away from.
I also didn't like the scene where Leigh Anne threatens a gangster GRAN TORINO style, bragging about being an NRA member. Not that he didn't deserve it, but because the idea of it being an effective threat is such a dumb fantasy. The guy even swallows. He looks terrified. I don't buy it. Maybe I would if they seemed more like real people and not like one-dimensional movie villains.
Still, I think good intentions count for something. The fact that it's based on a true story makes it more palatable. What, should the white lady have found a white kid to help so it wouldn't be patronizing? Come on. Give her credit for what she did. This family just figures that's what you're supposed to do, so they do it. If I ever own a Taco Bell I'll follow their lead.
So I will let the movie off from charges of racism, but I do want to bring up one thing about the best picture nominations. The next time somebody tries to tell me Hollywood is too politically correct I'm gonna throw this one at them:
In the first Oscars of the Obama administration there are two best picture nominees about black people – but they're both about teaching them how to read. They didn't nominate INVICTUS, the one about the leadership genius of a black man. They chose the white lady inspiring the black kid to sports glory with her words over the black leader inspiring the white man to sports glory with his words.
I mean, you know… just an observation. There are other movies I'd want to see nominated before INVICTUS, but I liked it better than BLIND SIDE and PRECIOUS, and it's interesting to me that it's the one that was overlooked. I guess to be honest I don't expect people to talk much about any of these five years from now. But I'd pick Clint's movie as the one more representative of the times we're living in. What are you gonna do, I guess. People love to see black kids get tutored, according to these nominations.
(Or depicted as aliens, come to think of it.)
And here's another thing to keep in mind: 2 (two) of this year's best picture nominees, THE BLIND SIDE and UP IN THE AIR, have a major turning point scene based around Young MC's song "Bust a Move." Actually, I haven't seen AN EDUCATION yet so it's possible there are three, but most likely two "Bust a Move" scenes nominated for best picture. Think about that.
Food for thought, huh? I'm not sure what kind of thought. But I'm pretty sure it's food for thought. Let it simmer for a while.