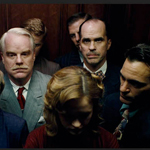 As I start writing this I haven't read any reviews or comments on THE MASTER yet, but I'm betting there's alot of this:
1. It's a masterpiece, if you don't get it you're dumb, why don't you go see some mainstream movie like whatever that one movie is called, the one that you like, I don't know the name because I don't watch that kind of crap or know what it is
2. It's pretentious nonsense that is pretentious, if you like it it's Emperor's New Clothes. It's totally meaningless. Boring. The critics! Fuck!!!!!
Probly heavier on #2.
I would like to propose a third view, which is B. Kind of in the middle of the two. But in a separate column I think.
This is not a normal movie, so my thoughts could change after more time for digestion, or after a second viewing, which I don't necessarily foresee happening, but life is full of surprises. It is easily the least entertained I have ever been by a Paul Thomas Anderson joint. But it's good.
Freddie Quell (Joaquin Phoenix from 8MM) is a Naval veteran who comes back from the war with his brain not quite in one piece. He's a raging alcoholic, the kind that mixes his own concoctions out of chemicals and paint thinner if he has to. He's some kind of sex maniac, introduced humping a sand-woman he and some buddies made on the beach. Ha ha, just jokin around, right guys? But then he can't help but run over to the shore and frantically jerk off.
He has a problem with his temper. He gets into fights. The drunkenness and the fights make it hard to keep a job and a girlfriend.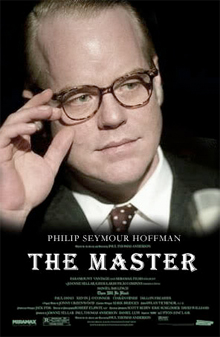 But one day he drunkenly stows away on a yacht where Lancaster Dodd (P.S. Hoffman, THE GETAWAY) is holding court and having a wedding for his daughter. The credits assure us this is unrelated to any real persons or movements, but you'll notice he and his book/group "The Cause" have a few totally coincidental similarities to L. Ron Hubbard, Dianetics and Scientology. Freddie hangs around and witnesses various "processing" and "applications" where Dodd asks questions and instructs people on focus exercises and talks about past life regression and things. Especially in these early scenes these people seem to be speaking a different language, you have no idea what the guy is talking about and he says things that make everybody laugh knowingly but we, and Freddie, have to just nod our heads politely to fit in.
But also Dodd seems to be a charismatic leader, he enjoys a good drink, smiles and says encouraging things that make people feel good. Like, before he goes to bed he announces to everybody "What a day! We fought the day, and we won. We won!"
I think some people might've been expecting a full on nut-punch of Scientology, but that's not this. Like the movie itself it's not 1 or 2, it's B. Dodd is no saint. He can't always control his rage. He's suppressing something that is only talked about ambiguously. He's left behind a string of ex-wives, and his current one Amy Adams is fierce and loyal but in my opinion underappreciated. His own son thinks he's making it up as he goes along. When one of his greatest supporters (Laura Dern – good to see her in a movie again) asks about a part in his second book which seems to contradict what he's told them for years he flips out on her.
On the other hand he's never shown to be a deliberate fraud, he seems to really believe what he's saying. When Freddie beats up or even just throws food at the movement's enemies Dodd gets pissed, lectures him and compares him to an animal eating its own shit. And he seems to really like Freddie, a man with very few likable qualities. When his wife, daughter and son-in-law get paranoid about Freddie's motives Dodd disagrees. A friend pointed out it might be a crush, but I think it might be a genuine friendship. Or a fascination with not being able to control him. He's used to people getting in line behind him, listening to him intently, sitting next to him uncomfortably silent when somebody questions their beliefs and he has to call them a "pig fuck."
My favorite part of the movie is when the Chicago police show up with an arrest warrant for Dodd. It shows a funny contrast between the two main characters and how they channel their anger. Dodd goes into grandiose prick mode, throwing around words like "silly" and "farce" and asking things like "What honor do you serve? What code?" Freddie chooses the other route, the one where you start fighting and four cops have to drag you all the way to the station and to your cell as you wiggle around like a fish. Then there's a long, unbroken take of both of their side-by-side cells. Dodd leans casually against his bed, not saying a word or flinching as Freddie screams, bangs his head against his bed, tears off his clothes and crushes his toilet. I'm sorry, Cinerama audience, that I laughed during this scene. I thought it was appropriate laughter, I thought it was deliberately funny, but I think you disagreed.
Freddie is the reverse of Dodd. He's dumb and unfocused and uncontrolled, he can't let go of his memories of an old girlfriend instead of not being able to stick with one wife. He's traveled around and experienced different jobs and cultures, but probly saw most of it blurry or in doubles. He always has to run off 'cause he attacked a guy or accidentally poisoned somebody with his moonshine or something.
Another great scene is the real uncomfortable one where a skeptic publicly confronts Dodd and gets into a big argument with him. I love the long stretch of the guy saying "Excuse me" and Dodd ignoring him. Might be the 21st century version of that kid throwing firecrackers in BOOGIE NIGHTS.
This has less of a story arc than most P.T. Anderson extravaganzas. I saw a couple walk out about 20 minutes in, which seemed ridiculously early to give up on a movie like that, but I guess they wouldn't have liked it anyway. Not sure how they ended up in that theater but I suppose they made the right choice in leaving. I'm not sure they would've shared my view that the faster paced cuts in the section where Freddie has to repeat a couple different exercises endlessly made it seem like a training montage. They probly would've needed a Survivor song.
Obviously I don't believe in Scientology or this fictional Scientologyesque deal, but still you're rooting for it to work on this poor bastard, because something's gotta. It seems to give some kind of discipline and stability to most of these people, but never gets Freddie off the booze or the anger or the boners. Dodd claims it can cure some forms of leukemia, but even combining forces with Amy Adams it can't stop Freddie from chugging his whole flask first thing in the morning. It's probly why Dodd is so hooked on him, and why the end of the movie is intentionally frustrating. All that and he's still left passed out, nuzzling a sand boobie.
The filmatism is great, very quiet, sometimes heightened by an eerie and unique score by Jonny Greenwood. If you're thinking THERE WILL BE BLOOD and 70mm though you should know this is not trying to be an epic. If it is it's epic intimacy: giant heads talking to each other. Alot of it is confined to one house or wherever they're living. It skips around a bit in chronology and some time does pass but most of it is in less than a year I think, since Adams stays pregnant the whole time.
Not surprisingly, the best thing about the movie is the acting of the two leads. Hoffman perfectly embodies this intelligence and arrogance, charisma and fury, this controlled craziness. Phoenix is more of a weirdo, very physical, with a weird hunched over posture. You know how he has that scar above his lip? You try to ignore it when he's playing Johnny Cash, but in this one he seems to emphasize it, talking only from that side of his mouth, looking like Jonah Hex at times. And sometimes like Popeye. He's even a sailor. No pipe, though.
Kevin J. O'Connor has a small part, nothing too memorable but I'm happy for him because he was also in THERE WILL BE BLOOD. He will be the only member of the p.t. anderson players who's also in all the Stephen Sommers movies.
It was filmed in 65mm (the first non-documentary to use it since Branagh's HAMLET in '96) and Seattle's own Cinerama theater is showing it on an actual 70mm film print. It looks great, of course. Having recently seen SAMSARA at the same place though I can finally admit that it's the filming on big ass film that makes the difference, not the projecting. SAMSARA looked at least as good and probly better projected digitally. (That's 4K though which I understand is higher than Imax's digital projectors. If they call it Imax stick to film prints only.)
Like some of the hi def stuff, 70 mm closeups give all kinds of detail on the faces, you see all the pores and bumps and scars. At one point I realized geez, that freckle is bigger than my fist. And in one part I noticed that Joaquin's ear was pierced. That's out of character.
I mean this… I thought it was really, uh, interesting. And I don't mean that as lukewarm praise. But I wouldn't recommend it for everybody. If it bores the shit out of you I get it. I'm not sure I understand specifically what Anderson is going for with this one, I just think he has two great actors playing two interesting characters and bouncing off each other while he slathers them in topnotch filmatism. Alot of people will be disappointed that there aren't any great in-jokes about milkshakes and shit. Or after one of the various jerking off scenes somebody could've yelled "I'm finished!" That would be a real crowdpleaser, you know.
SPOILERS? A buddy of mine asked if I thought the end was supposed to be a dream. I hadn't thought of it that way. Yeah, it's really surreal that he's alone in a movie theater in a small town in the middle of nowhere and is handed a phone with Dodd calling from London. But I just took that to mean that was how impossibly connected the guy was by that point. What was more significant to me about the ending is that Dodd finally tells him where they met before… and it's some past life bullshit. This whole time he's been mentioning it and you keep wondering if there's gonna be some kind of twist or something, how these guys are connected. Nope. In the end he's got nothing to offer. No need to stick around. Back to the sand boobies.
things I learned while researching this review:
* L. Ron Hubbard spent some of his childhood and more of his adulthood living in Bremerton, Washington. He also went to Queen Anne High School in Seattle for a year. More importantly it turns out Hank Ketcham, the creator of Dennis the Menace, went there.
* In 1982 Hubbard composed a soundtrack album to his book Battlefield Earth, called Space Jazz and featuring Chick Corea and Stanley Clarke. I kinda want to get this, actually.
* Rex Reed hated THE MASTER but says it "might not even be the worst movie ever made" in comparison to "such hollow, juvenile, superficial trash as" THE ROYAL TENENBAUMS and ETERNAL SUNSHINE OF THE SPOTLESS MIND (by "the dismally overrated, no-talent Charlie Kaufman")