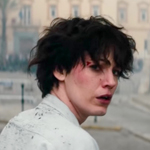 THE RHYTHM SECTION is a cool fucking title when you realize what it means. As explained in the very first line of narration, it's a piece of advice about how to stay calm while firing a gun or fighting: think of your heart as the drums, your breathing as the bass. But that's hard to explain in a commercial, which is probly part of why there were like six people in the theater when I saw it.
Everybody else's loss. It's pretty good. Not at all original, but a solid meat and potatoes type of story giving a good showcase to Blake Lively, whose knockout turn in the pretty good A SIMPLE FAVOR I honestly thought should've gotten her an Oscar nomination. Now I pay more attention to her movies, especially if she's playing a woman getting her Remo Williams training for badass revenge purposes.
She plays Stephanie Patrick, a drug addicted prostitute. Only three years ago Stephanie was studying at Oxford (yes, Lively does an English accent, which was only distracting for about five seconds), but her life became a mess after her entire family was killed in a plane crash. Then one day she gets this john who tells her he's not there to have sex, he's a journalist who has tracked her down because he has proof that the plane crash was not an accident, it was an act of terrorism that was covered up. (read the rest of this shit…)
VERN has a new action-horror novel out called WORM ON A HOOK! He has been reviewing movies since 1999 and is the author of the film criticism books Seagalogy: A Study of the Ass-Kicking Films of Steven Seagal and Yippee Ki-Yay Moviegoer!: Writings on Bruce Willis, Badass Cinema and Other Important Topics as well as the crime novel Niketown.