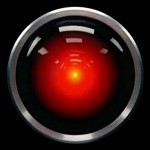 OUTLAW CRITIC IS FIRST TO ADMIT, "I ACTUALLY THOUGHT A.I. WAS PRETTY FUCKIN GOOD"
SEATTLE, WA– Online film writer and cult hero Vern admitted earlier today that he thought Steven Spielberg's artificial intelligence drama A.I. was "pretty fucking good, though." This makes the ex-con and recovering alcoholic the first person he knows to admit liking the movie since its release two weeks ago.
"A lot of motherfuckers said it was too sentimental," Vern wrote on his mildly popular film "web sight". "But it's about a robot who wants his mommy, what else is it gonna be like, asshole [punctuation his]."
Vern responded to pathetic accusations of studio bribery by saying that he wishes it were true, because then he could afford to buy the new dvd box set of Bruce Willis's Die Hard trilogy.
a. introduction & apologies
First of all I would like to apologize for being gone for so long. Second of all I would like to apologize for coming back and not reviewing the films of Badass Cinema, but instead some Stevie Spielberg picture about a baby robot. And thirdly I will not apologize just because you motherfuckers are wrong.
And fourthly you boys who haven't seen the movie PLEASE stop reading this now, I don't want to give anything away. Come on go read some other garbage please thank you.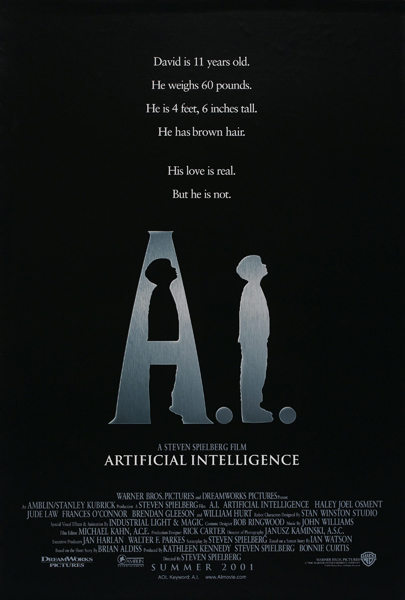 b. vern goes against the grain on this one
Now don't get me wrong this is a flawed piece. I'm not saying it's as good as Kubrick's pre-humous films. I mean all that nonsense about the rock concert and robo Chris Rock didn't work and maybe the whole Pinocchio of the future angle coulda been done a little more subtle-like. But the whole section about David living with the family, and the zombie robots cannibalizing the garbage pile, and David's discovery of the other Davids, and jumping into the water, and ESPECIALLY (I'm on some Galileo shit with this one because NOBODY agrees with me here) the 2000 years later epilogue, now THAT was some good shit as far as little boy robot movies go.
c. a side note to nostalgic children of the '80s
For example compare it to the famous movie D.A.R.Y.L., this is way better, in my opinion. Although you '80s brats with your goonies dvds pre-ordered from Amazon will probaly disagree there, but that's only because you are diseased by nostalgia. Look, just because a movie seemed good at the time doesn't mean we should drop all standards of quality and hail it as a new classic. For crying out loud there were people who thought slavery was good at the time. You goonies fans should be ashamed of yourself. This is 2001, there is no excuse for goonies, and women are allowed to vote. And you can't stop them no matter how hard you try, you fuckers. The people are 5 billion strong and growing.
d. on sentimentality
Anyway the main thing I heard was that people thought A.I. was "too sentimental." And I don't get that. What I think this did better than most robotical type pictures was to illustrate the tremendous tragedy of the whole artificial intelligence situation. Here is this poor bastard robot PROGRAMMED to love. And here is the family that bought him, so he is their new toy. HOW are they supposed to learn to truly love him? You can't really blame them.
There is not a section of the movie where this little robo bastard has much fun. He is creepy and weird, and dangerous to the family. If you look at it from their shoes they don't have much of a choice but to throw him out. And at the same time, how dare they? There is not a right thing to do in this situation.
I really like when the real son comes home and just treats David like shit. That's what kids do to other kids, so of course they're gonna do it to a robot. The son sleeps in the bed now and David just leans up against the wall like a toy.
Then fast forward to after David has been thrown out, and met a robotic gigolo murder suspect, and tried to find his maker Dr. Hobby, and etc. Dr. Hobby is thrilled to recover him, and he is so proud to have made him and tries to be sweet but like everyone else in this movie, he just doesn't fucking get it. David doesn't want to be told what an amazing machine he is. Because he wasn't programmed to want that. He was programmed to want his mommy.
Then he goes underwater and finds an old Coney Island statue of the Blue Fairy, and he sits there and prays to it for 2,000 years. Because what else could he do.
e. the controversial ending
That's a great, tragic fairy tale moment and most people think it should be the end of the movie. But they're wrong though, is my only quibble.
Because remember, this is not just a stevie spielberg movie. This is based on a plot outline created by Stanley Kubrick and a bunch of underfed sci-fi Writers he had locked up in his basement for about 12 years. I would like to announce that, although none of you agree, this 2,000 years later is the section of the movie that is most worthy of the late Mr. Kubrick. Stanley would be rolling in his grave if he heard what people were saying about this portion of the movie. Only it would take him like 15 years to do it. But it would be worth the wait because it would be one of the best grave rolls you've ever seen.
Mr. Kubrick did not like to structure a movie the same way any jackass would. The huge jumps in the story, from an intimate family setting to a pornographic city and then to after the next ice age, that is very Kubrick. Just like when he jumped from a bunch of monkeys banging bones together to a manned space station in the famous movie, what's it called, 1984 I believe. That was a movie that could've been narrated by God, if they had been able to get Him to do it. (Orson Welles did a voice in a transformers cartoon, so why not?) It was willing to tell the embarrassing story of the human race, from beginning to end, despite mainstream Cinema's penchant to tell stories that take place in one particular time period, and do not span over hundreds of thousands of years of evolution.
A.I. maybe doesn't have the same goals but if it's the story of a boy who never grows up, why not go all the way with that concept. Unless you're some kind of pussy who wants to make a boring, ordinary movie, and my friends, Stanley was not that. That was why he turned down police academy 2 when they offered it to him (or was that david cronenberg being offered top gun? I can't remember.)
What I wanted to see out of Stanley Kubrick's A.I., but did not expect to see in Stevie Spielberg's A.I., was something like these weird see-through robot aliens at the end. At last somebody uses the computer graphical technology to create creatures that I really have never seen before. So what if they're shaped kind of like the close encounters aliens? Look beneath the surface, pal. There are weird little machine parts floating around and they have tv signals in their faces and they drive cars that are made out of somebody's geometry assignment or something. I mean WHAT THE FUCK? If you woke up in this time period you would have NO idea what the fuck is going on. Are these aliens? Are they robots? I don't know! That's what 2,000 years from now WILL be like – weird. It won't be just flying cars and rocket dogs. You won't be able to catch up.
Also I'm glad they didn't have any jokes about "We are going to the movies to see The Matrix part 250". That would be dumb.
f. the ending is sad
Anyway this brings me back to what I was saying about how SAD this movie is. After 2,000 years, David sort of gets what he wants – he gets one day with his mom. I know the explanation of how this is possible is a bunch of corny mumbo jumbo, but who cares? (Well, you, obviously. But not me.) 2,000 years later, mom sort of gets what she deserves – to be happy under weird, scientific experiment type circumstances, not knowing what is going on or what her horrible fate will be.
And then she goes to sleep, and the movie is over. But we know she will never wake up. And David will be stuck on a world with no humans, and no robots that even look like humans, and yet he will always and forever be programmed to want to be a human, and to see his mommy, who has been dead for 2,000 years.
Let me give you an analogy. If any of you out there are those freakos who collect laser discs, and are so sad that they are going extinct. Just wait until there are none at all, they've all rotted away, and there's no chance they will ever be printed again. Not even Die Hard. And that's your only hobby.
Your programmed to love something that hasn't existed for hundreds of years.
And think about this too: it took another ice age and 2,000 years of technological advances for anybody to understand David's basic human need to see his mommy. That's how Kubrick saw the human race, and I mean, I have a hard time arguing with him. I think Spielberg did a good job of subduing his style to make the movie a little more like Kubrick would have liked it to be.
g. the 3 types of Spielberg pictures and the Stanley Spielberg style
I believe there are three type of Spielberg pictures. The best are the Young Spielberg Pictures, the really well put together type thrillers like Jaws and Duel. Then there are the Manboy Spielberg Kiddy Picutres like The Extra-Terrestrial E.T. and Indiana Jones and the etc. etc. that everybody likes. And thirdly there are the historical pictures, like Amistad and Schindler's List and Saving Private Ryan, which I would say something meaningful about but I fell asleep as soon as I saw the american flag in private ryan and I never seen the other ones.
Anyway as far as I can tell A.I. doesn't fit into any of those categories, so it is the new style which I will call the Stanley Spielberg style.
In a Stanely Spielberg picture the cuteness factor is played down. For example, the character Teddy. In an ordinary studio picture he would've been the cute sidekick. But in Stanley's picture, all he does is move cute because he was manufactured that way. His voice is old and sad and he doesn't talk much. He is like a sad old man with the only difference that he doesn't tell stories about war or diarhea.
h. a note to moriarty of the ain't it cool news
Mo criticized the very end, saying that people will say it's ambiguous but that really it ain't, and that the movie can stick its ending up its ass (unless the ending of a movie is a movie's ass, in which case I guess just stick it up the beginning of the movie) [paraphrase].
But I have heard enough interpretations of the ending to know that it IS ambiguous. Because what DID it mean that David started to dream?
He has "become a real boy", by somehow learning to dream. (Then he will wake up and what good is it to be a real boy in a world where there are no humans? And lots of ice?)
He is happily dreaming at the side of his mother's corpse. Not pretty. I've seen Ed Gein, I know what happens next.
He dies along with his mom. This interpretation is a real mind puzzler for young cynical boys trying to hate pat hollywood endings. On one hand, it is a happy ending, the enemy of young cynical boys trying to hate pat hollywood endings. On the other hand, it is an ending where a cute little boy dies. How do you know if you like it or hate it? Nobody knows.
500 years later.
Hello, my name is Vern X and I am the Vern of the future. Just the other day this robotic tapeworm came out of my stomach and we were talking about early Cinema. I was telling him how at the time A.I. came out nobody except Vern really appreciated it. And he was like, no way, why? And then he shot a laser out of his ass.
I explained that the flesh flair part of the movie was considered pretty silly with bad choices that dated the movie and that people didn't really enjoy the tragedy and creepiness of the rest of the movie. He thought it was funny that people would care about the flesh flair part being corny because, really, all movies of the 20th-22nd century are so campy and laughable that it is ridiculous that anybody even made a distinction. Ha ha the acting is so hammy and the dialogue so crude.
Then we watched a bunch of Martin Scorsese movies and just laughed. Ha ha what a bunch of idiots they all were back then, ha ha. And then we went to shoot off death rays. But they are the size of a grain of rice and you have them built into your nostrils.
the end
from space, your friend Vern X
This entry was posted on Friday, June 22nd, 2001 at 9:25 am and is filed under
Reviews
,
Science Fiction and Space Shit
. You can follow any responses to this entry through the
RSS 2.0
feed. You can skip to the end and leave a response. Pinging is currently not allowed.