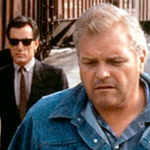 Sometimes you're not in the market for a topic to write about, but it falls right into your lap. Me, I've been dying to start writing about JCVD, but I keep coming up with other ideas that I get excited about. I have three different action stars fighting it out in my head to be my next book, so when I finally get the current one polished off and find some time to work I'm gonna have to make a decision and stick with it.
LAPD detective/best-selling true crime author Dennis Meechum (Brian Dennehy, FIRST BLOOD) doesn't have as hard of a time deciding, because his subject keeps showing up in person and hassling him until he gets started. Back in '72 he survived the infamous robbery of a police evidence depository (with the thieves wearing Nixon masks four years before POINT BREAK) and turned his experiences into the hit book Inside Job: Anatomy of a Robbery. This guy is a hard worker: he's still a cop, and also keeps writing books, and also has raised his beloved daughter Holly (Allison Balson, Little House on the Prairie) alone since his wife died of cancer. But he's burnt out and having trouble writing another one and some guy named Cleve (James Woods, VAMPIRES) has decided to come tell him what to write about. (read the rest of this shit…)
VERN has been reviewing movies since 1999 and is the author of the books SEAGALOGY: A STUDY OF THE ASS-KICKING FILMS OF STEVEN SEAGAL, YIPPEE KI-YAY MOVIEGOER!: WRITINGS ON BRUCE WILLIS, BADASS CINEMA AND OTHER IMPORTANT TOPICS and NIKETOWN: A NOVEL. His horror-action novel WORM ON A HOOK will arrive later this year.