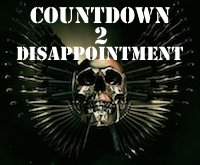 THE SPECIALIST was Sylvester Stallone's 1994 offering, a present-day palate cleanser between the futuristic DEMOLITION MAN and JUDGE DREDD. It even says "present day" onscreen after a prologue taking place in Colombia in '84.
That was when black ops explosives expert Ray Quick (Stallone) had a falling out with his partner-mentor Ned Trent (James Woods). They were trying to assassinate a drug lord but Quick tried to pull the plug when he saw that a little girl was going to get blown up with him. Trent of course doesn't care, and he gets his way (drug lord and girl both blown to kingdom come) but then the two of them fight about it.

When we pick up ten years later in Miami Beach it seems like neither of them are working for the government anymore. Quick lives in a heavily secured secret loft, and he's following around some lady (Sharon Stone) who seems to be the kept woman of Tomas (Eric Roberts) who's the son of a South American drug lord (Rod Steiger) who's working with Trent. Quick is a quiet loner who's often wearing headphones, listening to recordings of phone calls he had with Sharon Stone (?). It seems she's trying to get revenge on Tomas, who tortured and killed her parents when she was a little girl. Not sure how that timeline works out since Roberts is only 2 years older than Stone in real life.
Stallone is good at these quiet, sad-eyed characters, but this one could use some more personality. He's pretty generic. He does have a badass juxtaposition: a cat snuggles up to him while he's trailing the girl and he decides to take it home as a pet. (Sorry, original owner.) Later there's a funny part where I've completely forgotten about the cat but it runs into a bunker at the last second so we know it didn't get blown up.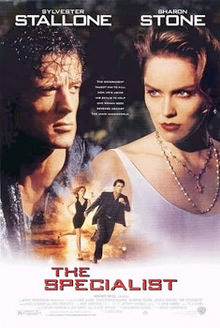 I'm all for a quiet, moody suspense thriller, but this is not well paced or directed enough to be very captivating. The first half especially is pretty slow and the second half doesn't really pay off the earlier ambiguity about what was going on. Stone is returning to the world of action movies (remember she was in ABOVE THE LAW and ACTION JACKSON) after becoming so famous for BASIC INSTINCT. Her character is a weird mix of all her types: damsel in distress, femme fatale, softcore hottie. They have a sex scene in bed and then in the shower and then a conversation in the shower. It's a giant shower so it's a pretty impressive hotel room. Stone shows a little bit of boob, Stallone shows alot of ass. But otherwise this is not very Shannon Tweedian.
The best parts are the spy movie type assassination schemes with hidden bomb gimmicks such as the explosive teacup with tennis racket remote. That's how a bomber hides out at a resort – with a polo shirt and tennis racket. This is also before CGI took over everything, so there's alot of pyrotechnic work. Definitely the most impressive one is the car bombing of the poor-tipper mob accountant that results in basically a flaming ejector seat. There's also a cleverly staged scene where a fancy overhanging hotel penthouse is severed from the rest of the building, though it's made laughable by some terrible effects shots that seem like they'd come from a movie made ten or fifteen years earlier.
There are little details in some of the explosions that are nice. An explosion at a seafood restaurant dumps a bunch of live crabs on the hood of Trent's car.
Because he's "the specialist" and not a brawler it's not as much of a straight action movie as many Stallone vehicles, but of course he's pumped up so he goes around shirtless alot and practices tai chi or yoga or some shit. There's a pretty good kitchen fight where he deep fries a guy. And at one point it seems like they were worried people like me would be itching for some fighting, so he beats up 3 goons on a crowded city bus for harassing a woman. He even punches one through the side window. It doesn't show if he got kicked off the bus after that or what. He needs the public transportation system bad so it's a good thing he doesn't seem to get banned for that.
The other major entertainment factor is Woods doing his asshole shtick. Somehow he works for the drug lord and with the bomb squad, so he has both a South American hit squad and legitimate police forces at his disposal. But because it's a movie they pretend that it takes a long time to trace a phone call and he's stuck sitting around trying to keep Quick on the line longer.
This Trent character is always flippin out, even pointing a gun at a priest during a funeral and yelling "I said open the fucking casket!" Which is considered rude in most cultures. Definitely his best scene is in the bomb squad headquarters, he's pissed that nobody takes him seriously so while he's yelling at them he starts grabbing bomb parts that must be evidence or something, pretending to be asking questions about them as he builds a bomb and threatens to blow up the whole building.
Quick hates Trent back but doesn't really know how to be as much of a dick, so even in a tirade the worst insult he comes up with is "you stinkin maggot!" If this was the TV version I'd assume that was a looped line.
To be honest Ray Quick seems kinda slow. In my opinion if a woman ditches you in a hotel room and leaves a note that says "I'M NOT A WOMAN YOU CAN TRUST" – believe that note. The guy is thinking with his dick. But I guess it works out.
Steiger isn't in it that much, but he's pretty funny doing a SCARFACE accent. His last line (SPOILER) is "Ju bastarda!" Also there's a part where he sort of marks Sharon Stone by licking his finger and then running it along her face. Gross.
THE SPECIALIST is directed by Luis Llosa (SNIPER, ANACONDA), written by Alexandra Seros (POINT OF NO RETURN – the LA FEMME NIKITA one with Bridget Fonda), "suggested by" a series of novels by John Shirley (THE CROW).