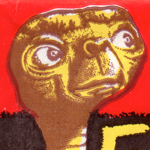 We all live on the planet Earth, we all know Steven Spielberg's E.T. – THE EXTRA-TERRESTRIAL is a great fucking movie. I don't have to tell you that. I was gonna point you to what I wrote about it in 2002 in case I did, but it turns out that was mostly a collection of jokes about walkie talkies and the dog shitting all over the place if he had run all the way into the space ship. So maybe try googling "is e.t. good" or something. I don't know. You can figure it out.
Like anybody I've loved that pudgy little rascal since he first introduced himself to us in 1982, but I've managed to be pretty disciplined about waiting years between viewings so I don't wear it out. I think last time was when it came out on Blu-Ray (six years ago), with at most one DVD viewing between that and when the special edition played in theaters (sixteen years ago).
But on Tuesday I saw it in the 70mm Film Festival that the Cinerama has here in Seattle every year, and I wanted to share a few new thoughts. (read the rest of this shit…)
VERN has been reviewing movies since 1999 and is the author of the books SEAGALOGY: A STUDY OF THE ASS-KICKING FILMS OF STEVEN SEAGAL, YIPPEE KI-YAY MOVIEGOER!: WRITINGS ON BRUCE WILLIS, BADASS CINEMA AND OTHER IMPORTANT TOPICS and NIKETOWN: A NOVEL. His horror-action novel WORM ON A HOOK will arrive later this year.