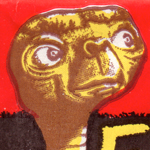 We all live on the planet Earth, we all know Steven Spielberg's E.T. – THE EXTRA-TERRESTRIAL is a great fucking movie. I don't have to tell you that. I was gonna point you to what I wrote about it in 2002 in case I did, but it turns out that was mostly a collection of jokes about walkie talkies and the dog shitting all over the place if he had run all the way into the space ship. So maybe try googling "is e.t. good" or something. I don't know. You can figure it out.
Like anybody I've loved that pudgy little rascal since he first introduced himself to us in 1982, but I've managed to be pretty disciplined about waiting years between viewings so I don't wear it out. I think last time was when it came out on Blu-Ray (six years ago), with at most one DVD viewing between that and when the special edition played in theaters (sixteen years ago).
But on Tuesday I saw it in the 70mm Film Festival that the Cinerama has here in Seattle every year, and I wanted to share a few new thoughts.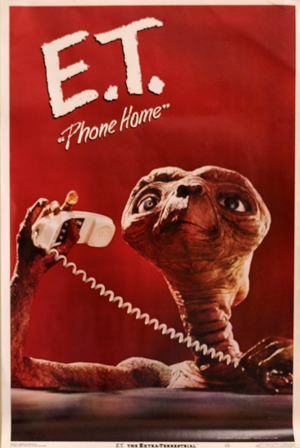 There's been much discussion of Spielberg's technique of hiding the faces of adults for most of the movie, like Peanuts or Muppet Babies. Elliott's mom (Dee Wallace, RED CHRISTMAS), according to Spielberg, is a kid at heart, so we get to see her. But the teacher, the people chasing E.T., etc., are shown from the shoulders down or from the back until the point in the movie where E.T. is dying and they're trying to help him.
One thing I don't remember thinking about before is his use of keys as a symbol of authority. When the men with flashlights approach the space ship in the opening scene the camera's not gonna focus on the ringleader's face, so instead it settles on a set of keys hanging from his belt. And as they chase E.T. the sound of the keys jangling is very prominent. I associate keys on the belt with janitors and handymen, but here I think it represents access to resources. These are people with the authority to enter many different buildings, probly off limits to others. Of course, if they don't have a key they'll just put on astronaut suits and storm through the doors and windows.
I'm not sure if the guy with the keys is Peter Coyote (SLAYGROUND)'s character, or if that guy only shows up in that later scene where Elliott finds him in "the forest" (as I noticed Elliott always calls what regionally I learned to call "the woods"). We don't see his face at first, but we do later, and he definitely is meant to be an adult parallel to Elliott. I don't really understand his proclamation that he's been waiting for something like this to happen since he was ten years old. Does that mean he's been some obsessive seeker of alien life, or that the experience of meeting E.T. has reminded him of what he dreamed about as a kid, reawakening the ol' childhood wonder?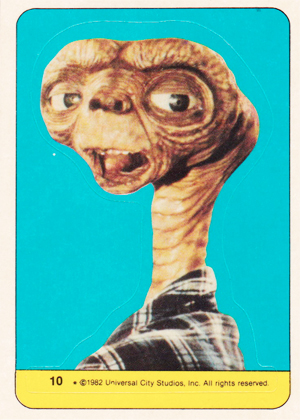 I wouldn't change a thing on E.T. but it's funny because I think the one part that might hold up the least is actually the most famous, literally iconic scene of the movie, the first time he flies on the bicycle. At the time the effects were so new and magical, now they're kind of adorably crude. And I think I said in my other review that as an adult I start having more pain-in-the-ass questions about E.T. being able to do this specific thing. This time might be the first time that I thought wait a minute, the E.T. we see in all the other scenes is way bigger, he wouldn't fit in that basket and he would tip over the bicycle.
I think 70mm also made me very aware of a bunch of shots where I'm pretty sure it's an adult woman in that red hoodie riding the bike. Sometimes I miss being able to spot stunt doubles. It can be distracting but it also reminds you there is real danger.
I've thought alot about H.R. Giger's ALIEN design being powerful because it's so literally alien, so unlike any movie monster we'd seen before, with its bizarre head shape, elegantly shiny surface and unrelatable lack of facial expression. It's funny the E.T. is great for similar reasons even though he's not here to scare us with the unknown. He has big friendly eyes and he screams in terror when he sees humans, but that weird extending neck? The lightly humming sound of his heart glowing as he seems to telepathically communicate with his friends? I wonder if the reason we didn't see other movies ripping these things off all the time is because they were such difficult effects to pull off.
We know from books and from the plant samples they take that E.T. and his colleagues are botanists. But also E.T. knows how to MacGyver together that communicator thing using earth tech. That's incredible! He doesn't need a crew of scientists at home giving him instructions of what to do like in APOLLO 13 or THE MARTIAN. My question is, is this a specific talent of E.T.'s, or do they all have those types of skills? If so they have a very impressive education system. E.T. also has a pretty good capacity for learning language and communicating through symbols. The E.T.s are a proud culture.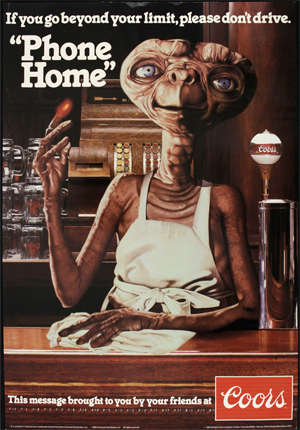 But they're not too uptight. John Carpenter's THE THING is also a perfect movie, but it was a flop, and people always blame that on the success of heartwarming/lighting E.T. But I think it's understandable. America doesn't want an alien that murders you and mimics your form so it can murder your friends. America wants an alien it can have a beer with.
I think we as a society all share a gratitude for Spielberg for insisting on never making a sequel. Even with him having been so insistent about this for so many years there's a small part of me that shudders when imagining the possibility of him changing his mind to make some HOOK type bullshit where grown Elliot is separated from his wife and E.T. comes back to help.
God damn they better not do that but I'm okay with spin-offs to fill in the backgrounds of the other characters, as people want these days. Here are my top choices:
DAD AND SALLY IN MEXICO: AN E.T. STORY
THE PLANT CREATURE YOU SEE OPENING ITS MOUTH ON THE SHIP AT THE BEGINNING: AN E.T. STORY
THE RACCOON THAT FINDS E.T. DYING IN THE RIVER: AN E.T. STORY
And I don't know what this one would be called, but what about the events told through the perspective of one of the other botanists on the ship? They go back and one of them insists that they left a man behind and he's still alive but nobody believes him and he has to put together a team to plan a rescue mission, like UNCOMMON VALOR.
I don't think that'll happen though, and luckily Spielberg has even disavowed the special edition he made with an extra scene and some censorship. I have an idea for a new scene he could've added. In the actual movie Elliott tearfully tells E.T. "We could grow up together!" And then E.T. touches his face and did Spielberg ever consider adding in a vision of what it would be like if Elliott and E.T. went to high school together and then were college roommates and were in a fraternity and stuff?
Honestly though I was left wondering at the end what the hell life would be like for Elliott growing up. How often would he think about E.T.? Would the memory start to fade away, seem unreal? I guess he has his whole family and some of the neighborhood to remind him. But then he grows up and has friends and is in relationships and surely there are times when he's dealing with things and it's relevant to talk about the formational events in his childhood, but what's he gonna say? It must be weird.
And even the immediate aftermath could potentially have a major effect on his life. After that frog business I bet he was transferred to an alternative school. And man, Michael dragged two government employees from a vehicle and Elliott disconnected them. Those guys could've been maimed or killed. That's kinda fucked up. Were there any legal repercussions?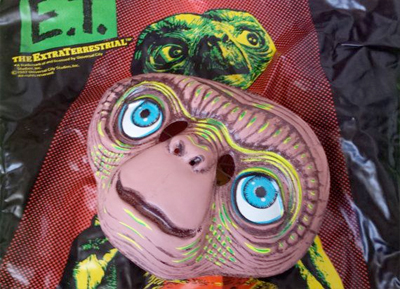 E.T. is such a perfect "family movie" because it's about kids and has a kid's perspective of the world, but it's hard to imagine the asshole who would see it as something to plop the kids down in front of to distract them. The performances that Spielberg got out of Henry Thomas (FEVER) and Drew Barrymore (FIRESTARTER) feel so natural and authentic, none of that usual Hollywood precocious kid bullshit. I like that the dissolution of their parents' marriage is a backdrop for the whole thing and we all draw a line between the separation and Elliott's need for a friend like E.T., yet they never directly talk about it, it's never really underlined, and Elliott doesn't even outwardly seem as concerned about the situation as his siblings. It's sweet and beautiful and humane but without being condescending or heavy-handed.
Maybe it helps that the kids aren't perfect. They swear a little, they fight a little (not at GOONIES level, thankfully). But they come together over this alien business.
It doesn't pretend the world isn't scary. I heard a father in the row behind me trying to explain frog dissection to his little girl. The sight of E.T. face down in the water, or in the medical unit with his skin turning white, is horrifying. And it's hard not to feel the trauma of the kids seeing it (Barrymore says she really believed E.T. was real and had died). Even the feel good message is bittersweet. Yeah, E.T. comes back to life, but then he has to hit the road. Nothing lasts forever. Appreciate it while you can. Cherish the memories. I'll be right here. In the middle of a young boy's dream. etc.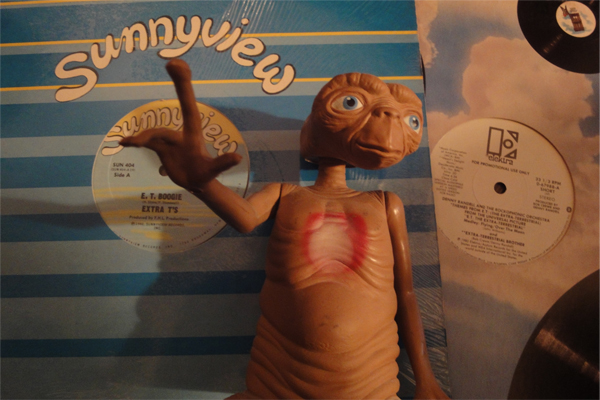 Those of you who follow me on Twitter may have seen me talk about my DJing stint at Scarecrow Video last International Video Store Day. I agreed to do it because I had a good enough collection of soundtracks and disco versions of movie themes and shit. I had a great time so I'm doing it again this year and I got a little too excited and have done a good amount of research and buying to improve the set this year.
I bring it up because I have a disco 12″ of the E.T. theme by Denny Randell and the Rockophonic Orchestra, and I was considering trying to get Neil Diamond's "Heartlight" to lead into it when I suddenly noticed a listing for a single called "E.T. Boogie" by Extra T's.
Don't tell anybody but that's my secret weapon for this year's set. I assumed it was gonna be some cheesy novelty thing like "Pac-Man Fever" (or the other song on the Denny Randell record, "Extra-Terrestrial Brother"). But I swear, under and in between the guy imitating E.T.'s various catch phrases is a legitimately good electro-funk song.
I'm far from the first person to dig this up, as I realized on the first listen when I recognized it as the main sample for a hit rap song from 1997 that had a video directed by Hype Williams and had the same title as a Michael Jackson album. But it's new to me and I'm glad I found it so in honor of me getting to see this great movie in 70mm please enjoy this boogie.
This entry was posted on Friday, September 14th, 2018 at 6:57 pm and is filed under
Reviews
,
Science Fiction and Space Shit
. You can follow any responses to this entry through the
RSS 2.0
feed. You can skip to the end and leave a response. Pinging is currently not allowed.