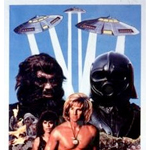 No – you're the hunter from the future.
It's fair to say that YOR, THE HUNTER (spoiler) FROM THE FUTURE is a cheesy movie. And though its 89 minutes are whittled down from an Italian mini-series of four 50-minute episodes, I don't need to see the other 111 minutes. But 89 of it is just right. I dug it.
Like CONQUEST for Lucio Fulci, YOR is director Antonio Margheriti (SEVEN DEATHS IN THE CAT'S EYE, CODE NAME: WILD GEESE, CANNIBAL APOCALYPSE) trying to ride the wave of savage shirtless musclemen left in the wake of CONAN THE BARBARIAN. But this story combines the ax-wielding stone age warriors with futuristic sci-fi elements. In that aspect – and in Reb Brown's blond wig and furry shorts and boots – YOR reminds me of He-Man and the Masters of the Universe, which started the year before. (read the rest of this shit…)
VERN has been reviewing movies since 1999 and is the author of the books SEAGALOGY: A STUDY OF THE ASS-KICKING FILMS OF STEVEN SEAGAL, YIPPEE KI-YAY MOVIEGOER!: WRITINGS ON BRUCE WILLIS, BADASS CINEMA AND OTHER IMPORTANT TOPICS and NIKETOWN: A NOVEL. His horror-action novel WORM ON A HOOK will arrive later this year.