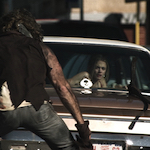 You may not know this, because I've worked really hard to keep it on the down low, but Tobe Hooper's THE TEXAS CHAIN SAW MASSACRE and THE TEXAS CHAINSAW MASSACRE 2 are some of my favorite movies. And although I don't like any of the other chapters in the Texas Chainsaw Cinematical Franchise Property (TCCFP) nearly as much as those two, I know that for as long as they keep making them I will keep watching them and possibly kind of liking some things about them. That's just my way. It's what I do.
To date there are eight (8) official entries in the series:
• The two Tobe Hooper films (1974 and 1986) – Preeminent works of cinematic greatness.
• LEATHERFACE: THE TEXAS CHAINSAW MASSACRE III (1990) – I thought it was laughable at the time, but kind of liked certain things about it on various rewatches.
• TEXAS CHAINSAW MASSACRE: THE NEXT GENERATION (1995 sequel to the 1974 original written and directed by its co-writer Kim Henkel) – I was sorely disappointed at the time, but liked it a little more upon my last rewatch.
• THE TEXAS CHAINSAW MASSACRE (2003 remake) – I violently despised this at the time, but may give it another shot some day as a gesture of grace and compassion.
• THE TEXAS CHAINSAW MASSACRE: THE BEGINNING (2006 prequel to 2003 remake) – Didn't like that one either.
• TEXAS CHAINSAW 3D (2013 sequel only to 1974 original) – This one is so fuckin stupid, but I got a kick out of it the way I would a lesser FRIDAY THE 13TH sequel.
• LEATHERFACE (2017 prequel to 1974 original) – I liked this one quite a bit. Though it's a different sort of thing (a criminals on the run movie) and makes a few choices that bug me as a CHAIN SAW purist, it's probly the most worthy non-Hooper one.
BUT WAIT A MINUTE – did you know that I'm missing one on that list, a 2012 the-names-and-details-have-been-changed type unofficial sequel written and produced by Henkel? Somehow I never heard about it until very recently, when JK tipped me off in the comments for my NEXT GENERATION review. (read the rest of this shit…)
VERN has a new action-horror novel out called WORM ON A HOOK! He has been reviewing movies since 1999 and is the author of the film criticism books Seagalogy: A Study of the Ass-Kicking Films of Steven Seagal and Yippee Ki-Yay Moviegoer!: Writings on Bruce Willis, Badass Cinema and Other Important Topics as well as the crime novel Niketown.