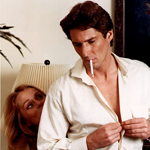 AMERICAN GIGOLO. Paul Schrader's prequel to AMERICAN PIMP. Older brother of AMERICAN PSYCHO. Cousin to AMERICAN NINJA. Quite a family of movies there.
I really should see more of Paul Schrader's stuff. Obviously I respect him for writing TAXI DRIVER and revere him for writing ROLLING THUNDER. I remember loving BLUE COLLAR. MISHIMA: A LIFE IN FOUR CHAPTERS was incredible. More recently FIRST REFORMED really impressed me. But there are some very famous ones I haven't seen. This one, I gotta admit, I ignorantly assumed wasn't my thing. Some Richard Gere movie. Who cares?
It was getting more into movie soundtracks on vinyl that turned me around. AMERICAN GIGOLO is a pretty common, relatively inexpensive find, so I picked one up, and really liked it. Then I figured okay, I should see where these sounds come from.
Young, slim, squinty-eyed dreamboat Richard Gere (a little after DAYS OF HEAVEN, a little before AN OFFICER AND A GENTLEMAN, way before FIRST KNIGHT) stars as Julian Kaye, L.A. gigolo. In his business there's alot of ambiguously talking around things on account of the illegality. Lots of not stating what's going on, or denying it – saying "you've heard wrong" or "you're mistaken" when someone's too direct or seems like trouble. So it's interesting that he ends up suspected of a murder he didn't do. We're not sure at first if they really did hear wrong, really are mistaken, or if he's just doing his usual shtick. (read the rest of this shit…)
VERN has a new action-horror novel out called WORM ON A HOOK! He has been reviewing movies since 1999 and is the author of the film criticism books Seagalogy: A Study of the Ass-Kicking Films of Steven Seagal and Yippee Ki-Yay Moviegoer!: Writings on Bruce Willis, Badass Cinema and Other Important Topics as well as the crime novel Niketown.