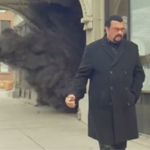 If you are absolutely dead set on seeing no more or less than 1 (one) of the 2 (two) Steven Seagal films that came out last week, and you can't be talked out of it, I highly recommend CODE OF HONOR for your specific circumstances only. Here, my friends, is a movie where Seagal seems almost like a co-lead. Where he sort of fights a guy once or twice. Where he stands up and/or walks in many of his scenes. This is the hardest he's worked on film all week!
On the other hand, it's sort of a distressing sign that he came out with two movies within a few days of each other where his main activity is using a sniper rifle. He even uses the phrase "watch your six" again. You can tell he's into that, because it was part of the tag line for SNIPER: SPECIAL OPS. Playing a sniper is a distressingly convenient way for him to do action scenes without having to do any choreography, martial arts moves, or acting with other actors. Also sometimes he's sitting down in a chair. This could be a big problem. If he's a sniper in his next movie it will be a bad, bad sign.
This sniper obsession is a period within his current Goatee Era. These days his characters always look the same, with too much shit on. The goatee, the tinted glasses, a bulky coat, a scarf, a backwards hat, and now he's big on ear protection like he's at the gun range. (read the rest of this shit…)
VERN has a new action-horror novel out called WORM ON A HOOK! He has been reviewing movies since 1999 and is the author of the film criticism books Seagalogy: A Study of the Ass-Kicking Films of Steven Seagal and Yippee Ki-Yay Moviegoer!: Writings on Bruce Willis, Badass Cinema and Other Important Topics as well as the crime novel Niketown.