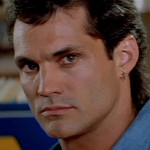 SPECIAL FORCES is part of the AMERICAN HEROES series which, as I'm sure you are all very aware, are unrelated Nu-Image action movies each spotlighting the heroism of one branch in the American military. So I hope I'm not unpatriotic for watching it for its Israeli director Isaac Florentine and British co-star Scott Adkins. I've written about these guys before – Florentine is the director of such movies as UNDISPUTED II and THE SHEPHERD: BORDER PATROL, while Adkins is the co-star of movies ranging from UNDISPUTED II to THE SHEPHERD: BORDER PATROL. Okay, so they aren't making classics yet, but they're some of the only reliable individuals I've found in the world of DTV action. They always seem like they're trying.
A journalist taking pictures of atrocities in the in my opinion fictional former Soviet republic of Muldonia is taken hostage by some sadistic military assholes. One looks like a regular-sized Jaws from James Bond, but with grey hair, the other looks like the comedian Emo Philips wearing a beret. The second one is one of those villains you're supposed to hate extra for his stupid haircut and hat, and the way he turns his nose up at everything. We should have enough to hate him for just with the atrocities he's committed but we still find ourselves thinking "I hate him, he's so stuck up!"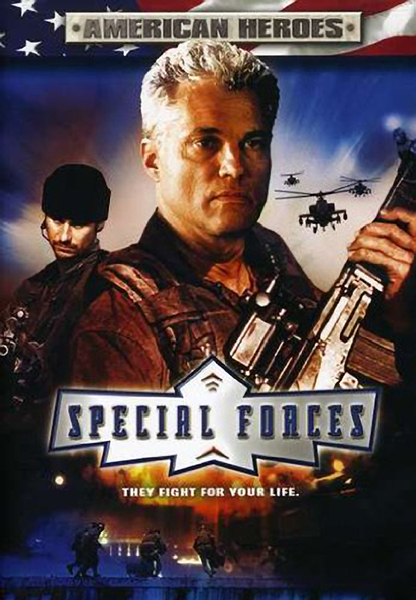 Anyway they send in a special forces team (okay, now I get that title) led by Major Don Harding (Marshall Teague), who actually had his whole platoon killed by these same pricks in Bosnia, but he insists he's too professional to let it get personal.
The movie really starts rolling when they encounter a stranded British S.A.S. agent played by our boy Scott Adkins. All of the characters can fight, but his scenes in particular are acrobatic martial arts spectaculars like you rarely get in modern movies, especially cheapass DTV. This is a movie full of silenced pistol assassinations, guards shot out of watchtowers, bombs planted on trucks, gratuitous somersaults, snapped necks, slit throats and various other favorites. Adkins rolls around like a ninja, hops over fences like a yamikasi, even does one of those maneuvers where he jumps up, does the splits in the air kicking two guys in the head, then before hitting the ground brings one leg over to kick one of them a second time. (I wonder how he decided which one needed the 2 kicks?)
I think Adkins will become better known soon, but I'm not sure how much. He was already in a Bourne movie and he's gonna be in WOLVERINE. But starring in a martial arts movie is the best thing for a guy like this, so I look forward to Florentine's NINJA, where, if I'm not mistaken, he will be playing some sort of ninja. He's kind of a pretty boy, he kind of looks like a cross between Ryan Reynolds and Ray Park. But his moves make him instantly badass, and he looks tough on a motorcycle. He steals this movie in the climactic battle with the Emo PHillips guy. That scene is more classic Hong Kong kung fu movie than DTV.
In fact, Florentine's whole style is a throwback, a look back at a time when the camera was supposed to emphasize the action instead of be it. He also loves angles that glorify the characters, looking up at them or zooming in on their grimacing faces. It's an energetic style, but not a spastic one. No Avid farts or distractingly-quick cuts. A reference to prisoners at Guantanomo took me by surprise – I thought it was a much older movie than 2003. In fact the only trace of modern hyper-active style is when the soldiers are first introduced it says their first name or nickname ("Bear" for example) on the screen with 2 swords crossed underneath it, and you hear the swords clanging together even though they're just wingdings. This is of course because these brave men's hearts were forged in the hot coals of combat.
The other thing that's appealing about this movie besides the nearly non-stop action is the unashamed corniness of the characters, the lack of cynicism. They're proud to be soldiers and sacrifice their personal lives for heroism. They say things like "When you're the last man standing you have a responsibility." "What's that?" "To be the last man standing."
Teague is perfect for this type of character, a grizzled grey-haired man's man, kind of a bulkier Tom Berenger. In 2003 an action hero this old, this tough, and this lacking in irony is a precious commodity. At the end they're being flown away in a chopper and Adkins asks Don why he still does it. He says, "I don't know about you, but I know why I do it," turns and smiles at a small American flag sticker on the inside wall of the copter. (And it dissolves to footage of a real flag fluttering in the wind, just so it's not too pathetic.) If most action movies were this RAH! RAH! it would probaly piss me off, but seeing one like this is kind of charming.
This one kind of reminds me of SNIPER, but obviously way more violent since they don't follow the one-shot method of war. To be honest the story isn't as captiving and the characters aren't as fleshed out as I would like. There is something not quite there about this one, and anything that's stiff or inept doesn't have any of the strangeness that I enjoy in my favorite DTVs. But the filmatic craftsmanship as far as putting together skillful action scenes goes far above and beyond the above average DTV action movie, or even some modern theatrical ones. So keep an eye on these two.