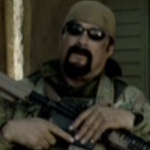 Remember the opening/teaser trailer scene of AMERICAN SNIPER, where Bradley Cooper (THE MIDNIGHT MEAT TRAIN) and his partner are on a rooftop somewhere in Generic Dusty Middle East, watching a woman through a sniper scope, not sure if she has a bomb or is just in the wrong place at the wrong time, and they're agonizing over whether or not to shoot her? Steven Seagal's latest as of last Tuesday (but since surpassed by a new VOD one on Friday) opens the same way, except there's no agonizing, they just know he's a bad guy and they shoot him.
Seagal plays Jake Chandler, the eye in the sky for a group of special ops soldiers on a mission to save a Congressman abducted by an evil Taliban leader. They get attacked, leaving Seagal and an injured soldier behind, but then they help a local woman who turns out to be the Taliban guy's daughter-in-law. Also there's a whole thing with an embedded reporter (Charlene Amoia, AMERICAN REUNION) who they kind of condescend to because she's a civilian and a woman, but she steps up and impresses them. They have some shootouts and a tense hostage exchange and what not. All very small scale, maybe one CGI explosion, but at least the gun flashes are real.
Despite the title, this is not related to the SNIPER series, nor is it very much about snipers, and despite Seagal being the only person Photoshopped onto the cover he's not the main character at all. That would be Sergeant Mosby (Tim Abell, MERCENARIES, SPECIAL FORCES), a likably gruff lug who reminded me of Kevin Nash mixed with Ron Eldard on Justified. The story mostly centers on him, and he's the one that makes the decisions and talks with the lady and stuff.
Then, every once in a while, they cut back to Seagal. I regret to report that this may be his laziest movie to date. He spends the opening on the roof, the middle sitting down in a room talking quietly to the injured guy in his southern-ish accent. At one point he announces that he's leaving to get water, and gives the guy a gun to protect himself. He goes down the stairs… cut to a truck driving. Finally, he's on a mission! He's gonna– oh, wait. This is the other guys. It sticks with them for about ten minutes, then goes back to Seagal, coming back up the stairs with the water. This is not like in FURY ROAD when Max comes back covered in blood and carrying a bag of guns. The implication is that his trip was uneventful, and not worth showing.
At least he does walk up some stairs in that part, though. In some of the scenes he doesn't even stand up. Or take off his sunglasses.
Another false alarm is when he tells the guy, "Yeah, I'm gonna go downstairs and commandeer us a truck."
"When are you gonna do that?"
"Right now."
Again it seems like the setup for a big action scene. But all that happens is in between longer scenes of the other characters he walks around pointing different sizes of guns in different directions, makes a call on the radio, and then is back in the room again. He doesn't commandeer a truck, but the other guys show up in one, and he signals them with a mirror. (Or somebody does. We don't see him do it.)
He never fights anybody in the movie. His action contribution is just firing an assault rifle down from the roof, and it rarely even cuts to who he's shooting at. It just looks like he's at a gun range, and they might even be reusing the same shot some of the time.
At the very end, the female lead meets the Seagal character for the first time.
"Sergeant Chandler!"
"Yes ma'am."
"Are you really as good as they all say you are?"
(takes sunglasses off)
"Every once in a while."
(Music swells.) She smiles, charmed by his cockiness, and takes a photo of him, not smiling. It's like in real life when Seagal gets his picture taken with fans, he takes off his reading glasses and gets a real serious, grim look on his face.
It seems like a pretty cool ending if he had saved the day in an awesome movie, or really done much of anything in the movie, and if the other characters had seemed to remember that he was in the movie and talked to her about him. But none of that happened. SNIPER: SPECIAL OPS kinda made me appreciate one of Seagal's previous worst movies, AGAINST THE DARK, because at least in that one he had a sword and a couple goofy lines and there were vampires. A generic vampire movie is depressing, but not quite as depressing as a generic War On Terror movie.
I think there may be some kind of an anti-anti-war message in here. The Congressman is kind of a sleazebag and they say that "He had an agenda. The whole idea was to prove that all our efforts were just a big waste of time and money." But although I purchased this DVD with good American money I really can't bring myself to watch it again to try to decode the politics. I'll save that as a delightful treat if I ever get to update Seagalogy again.
It's one of the few Seagal movies from a writer/director, and this time it's Fred Olen Ray, the famous auteur of cheesy grade Z movies. He has 95 directing credits on IMDb, 19 of which have the word "BIKINI" in the title. There are no boobs in this one, other than when the reporter has a cut on her side and pulls up her shirt, exposing her bra. I think Ray is kinda changing his ways now; since 2007 he's done seven movies with the word "CHRISTMAS" in the title. On the commentary track he talks about this being a throwback to the kind of movies he used to do, and "it was very exciting after having a career more recently of doing Christmas movies and sort of women's thrillers, which I do enjoy making. It's a completely different type of film."
His only movies I've reviewed before are the wrestling documentary SOUTHERN DISCOMFORT and the Boz vehicle MACH 2, both of which I enjoyed, so that actually gave me a little bit of hope for this one. Unfortunately it's not as inspired as MACH 2 and not inept in any sort of humorous or entertaining way. It's obviously cheap and takes many budget shortcuts, but it's generally competent. In fact, the acting is pretty good, or at least they're good at selling the lingo and sounding professional when they're telling each other they're going to be all right. It turns out this is because most of the cast (and also crew) were military veterans. The medic sounds like a real medic because he is a real medic. Just like the end of CAPTAIN PHILLIPS.
I wish it had something more ridiculous in it, though, to make up for the lack of originality. There is for sure not a single thing in it that we haven't seen in ten thousand other Iraq/Afghanistan war movies over the last decade plus. But they obviously did their research on what are the different types of scraggly beards that a soldier could rock.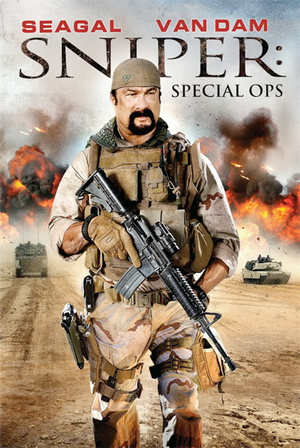 I suspect if this one ends up being remembered at all it will be as the one where the cover says "SEAGAL" and then "VAN DAM" above the title. Of course we all know that it means the wrestler Rob Van Dam. But I don't know… for some reason I can't quite shake this feeling that just maybe they were hoping we would think it was… somebody else? I can't quite put my finger on who it would be specifically, but I feel like the name kinda reminds me of somebody else that would be in an action movie. Ah, forget it, it's probly nothing.
Despite the high billing, Van Dam isn't given any kind of a showcase at all, he's just one of the dudes. The one with the ponytail and the tired looking eyes like Dog the Bounty Hunter when he takes off his sunglasses. If I didn't know what he looked like from David DeFalco's WRONG SIDE OF TOWN I probly would've guessed the famous wrestler was the tall guy with the sleeveless shirt and the ink.
Ray's commentary track is way more interesting than the actual movie. He says he always wanted to work with Seagal, and claims that "he's been in many war zones and has activity or experience as a sniper." He tells us that Seagal is using a $20,000 custom gun for which each blank costs $5, that the town was originally built for CLEAR AND PRESENT DANGER and modified for AMERICAN SNIPER, that he wrote it under the title HOUR OF VALOR. He obviously does care about the movie and especially the depiction of the military, but maybe that's part of the problem. He says that there's nothing funny about war and nothing to laugh about, so he didn't want to do one-liners and stuff. So it might've been an intentional choice to leave out the charming goofiness of MACH 2. I disagree with that choice. This is kind of a chore.
What a let down. It's a bummer, because now we have to wait literally days for another new Seagal movie to hopefully make up for this one.