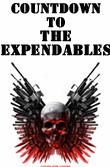 When I saw the terrible WWE Films theatrically released post-action movie THE CONDEMNED I said that I liked "Stone Cold" Steve Austin's screen persona, "his gravelly voice and his Plissken-esque don't-give-a-fuck attitude," and predicted that "If he was given an actual character to play in a movie by people who knew how to make a real movie, he could be at least as good as Roddy Piper." I was probly thinking a lowbrow studio movie like a DEATH RACE or something, but this'll do: a surprisingly compelling DTV underground fighting movie from Jeff King, the director of Seagal's KILL SWITCH and DRIVEN TO KILL (which it just occurred to me oughta be the name of a movie where Seagal plays an ex-CIA NASCAR driver or Tokyo drifter. Coulda woulda shoulda).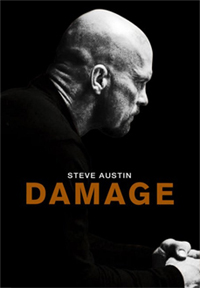 The setup for DAMAGE is pretty much BLOOD AND BONE: guy gets out of prison, then enters fighting circuit. In this one it's not his first choice, though. He makes a legitimate attempt at working two straight jobs (construction and bouncer), but then he's confronted by the wife of the man he was in prison for accidentally choking to death. She tells him she wrote the letter that got him paroled. She doesn't want his apologies, she wants $250,000 to get her daughter a heart transplant. Stone Cold is not exactly the type to start a successful software company or make wise investments that pay off, so he decides to go the "raise money through illegal underground fighting" route.
That's the subtle cleverness of this movie. Alot of competitive fighters are in it to avenge a death (see ENTER THE DRAGON, MORTAL KOMBAT, BEST OF THE BEST, BLOOD AND BONE, etc.) but here's a guy doing it to save a life, to redeem himself for having caused a death. It's the opposite of a revenge movie.
I didn't know Walton Goggins from 'Justified' and PREDATORS was gonna be in this, but he's the co-lead as Reno, Stone Cold's fight manager who himself is in all kinds of debt. So they're both trying to work their way up to a high-paying fight, neither knowing how bad the other one needs the money. Also in the mix is Laura Vandervoort, who looks kinda like Megan Fox but doesn't seem dumb. Apparently she's Supergirl on the 'Smallville' TV show. Here she's a waitress at the bar where Stone Cold works but also the cut woman for his fights. She used to be a nurse, but fucked it up with her drug habit. Everybody has some past failure they're fighting against.
I also gotta give it an extra half point for taking place in Seattle, even though it was filmed in British Columbia. They don't say Seattle out loud, but you see it as the destination on his bus, and there's a part where Reno talks about the psychological effects of the grey skies (something that's been used to explain everything from so-called grunge music to the Northwest's unfortunate proliferation of serial killers). Also I noticed that people are always offering him coffee, but there are no lame jokes about fancy lattes or nothin like that.
The movie's approach to fighting is kinda funny. Stone Cold is just a big, tough dude, he might've been born that way. There's no mention at all of fighting styles or what his background is, where he learned to fight. There's no training montages, no jogging or punching bags, not even one little workout part at the end to imply he's been doing this all along (the FIGHTING method). Instead he just shows up, Reno tells him if the other fighter has some weakness or something, and he starts punching.
The camera work and editing are calm, you can see what's going on. But to be honest most of the fights aren't that exciting. Wrestling and fake bare fist boxing have a hard time competing with the acrobatic kickboxing of BLOOD AND BONE and the UNDISPUTEDs. But I'll be damned, the characters and the plot are still interesting to me. They all have these debts they're under, and the more they try to pay off the debts the more complicated their problems get.
It also has this theme of redemption. They've all kinda fucked up in the past and are looking for forgiveness. Unlike most movies like this it doesn't come down to one tournament or match to solve all his problems. He has trouble even getting matches at all because if he's so good why would anybody want to fight him and bet money on it? And he has to make decisions about which debts to clear when. Even when a bunch of coincidences and past good deeds intersect to put him in a great position he has to decide whether to cash it in on the heart surgery or another friend's problem. He can't do both. Nothing is solved easily.
On the surface it's still pretty generic, but Stone Cold has a likability that pulls you through it. I know in wrestling he was supposed to be a bad boy, but in this he seems to have an inherent decency. He's just a born brawler with a no bullshit attitude, doesn't talk much, but wants justice and Doing the Right Thing to prevail. When that woman chews him out he just takes it, because he knows what he's done to her family. When he overhears Reno telling whatsername that he's not a good man because he choked somebody to death he doesn't get mad about it, because he knows it's somewhat true. He doesn't try to run from or hide or excuse his past mistakes. The movie never even explains who the guy was that he killed or why. It's irrelevant. The point is he fucked up, and all he can do now is keep living and trying to do better.
But when he sees that classic action movie staple, the sexually harassing assholes, he quietly leaves his beer on the bar and intervenes. He gets a few oneliners in and a good badass moment near the end when he crawls out from a pile of shoulda-killed-him, covered head-to-toe in oil, and patiently asks to continue the fight.
I don't know, man. It doesn't hold a candle to BLOOD AND BONE, and it doesn't have the quirkiness or stylistic originality of FIGHTING. But somehow somebody made another surprisingly solid movie about that same topic of underground fighting, and somehow it's interesting not as much for the action as for the drama. I found myself genuinely caring what happens to the characters. I credit the charisma of Austin, Goggins and Vandervoort, and the screenplay by Frank Hannah (the guy who wrote THE COOLER). Give Stone Cold some better fight choreography and keep going in this direction, I think you'll really have something.
If you enjoyed this title, IMDb's database also recommends ALL QUIET ON THE WESTERN FRONT.