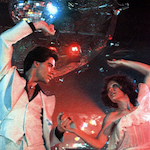 1983: SUMMER OF NUB supplement: SATURDAY NIGHT FEVER (1977)
I was born in the '70s. Between you and me, it was a week after JAWS came out. So I don't remember the release of SATURDAY NIGHT FEVER, or Disco Demolition Night, I was busy with other shit. Mister Rogers, STAR WARS, Popeye cartoons, learning to tie my shoes, etc.
So growing up there was this idea of "the seventies" that was really funny. Ha ha, they had bellbottoms, they listened to disco, the movies had wah wah guitars. A big joke. The high-pitched Bee Gee vocals, white polyester suits, light up floors and dance moves of SATURDAY NIGHT FEVER, as parodied in AIRPLANE!, on Sesame Street and elsewhere, were part of that impression.
But when I was a teenager, hip hop samples opened a path to P-Funk, and 99 cent records at Goodwill introduced me to Innervisions and Headhunters. Film appreciation led me to SHAFT, SUPER FLY, DOLEMITE and THE MACK (with a side order of TAXI DRIVER and all that). Suddenly "the seventies" weren't as much of a joke in my mind, they were becoming a legendary period. But disco still seemed like some bullshit. As smooth jazz was to jazz, disco was to funk, I thought. Still kind of do, to some extent. (read the rest of this shit…)