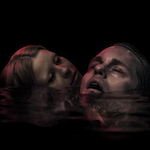 When I first encountered the trailer for INFINITY POOL I spotted Mia Goth, who gave one of my favorite performances last year in PEARL, so I knew I would be seeing it. Then I noticed Alexander Skarsgård, star of one of my other favorite 2022 movies, THE NORTHMAN. And at the end I learned it was the new one from writer/director Brandon Cronenberg, whose 2020 film POSSESSOR really knocked me on my ass, so this was a first show opening day kind of deal for me. And it lived up to my hopes.
It's the story of novelist James Foster (Skarsgård, 13, BATTLESHIP, THE LEGEND OF TARZAN, GODZILLA VS. KONG) and his wife Em (Cleopatra Coleman, STEP UP REVOLUTION, IN THE SHADOW OF THE MOON) on vacation at a resort in the exotic foreign land of Latoka. It's a beautiful place on the sea, but it's creepy – fenced off with guards, tourists aren't allowed to leave, so the closest thing to visiting the locals is going to restaurants in the resort's fake downtown area. James is already thinking he was an idiot to believe this trip could break his six year lack of inspiration since publishing his one obscure and poorly reviewed novel.
In the opening scene cinematographer Karim Hussain (HOBO WITH A SHOTGUN, ORPHAN: FIRST KILL) rotates his camera over the beach like Maverick doing a flyby, forcing us to observe a standard issue image from a drastically skewed perspective, like laying on the ground or hanging upside down from a tree to see the world in a different way. Later he builds discomfort with off-kilter framing, showing characters on the edge of the screen but facing characters who are out of frame. But even without that there's an Interzone-y aura of surreal menace to the place. Their visit coincides with an annual Latokan festival where musicians wear impressively grotesque masks (still available in the gift shop, we're told). Everything else feels artificial. For example James is amused by the very non-Asian looking staff sporting quasi-traditional garb at the Chinese restaurant, which he expresses by smiling and calling it "interesting." (If I'm not mistaken their waiter is later seen in another "multicultural experience" when they walk past a stage marked "Indian Bollywood Dancing.")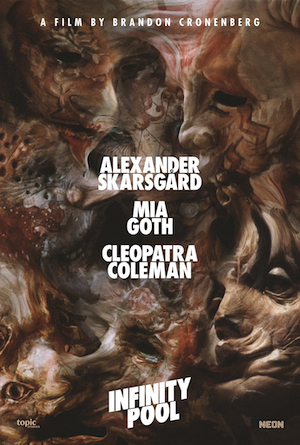 Things are tense between James and Em, and get worse after he meets a flirtatious fellow guest named Gabi (Goth, A CURE FOR WELLNESS), who flatters him by recognizing him and telling him how much she adores his book. Suddenly he's way more social and they're going out for dinner with Gabi and her architect husband Alban (Jalil Lespert, TELL NO ONE). And in a bit of mischief they pay a guy to loan them a car so they can sneak out of the resort for a drive and a picnic.
On the way home James drives (he's the least drunk) and, to his horror, hits and kills a farmer who's crossing a dark, winding road while the headlights are malfunctioning. James and Em want to call the police, but Gabi insists that will lead to some kind of MIDNIGHT EXPRESS situation or worse, and convinces them to flee instead.
The next day James wakes up hungover to pounding on the door. He's already been caught. He and Em are dragged to a decrepit police station and separated. After much torment Detective Thresh (Thomas Kretschmann, BLADE II, HOSTEL: PART III) tells him they know what he did, Em already confirmed it, and the punishment for this crime is death. They do it here on the second floor, the survivor's family members get to do it, luckily there's a 13 year old son. After James sputters his confused protests Thresh tells him not to worry about it, it's very unlikely he'll die. The tourism board has a thing worked out where foreigners convicted of capital crimes can pay to have a double (a clone) made to be executed in their place. But they have to watch.
So that's what's similar to POSSESSOR – this not-exactly-futuristic setting that very matter-of-factly uses far-fetched sci-fi technology, and it's not about imagining how such a thing might really work or what it would be used for, but about using it as a symbol for facing death and escaping accountability.
When he gets home, while scrambling to get the fuck out of there, he runs into Gabi again and (with Em waiting back at their room) she introduces him to her social circle, an exclusive club who call themselves The Zombies, because they've all gone through what he just did. They were busted, some for bullshit "crimes" like blasphemy or sodomy, and they watched themselves die, so now they have a different view of the world. Soon Em leaves without him (he can't find his passport) and James stays another week, hanging with The Zombies, being pressured into various acts of danger and depravity. I think he maintains the right balance of giving in to temptation but also feeling uncomfortable with it all, so it doesn't play like a type of "don't deny it, everyone wants to give in to their dark side" cautionary tale that I find boring. (BRUISER, etc.) There are drug trips, orgies, ritualistic weirdness, also brutal assaults. It's up to the viewer to decide whether or not James should take any meaning from it as far as killing his ego or his past or being reborn or finding his true self or what have you.
It's odd and novel to see Skarsgård looking like this and yet playing such a defeated, helpless punching bag. I was thinking about what a tall, handsome super hero type he is when suddenly for maybe the first time I noticed he also has the famous sad eyes of his father Stellan. And he's being directed by the son of one of my favorite directors in a story about a guy trying to be an artist who feels like a failure, living off the money and connections of his wife, who gets those from her father.
I don't relate to the young people's obsession with naming and shaming "nepo babies" in the arts. Congratulations on learning how privilege works, but I figure people born with it owe it to the world to make good use of it, for example by making great movies like this. You'd rather he scrape gum off floors in penance for having a dad who gave us EASTERN PROMISES? Fuck off. I also hate when people complain that Sofia Coppola makes movies about rich pretty people, as if they'd be supportive of her doing one about the hardships of factory workers or some shit. Come on, man. Still, it's notable that the junior Cronenberg's nightmarish world view here is so self-critical.
I don't think it's fair to compare his movies too much to his dad's, but if CRIMES OF THE FUTURE was Law & Order then INFINITY POOL could almost be one of the twice-removed spin-off shows, the way it casually introduces surreal sci-fi concepts and perversity into a decaying but beautiful coastal area in some unspecified region of the globe. But what I love about the world of CRIMES OF THE FUTURE is that everyone is completely blase about how bizarre everything is. That's their life, they're used to it. What I love about the world of INFINITY POOL is that James is not used to it. He perpetually reacts like, "Wait, what? Did I hear that wrong? It sounded like you said you're charging me to make a clone of me so a kid can murder it?"
The first scene takes place in complete darkness. They've just woken up, Em is repeating a nonsensical phrase she says he said in his sleep, he doesn't know what she's talking about. Later there's another scene where she's talking to him after just waking up from the cloning procedure and he's confused. Much of the movie has that groggy, displaced feeling – I just woke up and I'm still trying to remember where I am and what's going on. Also there's the perpetual anxiety of wondering whether he's really the original or if they killed the original and kept the clone.
The premise reminded me a little bit of Riley Stearns' 2022 clone movie DUAL, but this one is played even more straight. Cronenberg hits a rare tone that I really treasure – the overall feeling is very grim and serious, but at least a handful of times it builds to straight up hilarious situations that are so dry they don't quite play as jokes. Or at least my theater was quiet enough that I tried to stifle my laughter. But there are a couple absolute doozies I will SPOIL here.
(Seriously, go see this movie if you're so inclined, then come back. This is good shit I'm about to describe.)
One of the highlights happens at the end of this two days of hell where he commits manslaughter, is arrested, told he'll be executed, goes through this invasive cloning procedure, sits with the family of his victim and watches a boy disembowel his exact duplicate, completely disgusts his wife with his stone-faced response to it all, then before he can get out of Dodge stumbles into a night drinking wine with a bunch of decadent rich snobs that escalates into a break-in and a crazy gun fight… and then we cut to them all together in that same detention room he was in before, and we realizes they're just gonna get cloned and executed again. They're all casual about it, these obnoxious western tourists continuing their pretentious conversations, and the kicker is when Thresh walks in one of them deploys her "I want to talk to the manager" voice to whine about how long they had to wait. Amazing.
As about a week has passed since seeing this I feel the part that's gonna stick with me the most is after James finally has enough, and packs his bags. (Turns out he did know where the passport was. The fucker.) When he's headed for the airport Gabi and friends attack his bus like it's a prison breakout. They abduct him and force him to slowly march in front of their convoy of convertibles, Gabi lounging on the hood with a bucket of chicken, drinking wine straight from the bottle and dressing him down as a "sucky sucky baby." He dejectedly accepts her abuse until the part where she says she never read his book – then he swings around and looks at her like she just revealed she murdered his family.
It's such a great joke because it seems vain that after all they've put him through (I didn't even tell you the worst parts) that's the dig that really gets to him. But the more I think about it the more harsh I think it is – believing that someone loved his book gave him a much needed sense of self worth on this vacation, and then she takes it away from him. I mean shit, I know what it feels like to be an obscure author complimented on their book. It makes you feel like you did something worthwhile on this earth. So if somebody said that to me and then admitted they were only fucking with me that would hurt!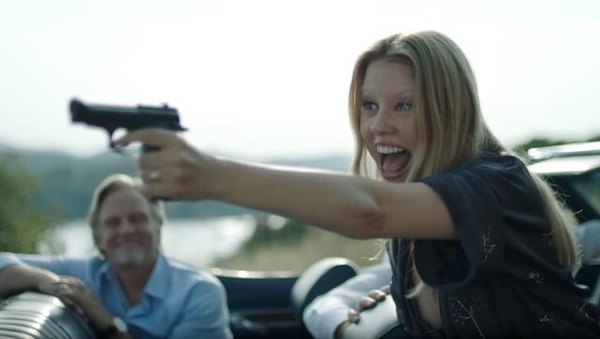 If you haven't seen the movie yet and I just spoiled that all-timer of a scene for you I'm sorry, but I take comfort in knowing that words could not do justice to how funny, unhinged and even mega Goth's performance is. She batters him with such cruel, humiliating taunts while laughing as if it's all in good fun. You know she doesn't really think that, but her voice is so sweet it really sounds like she does.
I'd say that's the climax, but the real punchline is the next day, when all of them finally do pack up and go home. They're all on the same shuttle, they're in their casual clothes, no makeup, conversing about when they have to be back to work or what they heard from the house sitter – things people talk about when fun time is over and they have to return to the real world. James sits behind them, listening, clearly in shock that the degenerate fuckin maniacs who did all that to and with him can just turn it off and go back to civilization and act like they're normal people. Maybe even believe they are. Hell, maybe they are, that's the thing. And the final scene, where he sits in the resort alone, as it's closed for monsoon season, is open to many interpretations. But I'm guessing he never got started on that second book.
I really love this movie. And it made me realize how much I appreciate the distributor, NEON. They've only existed since 2017 but some of the movies they've released include INGRID GOES WEST, GEMINI, REVENGE, LITTLE WOODS, PARASITE, PORTRAIT OF A LADY ON FIRE, POSSESSOR, and PIG. More specifically it made me think about the fact that because of them I got to see TITANE, CRIMES OF THE FUTURE and INFINITY POOL all in regular theaters. And in these days when even civilians use bullshit bean counter terms like i.p., content, brand, creatives, and consumption when discussing art, it feels like a vital act of cultural self defense to have a company getting weird, transgressive, not-traditionally-commercial movies like these into multiplexes. (At least as long as those exist – the very nice downtown one I saw this at is slated to be closed soon by Regal).
Anyway thank you for this one Canada, you are a great neighbor and true ally, we won't forget this.
P.S. In my review of POSSESSOR I suggested that b-movie producers could follow in the tradition of SCANNERS and make sequels leading up to POSSESSOR COP. So yes, as you can imagine, I also look forward to INFINITY POOL COP.