TAKEN 2 is another Liam Neeson post-action thriller where he gets to be smart and tough and wear a leather jacket and then the camera wiggles around while he cracks some bones or whatever. I tend to like these disposable Luc Besson productions for their absurd gimmicks and shameless lowbrowness, but they were more fun when they also had good action sequences. This one's from Besson's acolyte of the moment, Olivier Megaton, who did the joyless TRANSPORTER 3 and the more enjoyable COLOMBIANA. Neither of those have action scenes half as good as the ones in previous Besson joints like LEON, TAXI, TRANSPORTER 1-2, UNLEASHED, KISS OF THE DRAGON or DISTRICT B13.
I didn't love the first TAKEN. Of course it's funny to see Neeson as a wrist-snapping black-ops know-it-all, and I love a simple plot about a guy like this saving his daughter from kidnappers, and it was funny how his overprotective father paranoia seemed to become a reality, with her getting kidnapped by white slavers about 5 minutes into her European vacation. But then there's the wobbly action scenes (a shame coming from the director of DISTRICT B13) and it doesn't exactly have the momentum that makes this type of premise sing. It's fun, but should be better.

With that in mind TAKEN 2 is about as good as I could hope for. Not any better than part 1, weakened by familiarity, but I got several good laughs out of it. And actually it starts out very promising. In rural Albania, families gather to bury several of their dead, and it looks very sad except it turns out it's the guys who Neeson's character Bryan Mills killed in part 1. The father of one of them (Rade Serbedzija) vows revenge. And we cut to L.A., where Mills is at a car wash, insisting on doing the waxing himself because he's so detail-oriented. We know those assholes in part 1 were kidnapping girls and forcing them into prostitution, but still, those guys have families, and the economic disparity illustrated in the cut from Albanian dirt roads and goats to Los Angeles car culture makes the resentment seem more justified.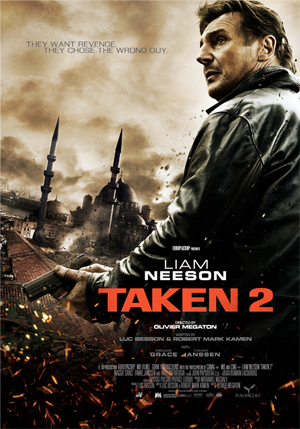 Mills is kinda livin it up now. He's getting close with his ex-wife (Famke Janssen) again, and she separated from her douchey second husband but still lives in a mansion. He's worried about his daughter (Maggie Grace) because she has a boyfriend, but seems to get along okay with her. He invites the two of them to come with him on a business trip. You know, security detail for some Arab dignitary visiting Istanbul. So they can live like princesses in a hotel and go swimming and stuff. Families of dead white slavers hate that, so they come try to kidnap the whole family.
Really though this is the story of how Mills tries to help his daughter practice for the driving test, but his help doesn't really sink in until she's in a high speed chase and shootout on crowded Turkish streets. Maybe she would've got it quicker if he used his phone voice: "I want you to listen to me very carefully, and do exactly what I say. I want you to turn on your blinker. And I want you to change lanes. Do it now!"
Grace played an adult in LOCKOUT, aka SPACE TAKEN, because in reality she's 29. I'm pretty sure she's supposed to be a teenager here. It does seem like she still lives with her mom, and they never make fun of her for waiting until she's almost 30 to get her driver's license. Wasn't there something in part 1 about how she had to get a signature because she was under 18? Oh well, at least they didn't put braces and pigtails on her like that poor lady in UNLEASHED.
Early in the movie they make an acknowledgment that getting kidnapped and pimped out in a foreign country a few years ago could be traumatizing: she wants to take it slow while making out with her boyfriend. Mills, for his part, fails to curb his habit of doing things like having a background check done on the boyfriend and tracking the daughter by GPS in her phone. But I don't see why he has to justify himself for doing this after the events of part 1. Maybe the line "I hear so many scary stories about people your age" was written as a joke, but Neeson delivers it earnestly. Buddy, you don't need to hear scary stories! You killed like ten guys because they kidnapped her and turned her into a sex slave! This was pretty recent!
The movie suffers a little bit from the villains being interchangeable with any number of European villains in other movies by Neeson, Seagal, Statham or others. (In fact I thought Serbedzija had been in a Seagal movie but I guess I just recognized him as the homeless man that Bruce Wayne gives his coat to in BATMAN BEGINS and the owner of the mask shop in EYES WIDE SHUT). It spends too long on a buildup of the villains just going around showing Mills's photo to people and stuff, standard things that are boring to watch unless the villain is more engaging than this. But if I remember right it has alot less excess baggage than part 1, which had that whole subplot about how Mills was trying to impress his daughter by introducing her to a pop star.
Mills still has his black ops buddies that he hangs out with, and they still don't team up to help him, but at least he calls one of them (Leland Orser) to use his connections to help out with the U.S. Embassy. Like how McClane called Al Powell in DIE HARD 2.
The way they mix it up from part 1 is they have mom and dad get "taken" and daughter gets away.
Mills continues his famous instructing-his-daughter-over-the-telephone techniques while chained up in a dank basement somewhere. I bet she wishes that just once he would call her and say "I want you to listen very carefully and do exactly as I say. I want you to… order you and your friends some pizzas! I left money on the counter."
He wants her to run but she refuses, she has to help her parents, so then he starts telling her what to do in order to locate him and help him escape. At this point I suddenly fell in love with the movie 'cause he's got her with a map drawing circles based on estimations he made while mumbling to himself with a bag over his head in the back of a truck. He instructs her to throw one of his grenades out the hotel window so he can count how long until he hears the explosion and estimate how far away he is from the hotel. So, obviously you can't entirely write this movie off.
Is it intended as satire that this girl explodes three grenades in the middle of Istanbul – including blowing up some poor random person's car – and nobody seems to care? It's not played as comedy, but it's just one of the elements that works as a joke about Americans not noticing the rest of the world except as a vacation spot.
There are other funny moments, like when Mills tells his ex-wife "You have to stay calm" while she's chained up hanging upside down with a bag over her head and blood dripping from a neck wound like she's in a HOSTEL movie.
The big car chase is probly the best action sequence because it isn't as badly edited as the hand-to-hand stuff, but still. One of the big moments is when a car chasing them gets rammed by a train and explodes. It looks like they did it for real but I counted and they show it from 5 different angles in about 4 seconds. If you're gonna replay it you do it in slo-mo the second time, you nitwits. Ask Jackie Chan, he'll tell you.
(By the way, the blu-ray/DVD includes an "alternate ending" that's 25 minutes long. It's the same thing except he rescues Famke on his first attempt, so she's there during the car chase. I don't know if they CGId her out or reshot all the interior car stuff.)
You know what, in retrospect maybe he shouldn't have invited the girls along to Istanbul. Would've been way better for everybody involved.
I like how the movie deals with this endless circle of revenge. It gets the point across without being heavy-handed enough to seem hypocritical, like RAMBO did with that intro showing real world atrocities. There's a cool climactic showdown where Mills tries to be honorable but… instead has to do what he refers to "what I do best." And then it ends exactly how TAKEN 2 should end: Mills, who knows that more Albanians will come to avenge him and he'll have to murder them also, eats ice cream sundaes with his family.